Good morning guys,
Lets keep up
What a great morning, I wanted some good news today
1W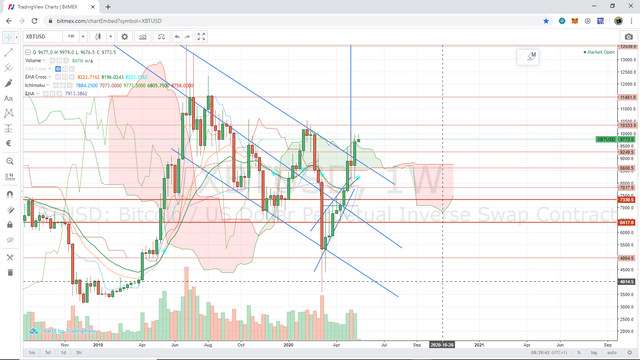 Yessir!!!
What does thing mean?
Price BTC trading above ichimoku 1W cloud
18/24 cross, BUY signal
Como diria yo... cabron nos fuimos, se prendio esta mielda
Pero espera, still hay algo que falta
Price ichimoku line needs to meet price, currently its place is at $7000 area. I think we can see a correction as long as BTC still trading on 8500 support levels for some weeks
Im not able to find the pattern on lower timeframes but it's easy, we were inside 1W ichimoku cloud and what does that mean? let me know if you know in the comments
Yoo Im BUIDLING my Ethereum DApp (MIL)
https://igg.me/at/mildapp/x/23525567#/
Campaign is closed, but I'm still on it
Bybit (Most Secure Futures Exchange)
https://www.bybit.com/app/register?ref=lv53V
RECEIVE 10% of my Commission in (Binance)
https://www.binance.com/en/register?ref=I6OHYKZY
https://www.coinbase.com/join/villas_3y
Get €9.09
Want to EARN Passive Income on your crypto?
Use MCO Wallet
https://platinum.crypto.com/r/kidk9s3omw
Get $50 for FREE
https://www.youtube.com/watch?v=PVRmGaruhmc&list=PLNJbtewQQIeMLtO7L8HTQFVyk13SHNJi8
My Decentralized Blogs:
https://www.minds.com/elangelgabriel/
https://steemit.com/@elangelgabriel
https://www.publish0x.com/trading-journey?a=y5eV7XMaEP
It's called LBRY: