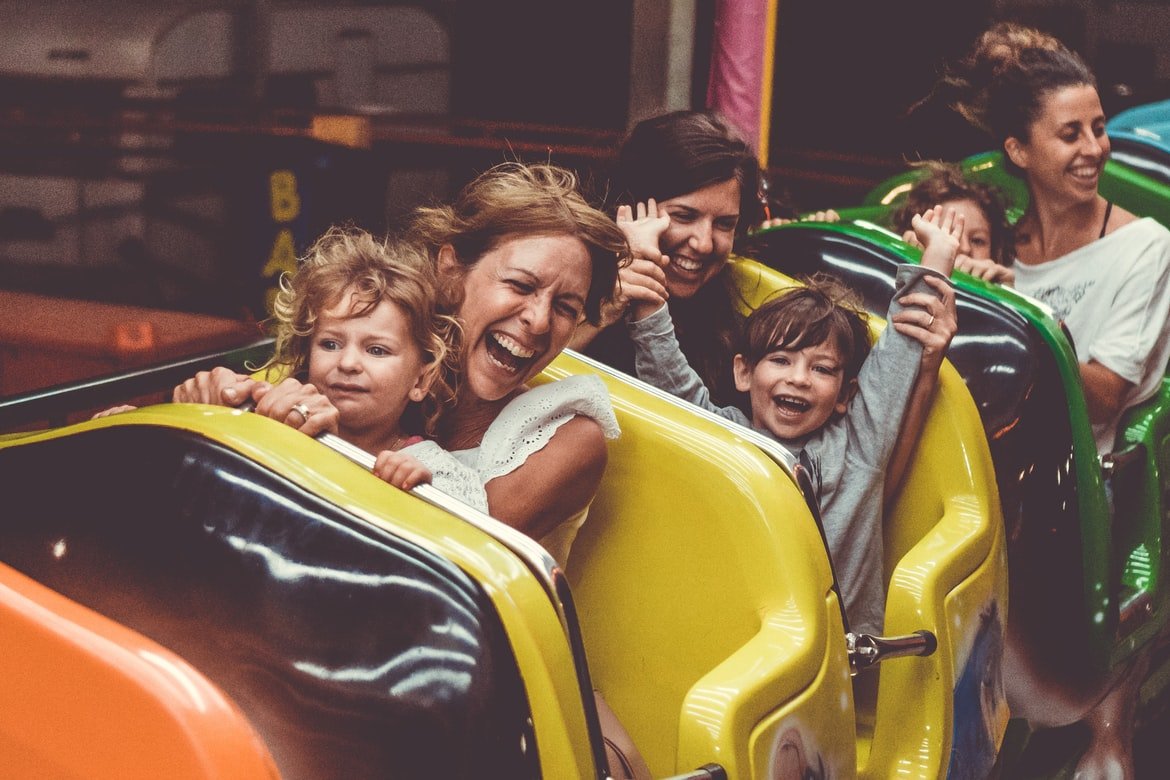 Rollercoaster
Okay... I might be a touch melodramatic with that title, but I can start to see the beginning of the end! My kids are not little babies any more... however, much I remember them as that. The oldest is 10 and I can see the beginnings of a real adult starting to crystalise in front of me. Of course, there is still much to be learnt and experienced before she is really truly ready to face life head on, but the period of transition is starting and I just hope that the trajectory that we have started with her is going to serve her well... I think it will, but who knows what sort of challenges and situations will face her in the coming years.
The last weekend, we took our kids to the agricultural (Royal) show in Canberra. It is a uniquely Australian tradition, where the agricultural and livestock collides with the festivals and the city. There are dog shows, vegetable and cooking competitions, arts and craft... all merged along with the much glitzier (and annoying louder) carnival rides and games, and the fast food and show bags. Our girls have never experienced this before, but my wife and I had grown up with these things. It was always a highlight of the year... when you are younger, the fun is much more in the animals and petting zoos and all of that stuff... but as the children get older, the focus moves to the rides and the showbags. Either way, it is a great day out... and there is always nothing better as a parent than to see your children just being wowed by the whole experience and delirious with joy!
After a day of looking at the flower arrangements, the cake stalls, tractors, dog and horse shows... magic shows and arts and crafts... and making pottery, we were ready for the noisy part of the showgrounds. The rides and bags.... also known as the highly commercial and expensive part of the day!
Of course, we limited the show-bag thing to just a single bag each... as there is no point getting lots and lots of them, and then not ever really valuing any of them. Better to have one, and have that little treasure to really savour. In what was not much of a surprise, the oldest was keen to get the Pusheen bag, and the little on was pretty keen on the Pokemon one!
They were allowed to choose two rides each as well... phew, Australia got really expensive at some point in time. Now, the young one was really quite easy... she chose to have two goes at the Dodgem cars. She is obsessed with driving, and keeps asking when she will be old enough to drive a car... not for a very long time, but she will keep asking!
Riding the dodgem cars is pretty fun with the little one... she has had good training playing Mario Kart and she is pretty good at driving, well at least the steering part! I do have to keep a hand on the wheel just to make sure that she is also going in the same direction as everyone else and not going for head-on collisions... plus, I have to do the pedals as well.... but I'm pretty surprised that she can do it!
However, my older one is starting to get more adventurous about the rides that she chooses... and she chose one rollercoaster and one of the spinning ones. Now, I'm not the sort of macho dad who thinks that I need to do them to prove anything... but the older girl isn't quite tall enough to ride by herself, and she needs someone to ride with her. The last time, my wife was pregnant and wasn't able to do the rides out of safety... and this time, she pulled her back and managed to get out of it again.
... I hate these things. I never rode one when I was little, and the only times that I have ridden them is when I need to accompany the girls. My girl was screaming in fun... I was screaming in terror! Seriously, how does anyone find any of these things fun?
So... I think that my limit as a father on these things is definitely coming to an end... and with it, other things as well. I'm hoping that next year, when the show comes around again, that she will be tall and old enough to do it with a friend of hers... and not drag her terrified old man onto the machines! I'll gladly play games, sports and books with her... but this, this is really not for me! These are no longer the kiddie rides that I can manage...
I can also be found cross-posting at:
Hive
Steem
Publish0x
Handy Crypto Tools
Ledger Nano S/X: Keep your crypto safe and offline with the leading hardware wallet provider. Not your keys, not your crypto!
Binance: My first choice of centralised exchange, featuring a wide variety of crypto and savings products.
Kucoin: My second choice in exchanges, many tokens listed here that you can't get on Binance!
FTX: Regulated US-based exchange with some pretty interesting and useful discounts on trading and withdrawal fees for FTT holders. Decent fiat on-ramp as well!
MXC: Listings of lots of interesting tokens that are usually only available on DEXs. Avoid high gas prices!
Huobi: One of the largest exchanges in the world, some very interesting listings and early access sales through Primelist.
Gate.io: If you are after some of the weirdest and strangest tokens, this is one of the easiest off-chain places to get them!
Coinbase: If you need a regulated and safe environment to trade, this is the first exchange for most newcomers!
Crypto.com: Mixed feelings, but they have the BEST looking VISA debit card in existence! Seriously, it is beautiful!
CoinList: Access to early investor and crowdsale of vetted and reserached projects.
Cointracking: Automated or manual tracking of crypto for accounting and taxation reports.
Stoic: A USD maximisation bot trading on Binance using long-term long strategies, powered by the AI/human system of Cindicator.
StakeDAO: Decentralised pooled staking of PoS assets.
Poloniex: One of the older regulated exchanges that has come into new ownership. I used to use it quite a lot, but have since stopped.
Bitfinex: Ahhh... another oldie, but a goodie exchange. Most noted for the close affiliation with USDT and the Basic "no-KYC" tier!