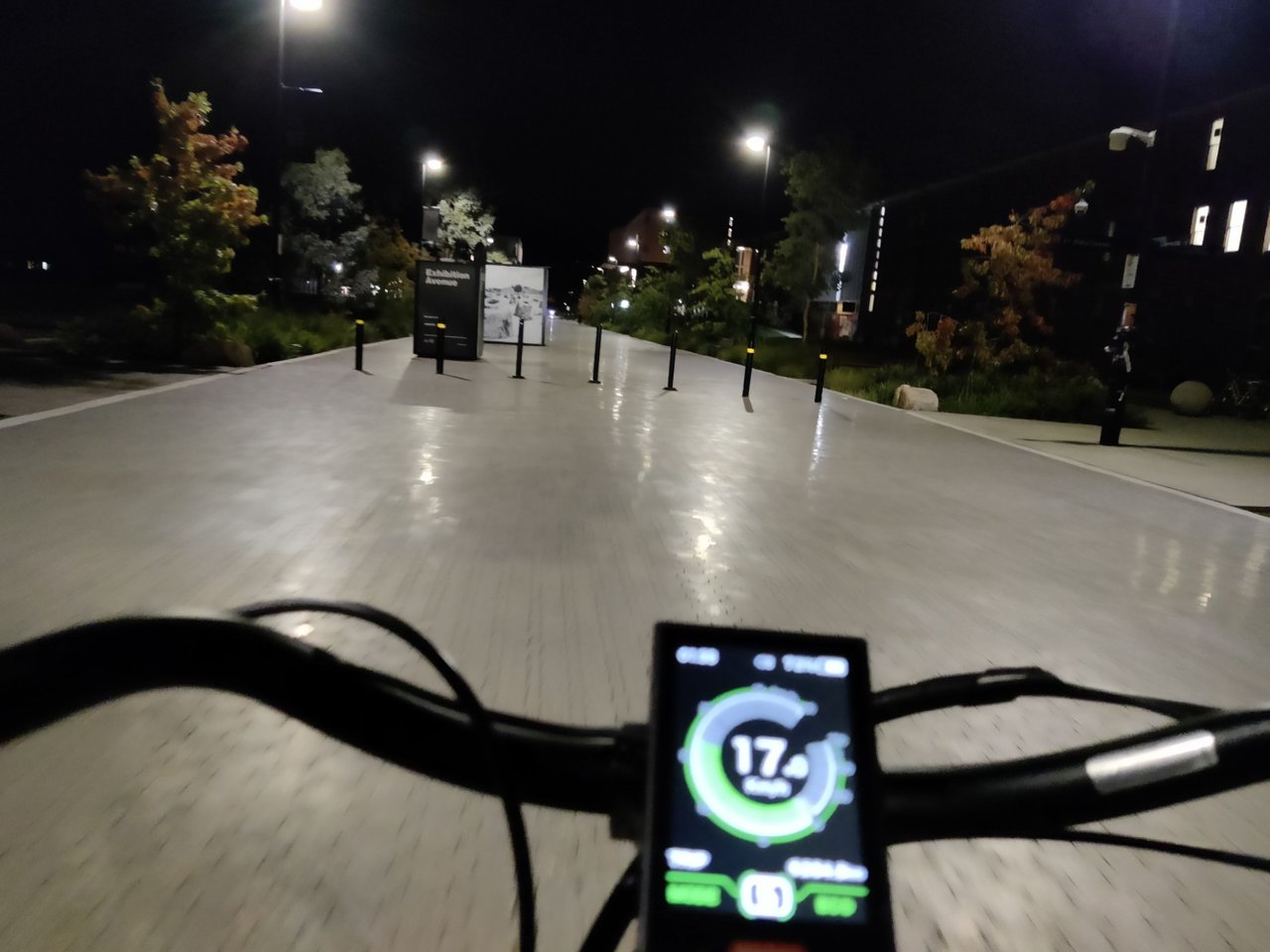 So, with the electric bike finally arrived from the other side of the world... I thought it would be a good idea one of these last evenings to ride the bike in to a symphony orchestra rehearsal. i had noticed that most of the musicians would arrive singly in a car... and arriving on a bike or in a group car wouldn't be that unusual in Europe. Perhaps, with the high petrol prices... car pooling might just start to become a thing again. At least, I might float the idea with some other musicians that live in my area.... after all, there is no point lugging half a ton of metal dead weight if you don't need to!
Anyway... back to the point... the bike ride in on an electric bike was around 40 minutes long. Something that we would regularly do when were in the Netherlands... but that was with much better infrastructure, and a much flatter landscape!
So... coming into the rehearsal was relatively easy... it wasn't too dark at that time, and there were a few cyclists and walkers around on the paths. What was a touch weird was that the bike paths were often shared with pedestrians... and also that they would sometimes skip onto the roads themselves for a bit! Poor old Google Maps would get a bit confused with some of these transitions and start offering some pretty bizarre directions. That can get quite annoying when you have hit a bit of a groove with the cycling, when all of sudden you find yourself heading the wrong way! I often have the directions piping into my ear with a bluetooth headphone... and so, I don't have a screen to see what Google really means. So, I might need to invest in a phone holder so that I can better decipher the directions.
Still... it was relatively easy, and most of the journey in was on a very long and slow downhill descent!... and there were plenty of backway bike-paths so that I wasn't trying to battle with cars... except for the last stretch in the main city area.
Going back was a little bit stranger... the first leg took me through the university, which I haven't visited since I was a student studying here. I only saw about half of the old University Avenue... which I would walk down every single day whilst studying... and the part that I saw was completely new and renovated! I'm going to have to take the time to explore the rest of the campus at some point to see what else has changed!
Anyway, it was a little bit trickier on the return journey... with the added chill and darkness... and the slow descent reversing into a slow ascent! Thankfully, nothing that the e-fiets couldn't help me boost up! But a decidedly slower average speed...
There were some really creepy bits in the back bike paths... when it is crazily dark, and you are just cycling through some narrow paths under trees and between shrubs... it feels like the sort of place where you would either get mugged or a crazy clown would jump out at you. Thankfully, neither happened and I made it back!
It was quite exhilarating to ride the bike a long distance again... and then evening and night were perfect cycling conditions for it. I do wonder if it would work quite so well in the heat of the day... perhaps in the autumn and winter would be fine, but the midsummer might just be too much. Anyway, little steps... I think I will definitely be taking the bike out more often for a spin as we get more settled here. I like not taking the car if I don't have to!
I can also be found cross-posting at:
Hive
Steem
Publish0x
Handy Crypto Tools
Ledger Nano S/X: Keep your crypto safe and offline with the leading hardware wallet provider. Not your keys, not your crypto!
Binance: My first choice of centralised exchange, featuring a wide variety of crypto and savings products.
Kucoin: My second choice in exchanges, many tokens listed here that you can't get on Binance!
FTX: Regulated US-based exchange with some pretty interesting and useful discounts on trading and withdrawal fees for FTT holders. Decent fiat on-ramp as well!
MXC: Listings of lots of interesting tokens that are usually only available on DEXs. Avoid high gas prices!
Huobi: One of the largest exchanges in the world, some very interesting listings and early access sales through Primelist.
Gate.io: If you are after some of the weirdest and strangest tokens, this is one of the easiest off-chain places to get them!
Coinbase: If you need a regulated and safe environment to trade, this is the first exchange for most newcomers!
Crypto.com: Mixed feelings, but they have the BEST looking VISA debit card in existence! Seriously, it is beautiful!
CoinList: Access to early investor and crowdsale of vetted and reserached projects.
Cointracking: Automated or manual tracking of crypto for accounting and taxation reports.
Stoic: A USD maximisation bot trading on Binance using long-term long strategies, powered by the AI/human system of Cindicator.
StakeDAO: Decentralised pooled staking of PoS assets.
Poloniex: One of the older regulated exchanges that has come into new ownership. I used to use it quite a lot, but have since stopped.
Bitfinex: Ahhh... another oldie, but a goodie exchange. Most noted for the close affiliation with USDT and the Basic "no-KYC" tier!