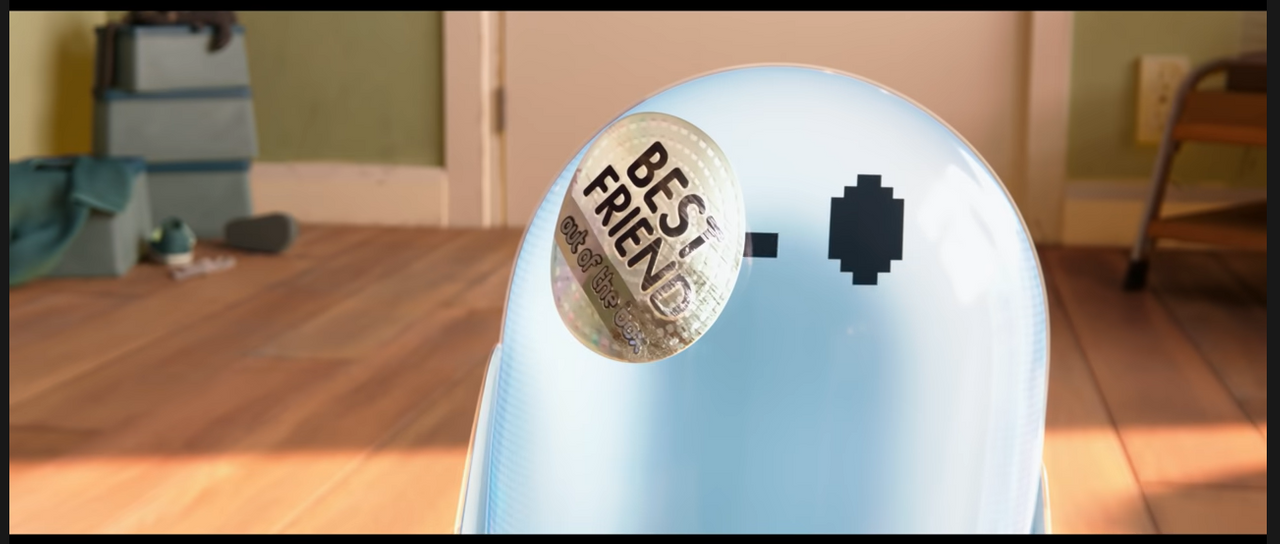 Well... on a recent trip to Glasgow, we had one of the most nightmarish series of flights possible, which ended up with staying an extra day in Glasgow (I should look into that expense reimbursement... I'm back, still processing after nearly a month....) .
Oh yes, anyway... when you are stuck at the airport hotel for an extra day with two young kids, you can either spend the day playing on the Switch and playing games on the PC, or you can go back into town and find something that the whole family will enjoy doing. Three of us opted for the former option and were subsequently over-ridden by my wife's vote which counts for about 5000 of our single votes in our family "democracy"! (joking... it is equal weight, I changed my mind after seeing the results and the kids have half votes.... phew, safe again).
Interestingly enough, earlier in the week, my older girl had seen an advertisement for Ron's Gone Wrong, a new animation from 20th Century Studios. I hadn't heard of the movie... it has been quite some time since I've been to the movies, but I'm tempted to go to the Eternals all by myself! My wife had heard of it and my older daughter had already mentioned it to her when we were at home in the Netherlands. So we thought that that might be a nice way to pass the time. Better than wandering the streets of Glasgow doing window shopping..
I'm a huge fan of animated movies... in fact, I would much rather see an animated movie instead of a "real" movie (much to my wife's horror...). Either that, or a superhero movie. Sci fi movies also get a pass... but many of the story movies, just really aren't my thing. For the last couple of decades, there has been a steady stream of really excellent animated movies that have come out from the studios, and the best part is that they are generally pretty decent for parents and children alike!
Ron's Gone Wrong is a beautiful story about a boy who just wants a B-Bot just like every other child in the universe. A B-bot is a little robot that was originally designed to help kids connect and make friends, but have obviously gone down the route of not really doing that... Barney's family is not able to afford a B-bot and so he is the only kid at school that is left out of the social mingling scene. Just the only uncool kid at school...
However, for one birthday... his grandmother and father manage to find him a damaged B-bot (Ron) and from there, the bond between boy and robot is born. Barney is so earnestly looking for a friend and chance to belong, and Ron is so endearingly broken... and Barney's family is hilariously and embarrassingly weird. Of course, in the interests of a decent movie narrative, things do end up going weird... as the B-bot inventor tries to reclaim the broken robot that has decoded the secret to friendship and the corporate leader takes over the entire system to try and bring the PR disaster to heel.
The pacing is just spot on... the depiction of the love and friendship between Ron and Barney is incredibly touching. It isn't sickly sweet, but it is the constant loyalty and irritation, the good and the bad, that all true friendships are built upon. Plus, the ending was just amazing... again, it isn't the sickly sweet sort that you might expect from a different mouse-themed studio, but one that was really appropriate for the story.
There are some really stand-out hilarious moments in the story... my favourite (and the favourite of my little one) is where Ron is dancing with the grandmother to some sort of ethnic-style Tiki Taka song. It is great... but sadly, it isn't on the soundtrack. It has been weeks since we have seen the movie, and the little one and I still dance around on the streets and at home doing the Tiki-Taka dance... much to the eternal embarrassment of my wife and older daughter!
Ron's Gone Wrong... a definite must see if you love animated movies, or just a great friendship story. Even better if you watch it with kids, but they aren't necessary to enjoy it!
I can also be found cross-posting at:
Hive
Steem
Publish0x
Handy Crypto Tools
Ledger Nano S/X: Keep your crypto safe and offline with the leading hardware wallet provider. Not your keys, not your crypto!
Binance: My first choice of centralised exchange, featuring a wide variety of crypto and savings products.
Kucoin: My second choice in exchanges, many tokens listed here that you can't get on Binance!
FTX: Regulated US-based exchange with some pretty interesting and useful discounts on trading and withdrawal fees for FTT holders. Decent fiat on-ramp as well!
MXC: Listings of lots of interesting tokens that are usually only available on DEXs. Avoid high gas prices!
Huobi: One of the largest exchanges in the world, some very interesting listings and early access sales through Primelist.
Gate.io: If you are after some of the weirdest and strangest tokens, this is one of the easiest off-chain places to get them!
Coinbase: If you need a regulated and safe environment to trade, this is the first exchange for most newcomers!
Crypto.com: Mixed feelings, but they have the BEST looking VISA debit card in existence! Seriously, it is beautiful!
CoinList: Access to early investor and crowdsale of vetted and reserached projects.
Cointracking: Automated or manual tracking of crypto for accounting and taxation reports.
Stoic: A USD maximisation bot trading on Binance using long-term long strategies, powered by the AI/human system of Cindicator.
StakeDAO: Decentralised pooled staking of PoS assets.
Poloniex: One of the older regulated exchanges that has come into new ownership. I used to use it quite a lot, but have since stopped.