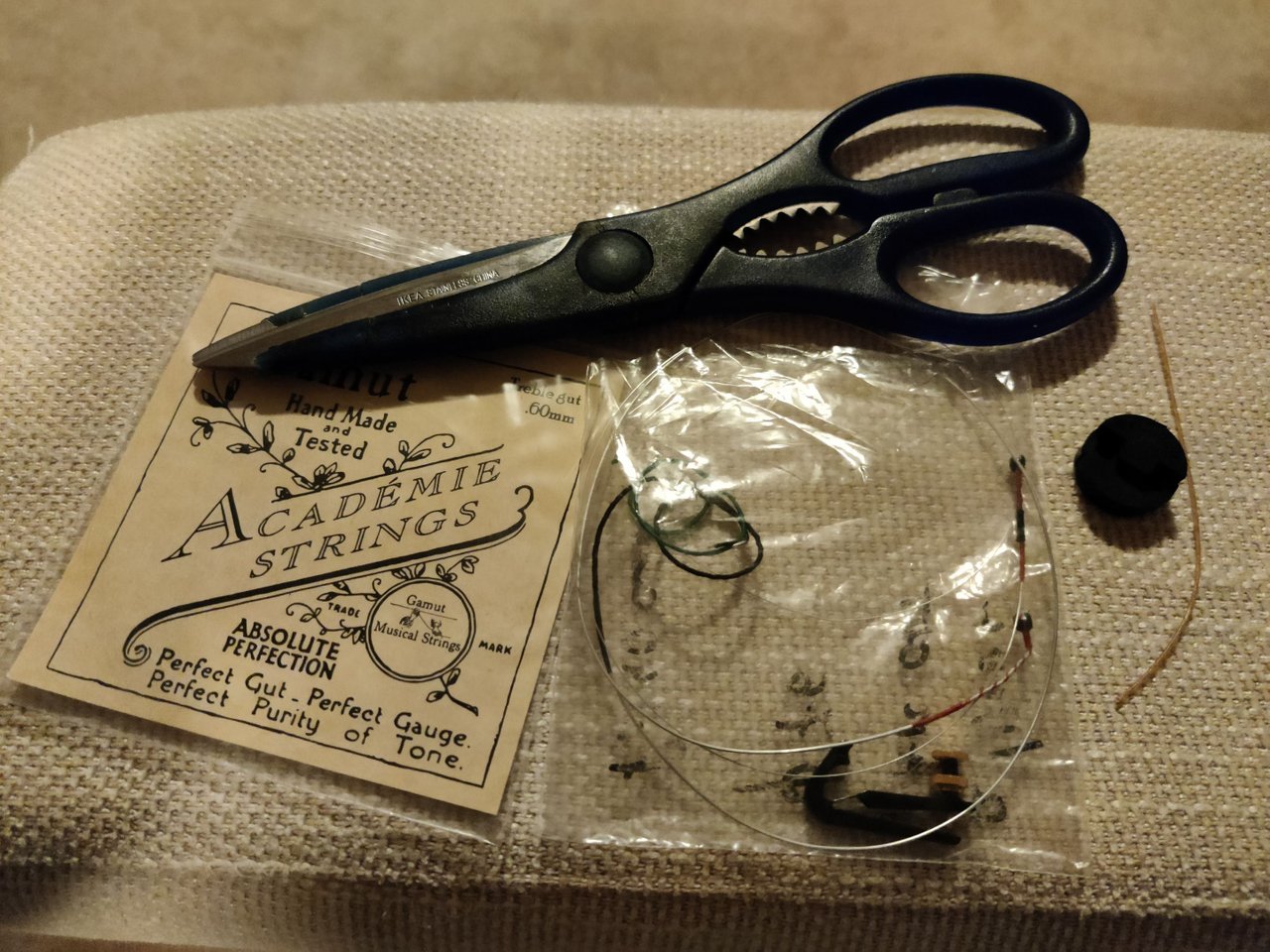 Sigh... this is going to likely be a more frequent event now in Australia, and something that I'm not particularly keen about, but there isn't anyway around it (aside from buying another violin!). Plus, it is a problem that is born of good things... so, I shouldn't really complain... but I will!
So... the problem is that I have two main violins that I use. In the Netherlands, that was no problem... as I did primarily early music exclusively and never had to do anything performance-wise for modern symphony orchestras and that sort of thing. That meant that I could string up the two violins for different purposes.
One would use 3 naked gut strings, and one silver wound gut string... all of thicker gauges, allowing for heavier tensions for lower pitches... so, this violin would generally be used for A=415Hz or A=392Hz... essentially, it was late Baroque and early Classical music... and French Baroque music. Meanwhile, the other violin was strung with two thinner naked gut strings, and two "cheating" steel strings on the bass end... this meant that it had lesser tension, and was better suited for higher pitched music. That would be A=430Hz, 440Hz and 466 Hz.... interestingly enough, these pitches covered a wide array of styles and periods... from early German Baroque music and Renaissance, through to the Classical and early Romantic eras!
Now, I have the "problem" that I have started to play with modern symphony orchestras again... which means that I need to string up with non-naked-gut strings... so, to fit in with the section sounds, it means essentially steel or synthetic-core strings. And that means restringing a violin every time I change from symphony orchestra to and from period instrument groups!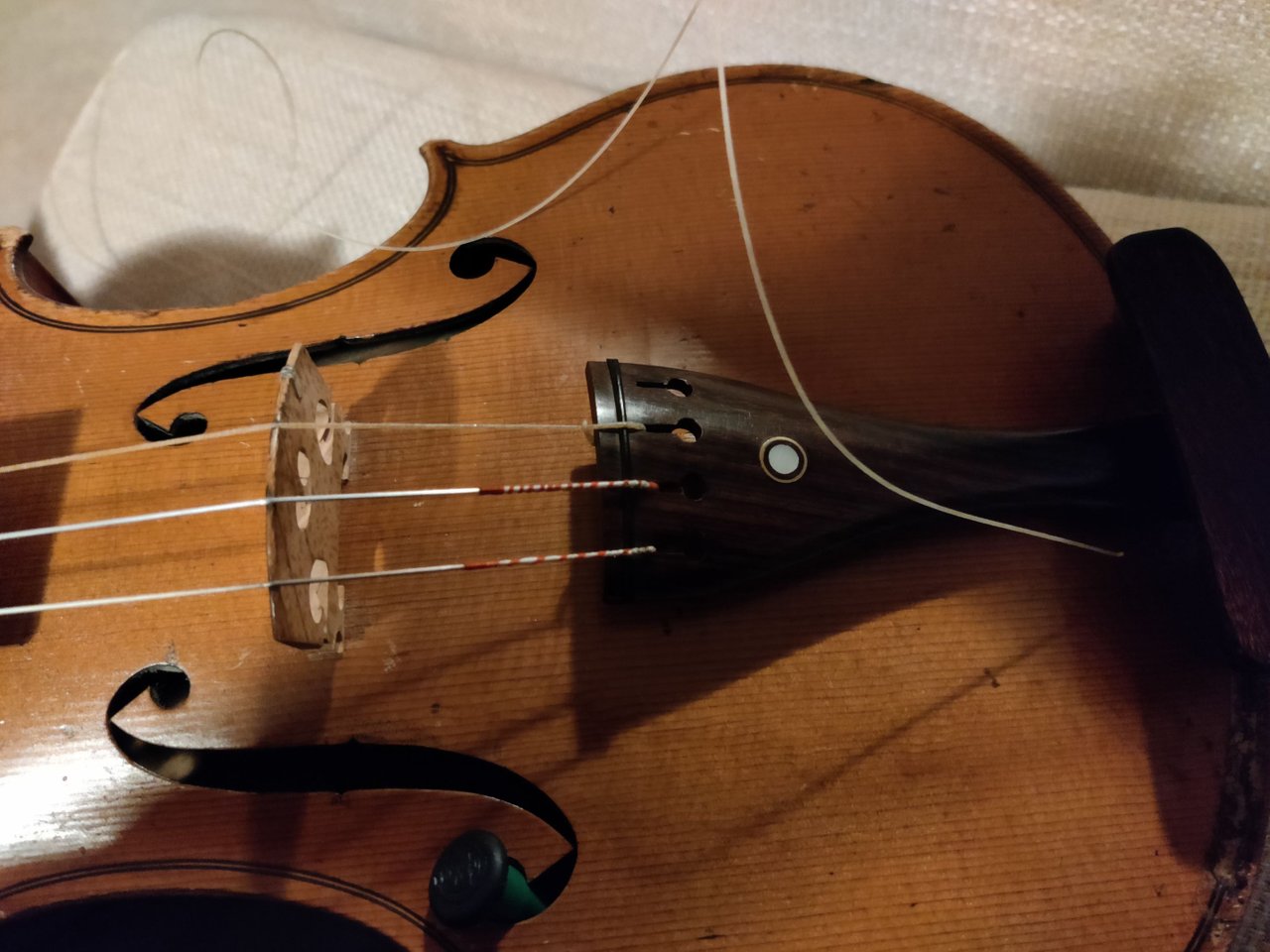 Now, taking down a string and replacing it isn't that big a deal... it is annoying to do... but removing the fine tuner is a little extra thing that needs to be done... and also doing it all in enough time beforehand (several days at least...) to allow the strings to settle and stabilise.
Normally, I wouldn't be keeping the old strings that I had taken down... but seeing as I will be doing this more regularly than I would like, I guess that I might as well keep stringing and restringing the used strings until they are false sounding. Otherwise, this could be a pretty major expense...
Thankfully, I can at least keep the two bass strings... I use the same types for those on the "high" violin regardless of which type of stringing I do. Two less is two less to worry about...
So, hopefully, I have done this one in enough time. I was a bit constrained by the fact that I needed to use the violin in a modern Classical performance yesterday, and will have my first rehearsal on period instruments on Wednesday. I should have probably done it immediately after stepping off stage... but these things slip your mind! However, it is done.. and the naked gut strings have enough time (I hope...) to stretch out and stabilise their tension (and tuning...) before I have to start playing on them!
I have a feeling that I have a quick switch back to the steel strings after this upcoming project.. I probably should double check my diary for that... automate a reminder, or things could get quite hairy!
Of course, I wouldn't have this problem if I just went out and bought a really nice THIRD main instrument!... but, I'm not really sure that I could convince the rest of my family that that would be a GREAT idea!
I can also be found cross-posting at:
Hive
Steem
Publish0x
Handy Crypto Tools
Ledger Nano S/X: Keep your crypto safe and offline with the leading hardware wallet provider. Not your keys, not your crypto!
Binance: My first choice of centralised exchange, featuring a wide variety of crypto and savings products.
Kucoin: My second choice in exchanges, many tokens listed here that you can't get on Binance!
FTX: Regulated US-based exchange with some pretty interesting and useful discounts on trading and withdrawal fees for FTT holders. Decent fiat on-ramp as well!
MXC: Listings of lots of interesting tokens that are usually only available on DEXs. Avoid high gas prices!
Huobi: One of the largest exchanges in the world, some very interesting listings and early access sales through Primelist.
Gate.io: If you are after some of the weirdest and strangest tokens, this is one of the easiest off-chain places to get them!
Coinbase: If you need a regulated and safe environment to trade, this is the first exchange for most newcomers!
Crypto.com: Mixed feelings, but they have the BEST looking VISA debit card in existence! Seriously, it is beautiful!
CoinList: Access to early investor and crowdsale of vetted and reserached projects.
Cointracking: Automated or manual tracking of crypto for accounting and taxation reports.
Stoic: A USD maximisation bot trading on Binance using long-term long strategies, powered by the AI/human system of Cindicator.
StakeDAO: Decentralised pooled staking of PoS assets.
Poloniex: One of the older regulated exchanges that has come into new ownership. I used to use it quite a lot, but have since stopped.
Bitfinex: Ahhh... another oldie, but a goodie exchange. Most noted for the close affiliation with USDT and the Basic "no-KYC" tier!