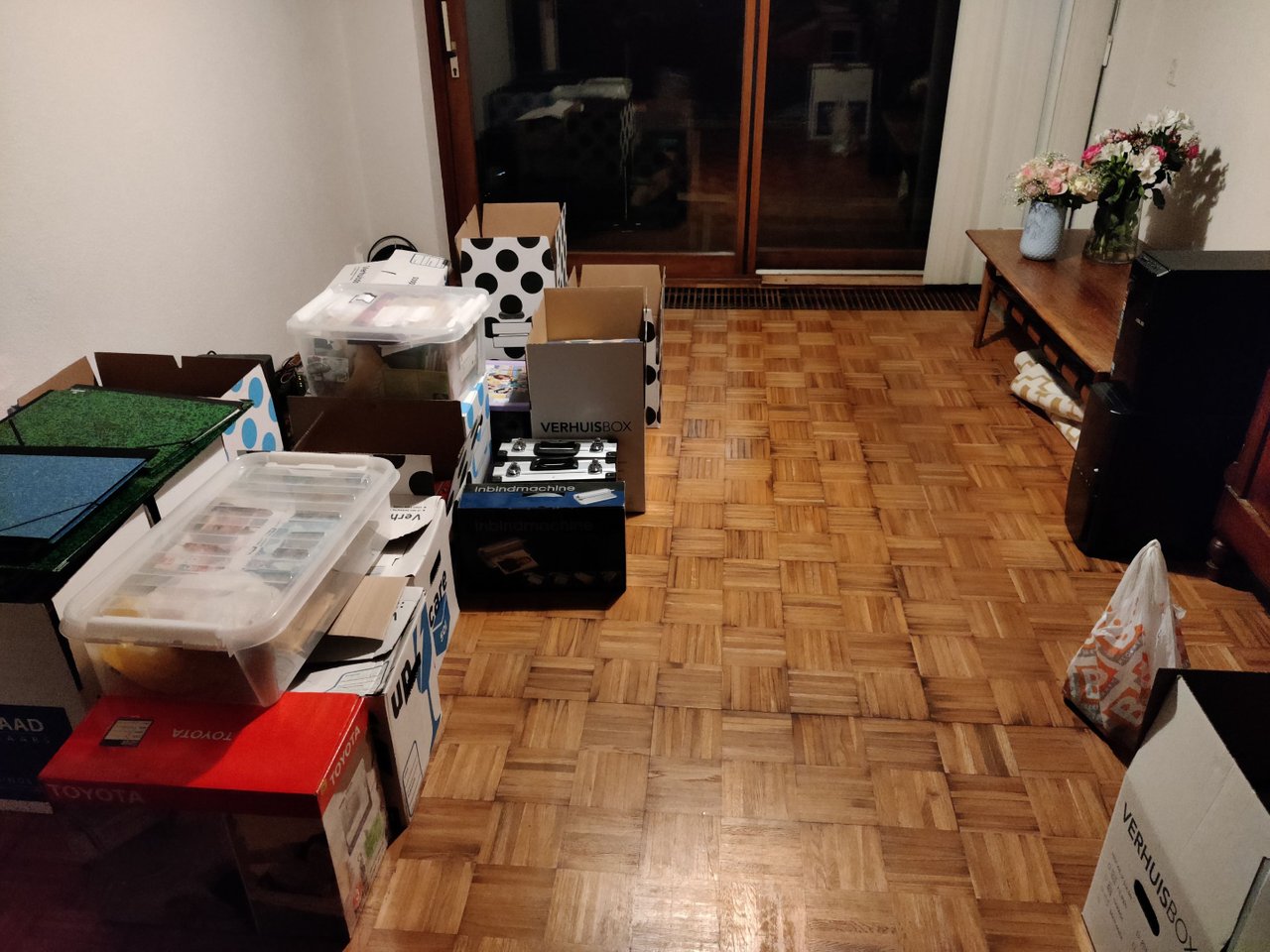 This is my little series on the big move back to Australia. Perhaps I will look back in the future and laugh... or cry!
Part 1: Finding a Moving Company
Past 2: A Slight Travel Panic
Part 3: Comparing Crypto Tax Accounting platforms (Cointracking vs Rotki)
Part 4: A Week in Involuntary Stasis
Part 5: The Last Harvest
Part 6: Letting Go...
Part 7: Putting the name out there!
Part 8: Prohibited Materials:
Part 9: Liquidity Freeze!
Part 10: NOOOOO, Steam Deck Delay!
Part 11: A Father's Guilt
Part 12: Middle of the Night Interviews
Part 13: Poopyitdy Poopydity Poop Poop.... Corona Variant Omicron!
Part 14: Things I will MISS about Netherlands
Part 15: Things I WON'T MISS about Netherlands
Part 16: Last Concerts in Europe
---
My public persona is definitely one of logic and reason... at least that is the way that most people see me in public, be that in teaching, or in rehearsals... however, as I warm to people, they might discover that I do have a dry sense of humour and a fairly hefty dose of loyalty. If I get closer to people, that might start to discover that underneath the dry and sometimes sarcastic humour... I very deeply care about my colleagues, friends and family. All of it generally hidden beneath layers of light humour and a wide smile!
It does sometimes lead people to occasionally think that nothing ever fazes me, and that they might think that I have an endless depth of unflappable good humour and stability. And most of the time, that is quite true... very little bothers me, and I'm the sort of person that will just make things work without a fuss. That said, sometimes.... I do get sick of being the one to keep everyone's morale and stability above water, but I guess that is the job of a ensemble leader (when I'm in that role...), and a good team player (when I'm not leading).
This few days (past and coming) are devoted to pre-packing our belongings for the shipping company to pack and take away... Sure, the contract is that they will do ALL the packing... however, we figure that we could at least put aside all the things that are supposed to be shipped so that it is easier for them to repack. We aren't taking everything, so it would just be too annoying for them to be constantly checking to see if something is going or not. Plus... we have a lot of little loose things that we have just collected into single boxes... and from there, the company can decide how to best pack it all!
To that end, we have started to divide up our house into different zones. Namely, shipping zones, dumping zones, and flying zones.
Obviously the leading photo is one of the shipping zones... The main living room (woonkamer) on that side is all the boxes of loose things... music, kids portfolios, coin collections, computers, furniture, and miscellaneous lots of other things. Another shipping zone is the garage, which as the bikes and some vintage furniture.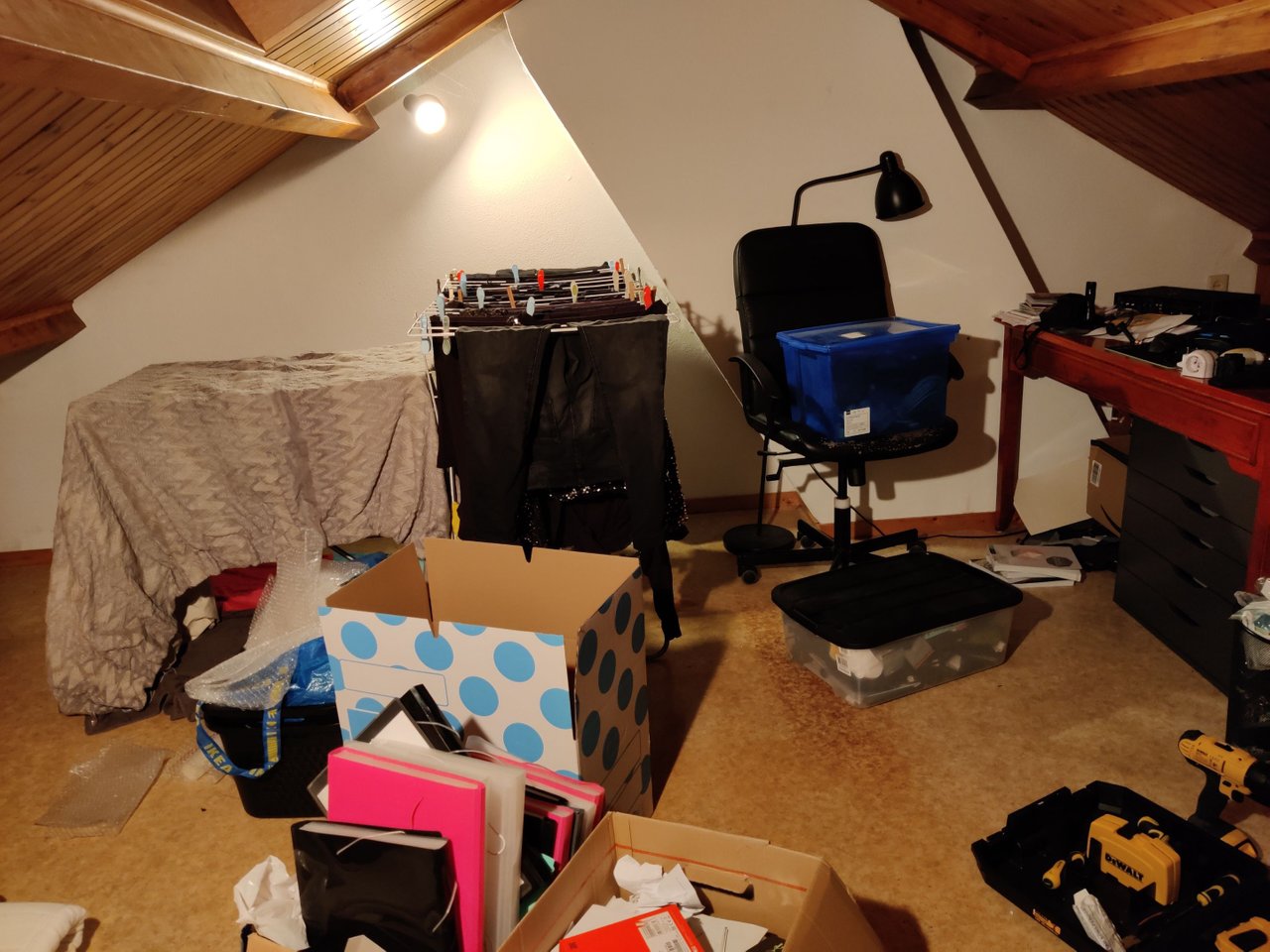 The attic is slowly being cleaned out and being transformed in the to flying zone. This will house all the things that will come with us on the flights back to Australia. So, violins and violas, clothes, a little computer... laptops, favourite toys and all of that sort of thing... the stuff that we want to be immediately available!
The bedrooms and toy room (middle floor) are a bit of a hybrid at the moment... but they are gradually being emptied out in order to be shipping zones. None of the furniture in these sections will go... but we have large bookcases of books that will go, lots of beloved toys... and all the clothes that we will see in about 3-6 months time.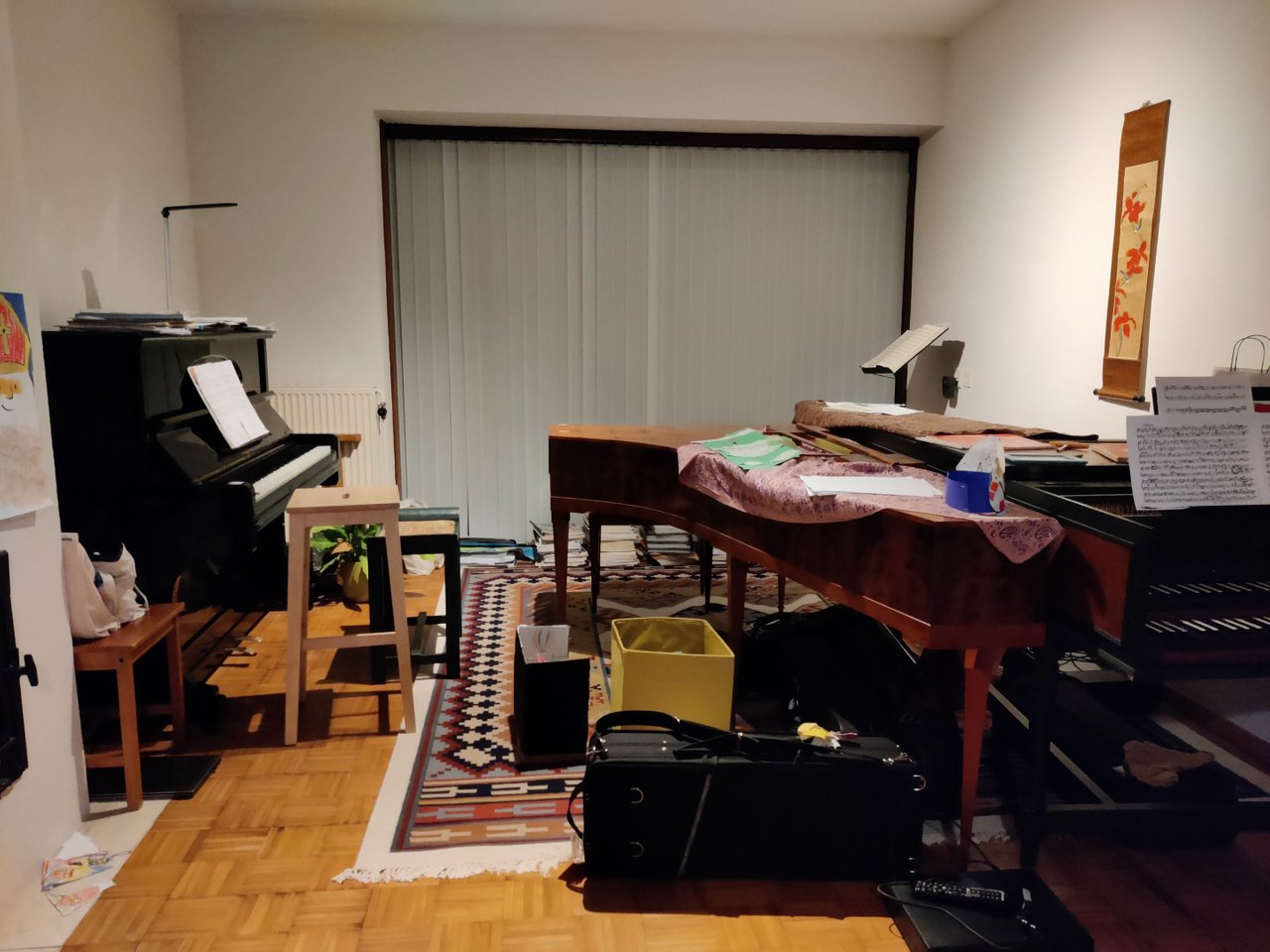 Finally, the piano section are going by ship or air freight... thankfully, that is all a shipping zone!
anyway... back to the to original starting point. Packing up house for me (now it is about the 5th time or more...) has always been a touch of an emotional thing. I always get into a bit of a memory trance about things... and that really slow the packing down a little bit. This afternoon, I was going through some of the stuff with my oldest girl... and she is starting to get really upset about leaving. Going through all her old drawings and art and toys... well, both of us were crying. I really hope that she will be okay... but it wouldn't have gotten any easier if she was older... and time is definitely passing with no heed for whether we are ready or not. So, I tried to explain that she will make new friends and we will make a new home together... and that both her mother and I were also incredibly sad to leave, but that we were all leaving together to make a new home for ourselves.
Interestingly enough, my wife and the oldest have been looking at houses to buy on the other side... they both have really great taste... and similar tastes! I suggested one house... and I've now been banned from house-picking. Meanwhile, the youngest is incredibly concerned that we might leave the Nintendo Switch behind in the Netherlands! I reassured her that it was definitely coming with us! Phew... if only the rest of us were so easily consolable (ooops... punny)!
I can also be found cross-posting at:
Hive
Steem
Publish0x
Handy Crypto Tools
Ledger Nano S/X: Keep your crypto safe and offline with the leading hardware wallet provider. Not your keys, not your crypto!
Binance: My first choice of centralised exchange, featuring a wide variety of crypto and savings products.
Kucoin: My second choice in exchanges, many tokens listed here that you can't get on Binance!
FTX: Regulated US-based exchange with some pretty interesting and useful discounts on trading and withdrawal fees for FTT holders. Decent fiat on-ramp as well!
MXC: Listings of lots of interesting tokens that are usually only available on DEXs. Avoid high gas prices!
Huobi: One of the largest exchanges in the world, some very interesting listings and early access sales through Primelist.
Gate.io: If you are after some of the weirdest and strangest tokens, this is one of the easiest off-chain places to get them!
Coinbase: If you need a regulated and safe environment to trade, this is the first exchange for most newcomers!
Crypto.com: Mixed feelings, but they have the BEST looking VISA debit card in existence! Seriously, it is beautiful!
CoinList: Access to early investor and crowdsale of vetted and reserached projects.
Cointracking: Automated or manual tracking of crypto for accounting and taxation reports.
Stoic: A USD maximisation bot trading on Binance using long-term long strategies, powered by the AI/human system of Cindicator.
StakeDAO: Decentralised pooled staking of PoS assets.
Poloniex: One of the older regulated exchanges that has come into new ownership. I used to use it quite a lot, but have since stopped.
Bitfinex: Ahhh... another oldie, but a goodie exchange. Most noted for the close affiliation with USDT and the Basic "no-KYC" tier!