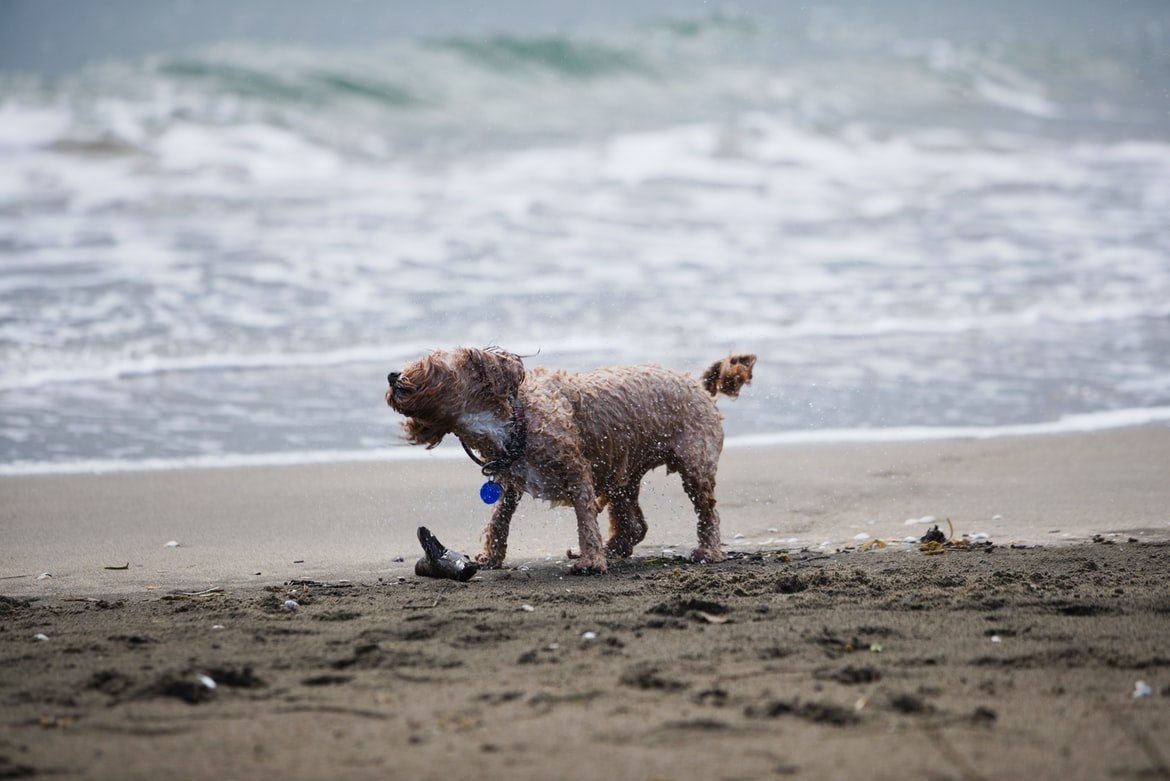 Being a parent can be a bit like being the support/utility player for a team... you make sure that everything is in place and working smoothly... but you get none of the credit/glory... or any of the fun!
Anyway, today was one of those days. We are juggling all the finishing stuff for our last weeks here in the Netherlands... of course, with the additional complications of Coronavirus and the exciting new variant! That means that every school day is a bit of a Russian roulette game of who might or might not get sick, and now that school is cancelled for the next week, we also have the problem that the two children's afscheiden are being brought forward as well as other things that now need to be completed a few days earlier than expected... right before Christmas!
Anyway, today was a bit of a crazy run-around day... just getting things done for the girls, and making sure that they have a nice Kerst-diner (Christmas dinner) at the school with their friends, classmates and teachers. It is a really nice thing for all the kids to come together, and spend two hours together celebrating... however, it is a little bit trickier when you don't live close to the school like most of the other families. So, like all Wednesdays, today was a half day (I'm going to miss that in Australia...)... and after school, I wanted to make sure that the kids had some photos together with their friends... just in case any of them got sick, of the class was quarantined. My wife said it was not necessary, but you never know... better to have some photos (our oldest wanted to use her Instamax camera...) than none... and you can always do more if nothing goes wrong!
.... then a quick run to get some toys donated to a refugee and donations centre... the girls won't be taking everything to Australia, and it is better that people in need get them instead of good toys going to the bin.
Then finally a race home... for the kids to finish cards to their teachers, cram in a bit of lunch, cook and prepare the dinners for themselves and their chosen classmates, have a bath and wash hair, and dress up... all in about 2 and a half hours... in order to get back to the school before the end of day traffic jam! Phew... so, it was all "Go, go, go!" in the house.
Thankfully, the girls were very helpful and did everything they needed to without complaint! I'm lucky...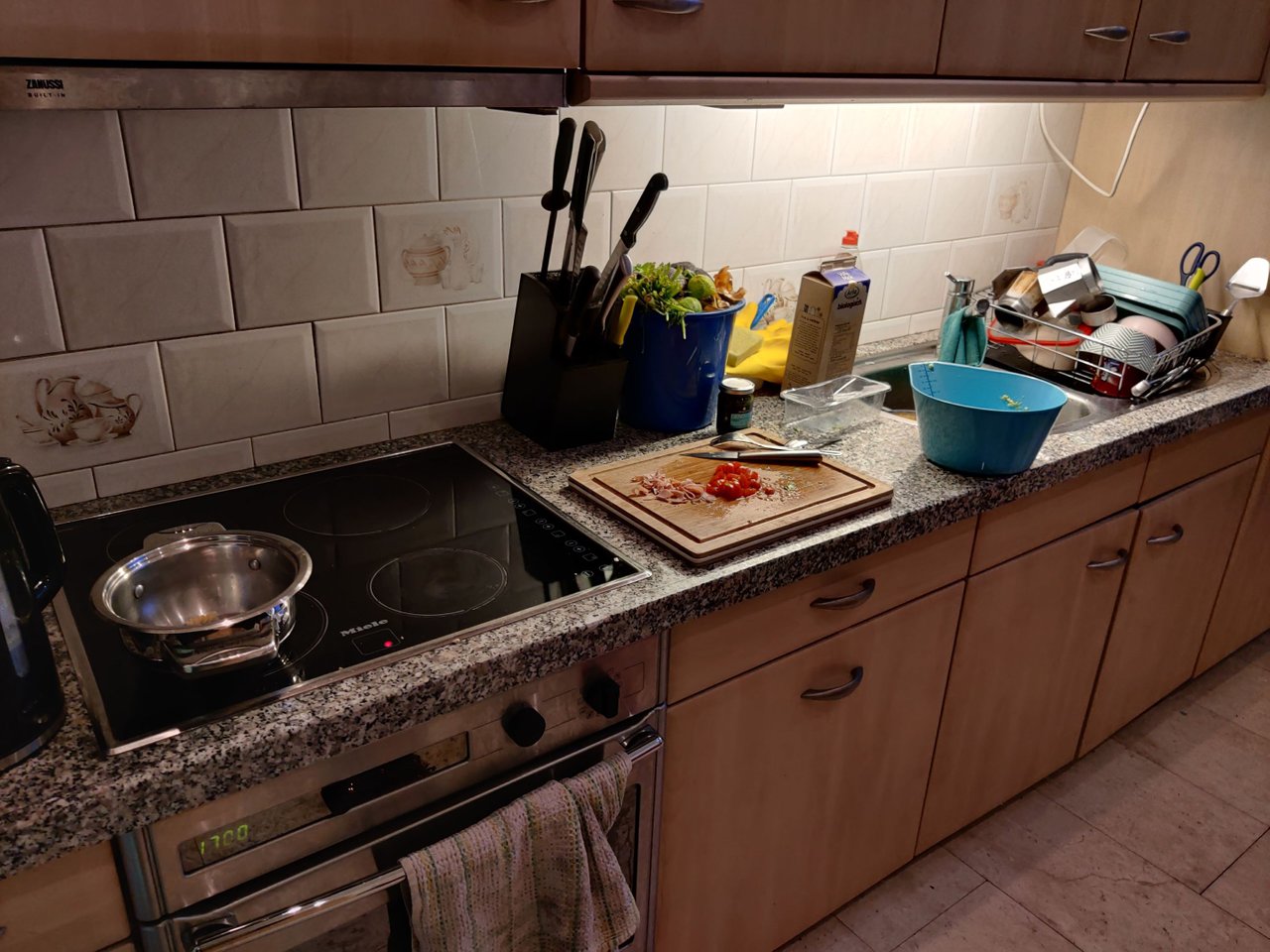 Oh, I forgot to mention that I was doing this alone as my wife was working this afternoon! Unfortunately, I wasn't able to fit time for a clean up after I was done with everything... so, she will get the clean up duty when she gets home from work!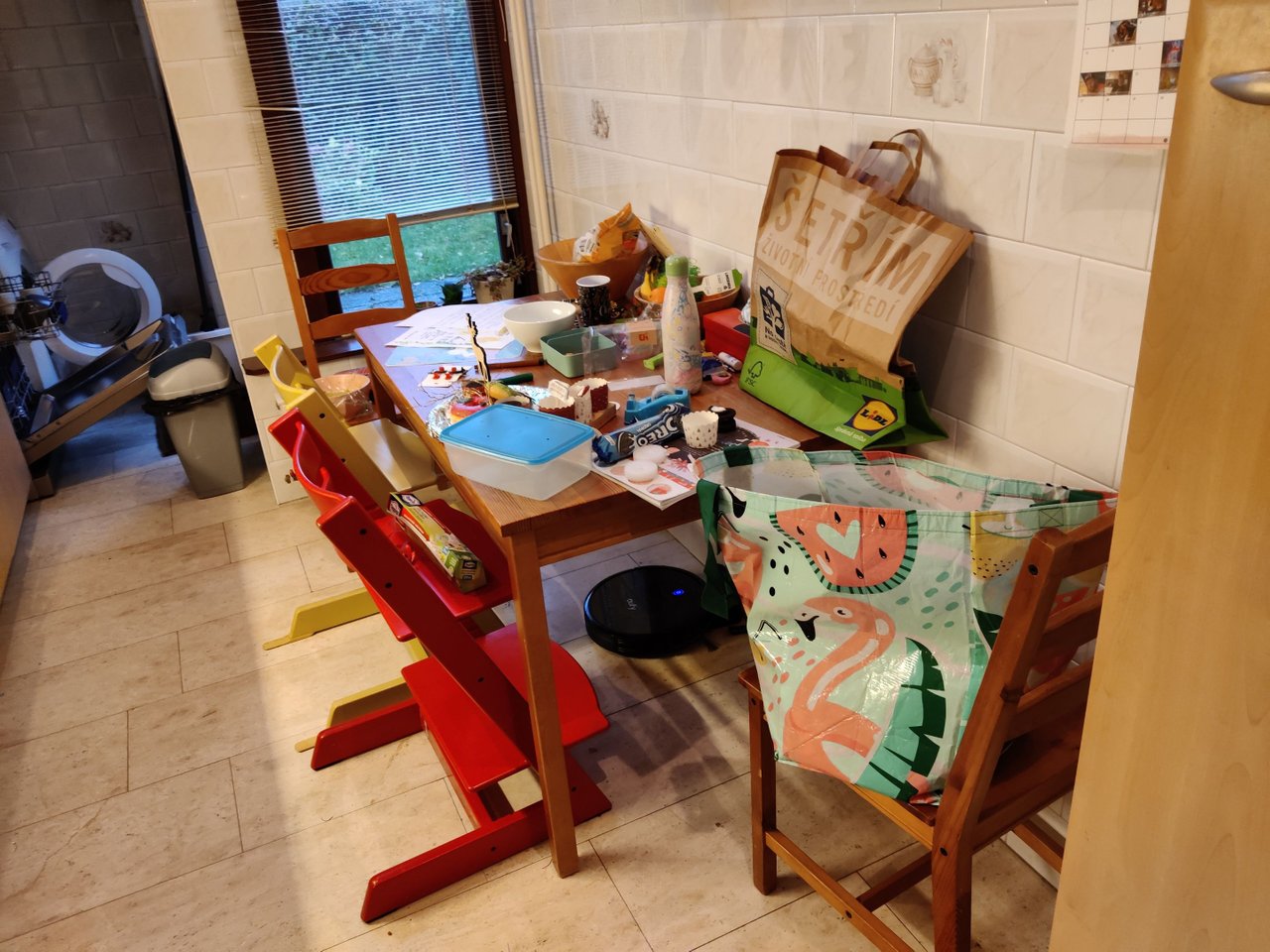 ... oh, this is the messier side!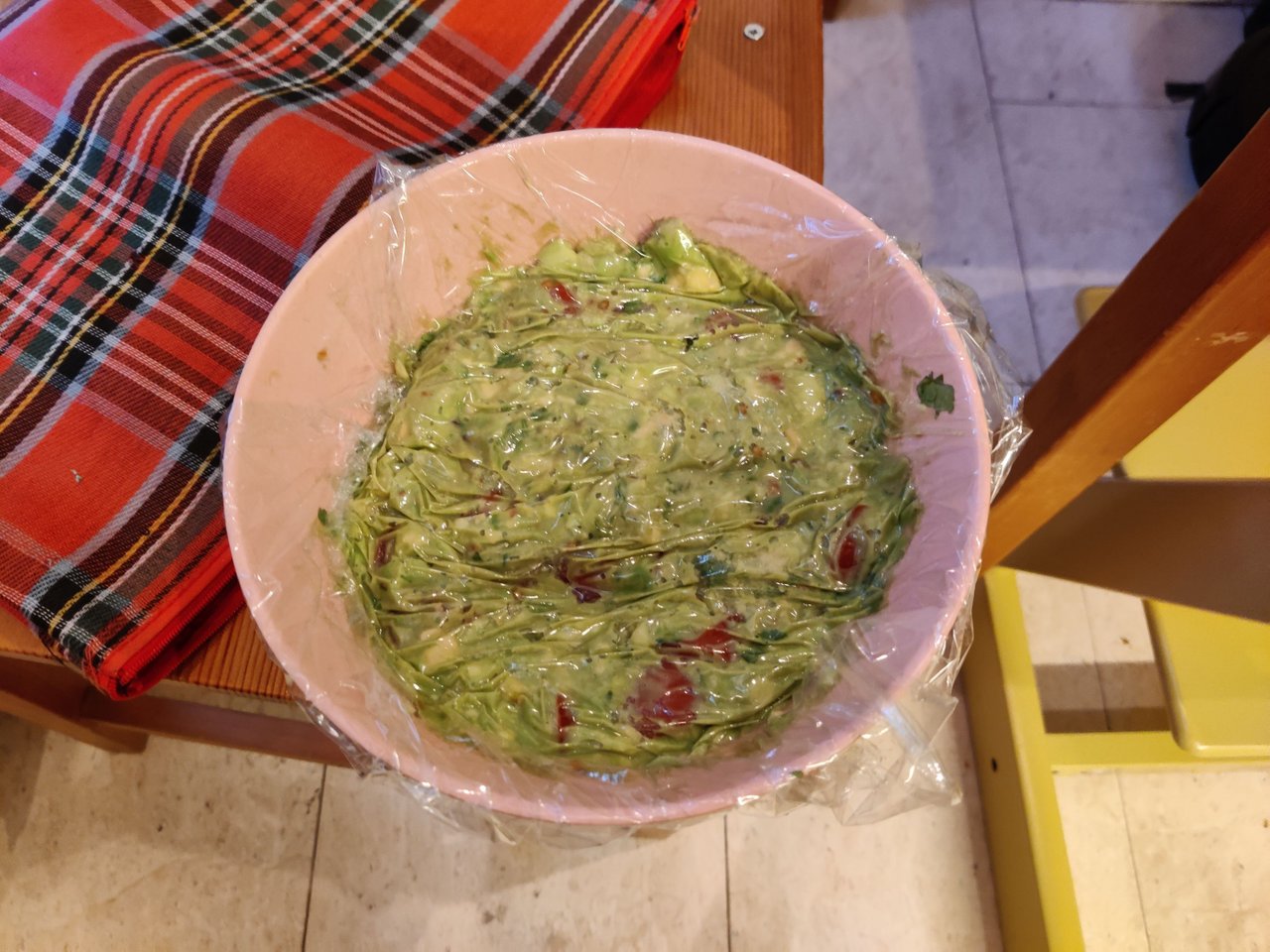 I had to make a Guacamole as the older girl's contribution to the class buffet... I've never made it before, but my wife had left a website with instructions. Seemed easy enough... I think I'll make it more often, it is really nice to make and tastes much nicer when you do it yourself! I had to leave out the garlic, cumin and chili though... just in case other children in the class don't like that sort of thing.
... actually, the hardest part of this was trying to figure out where my wife had stashed the avocados! Not in the fruit bowl, not in the veggie bowl... but in a paper bag that was on the dishwasher! Hmmmm... she hasn't been sleeping well in the last week... stressed about all the things to do with moving and also making sure that the kids have a good end to their time in Netherlands.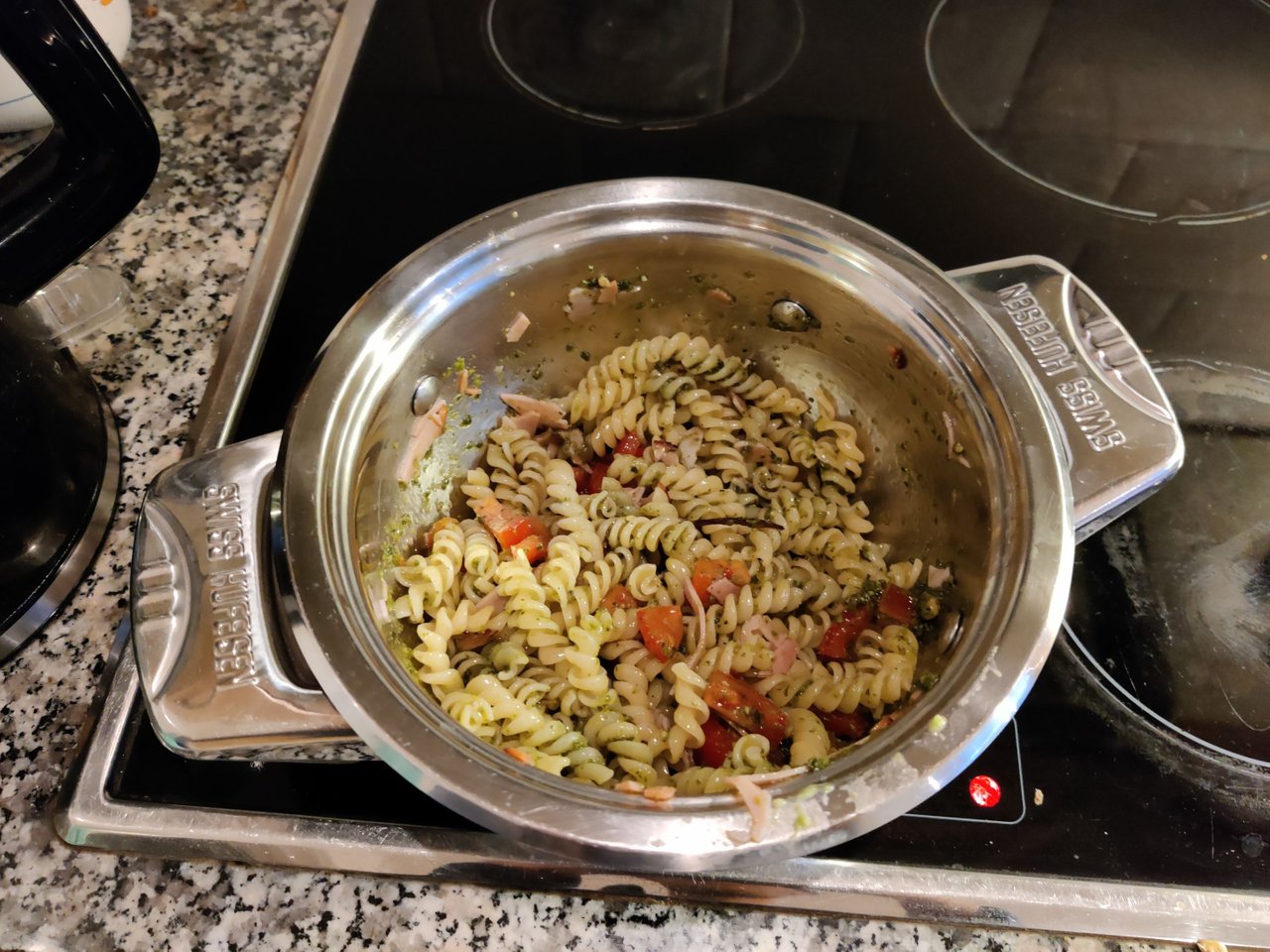 The younger girl had to bring their own meal... her request was easy enough, her perennial favourite of pasta and pesto (with ham instead of bacon this time... no bacon in the fridge, and no pine nuts in the pantry). That was done between running up and down the stairs to get the girls out out of the bath with freshly washed hair... and brushing with a hair-dryer (not too fast, or there would be loss in efficiency due to cranking out and screaming with pain!). Then making sure that they were dressed in festive clothes... and then running back down to make sure that nothing was going wrong with the cooking!
The older one had to prepare a dessert surprise for a random classmate... again, a really nice thing that the kids all do for each other. She managed to whip this up in short order, based on the selections of dessert wishes that the other kid had wrote down on a class list. Just need to have it wrapped up in al-foil to keep it as a surprise... that reindeer sticking out the top made it a pain in the arse!
Then a race out the door... making sure everyone was dressed and carrying the things that they needed... hopefully with nothing missing, because... we don't around the corner! We were a little later than I hoped in getting out the door... I wanted to miss the evening rush hour... and we just caught a little bit of it, but not enough to make us late. The girls were really nice, and said that I could have my news (podcasts...) on in the car as I had been running around all afternoon to make sure that all their stuff was ready... normally, they complain and whinge if I suggest that I should have my news instead of their music!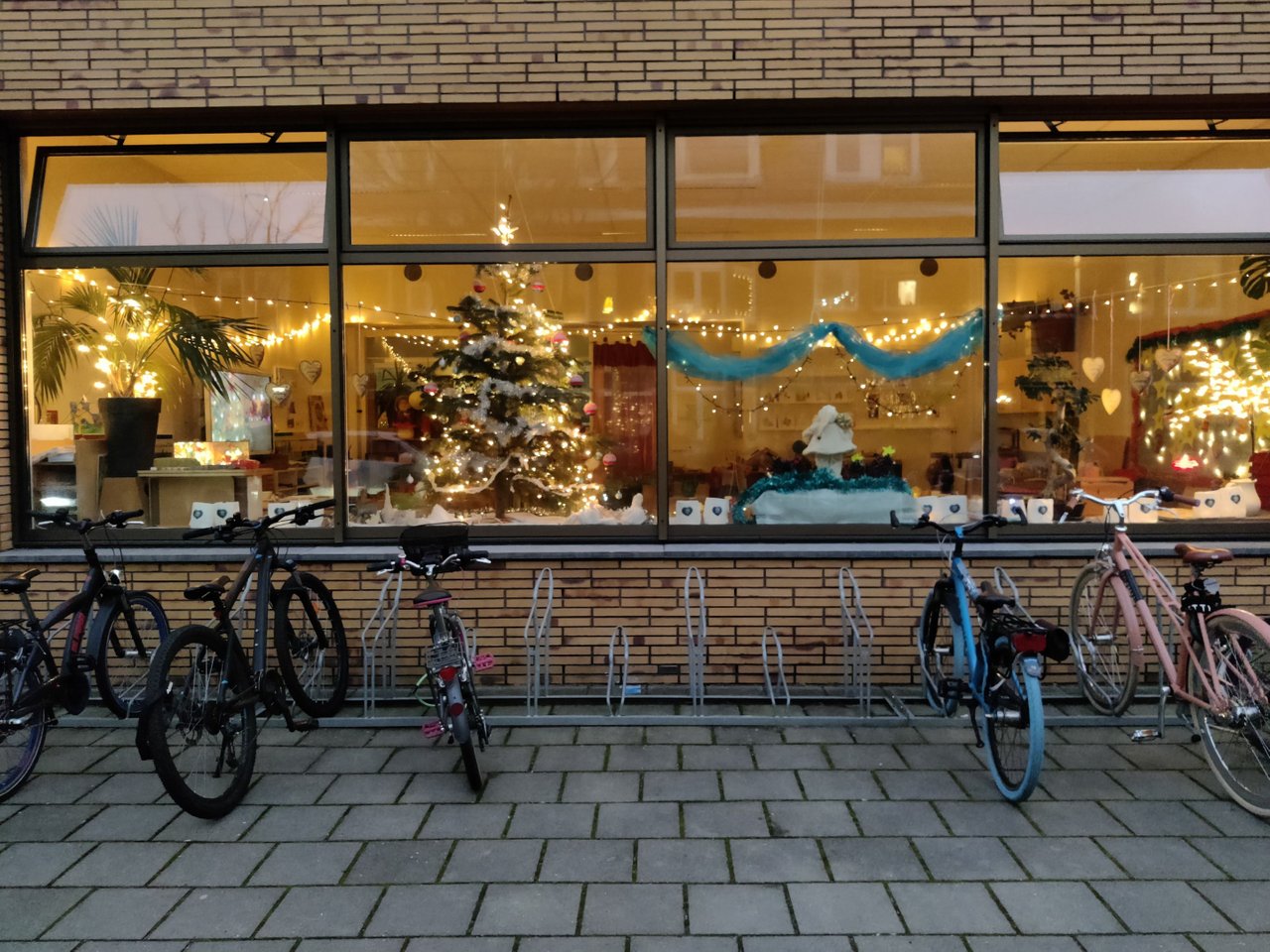 ... made it in time, actually with time to spare... even counting the stupid driving of people who were crazily in a rush to make it to the next stop light ahead of everyone else. Seriously, anyone that is in that much of a hurry just needs to leave earlier... or just accept that being 1 minute faster isn't worth being an arsehole to everyone else on the road. Wait... wishful thinking....
... anyway, they got into the school... and they are now having a lovely time with their friends! It is everything that we wanted them to have... to have a last Christmas dinner with their friends, and I'm so happy that it wasn't derailed by Corona, or anything else. We just have a few more days, and then they will have their farewells at the school... I really hope that nothing gets in the way of that, we have done everything we can to make sure that they finish in the nicest possible way... it is all in the hands of fate now!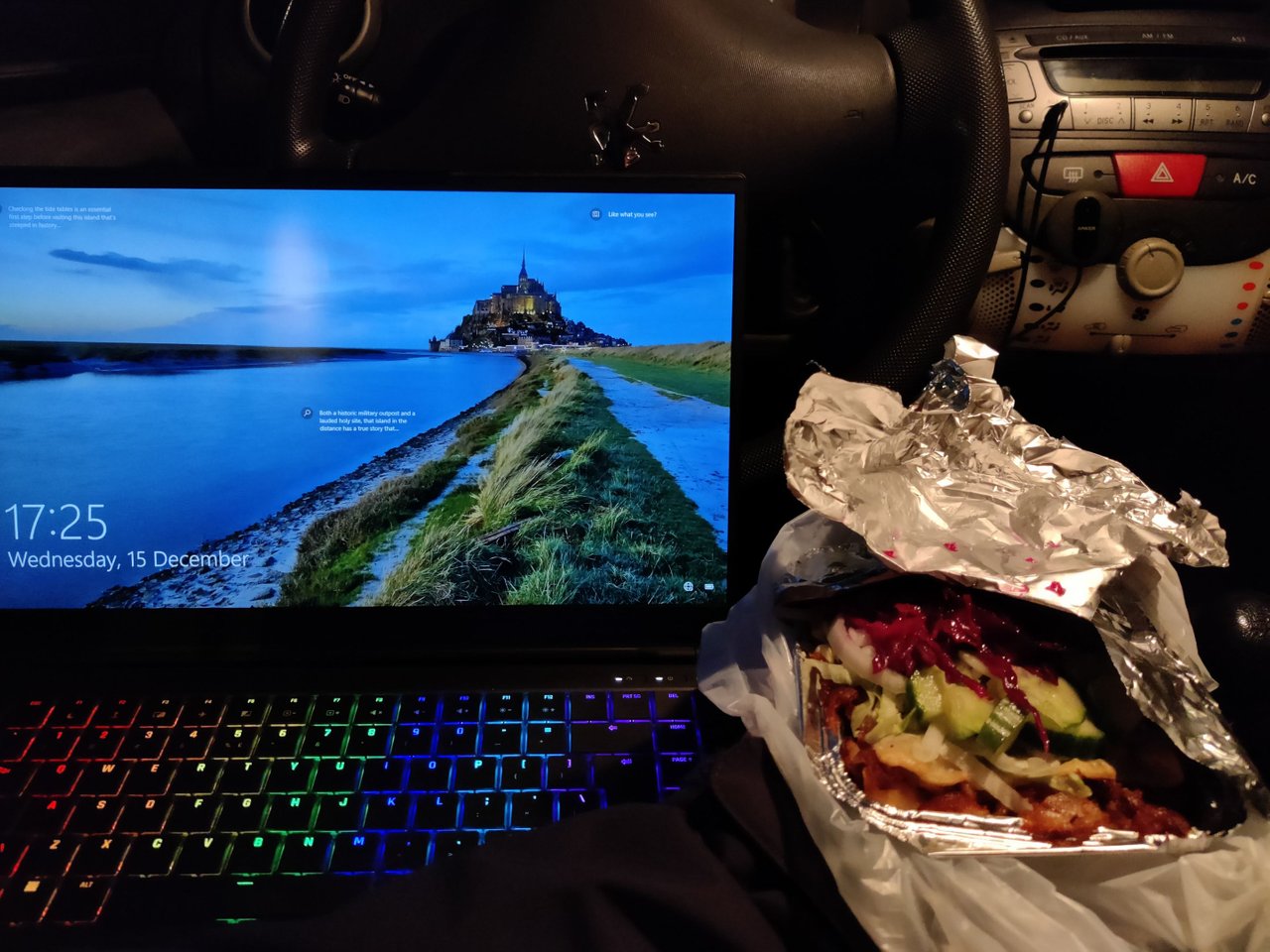 ... as for me. I can't really go home. If I try, I will get stuck in the evening rush hour, and then arrive at home in time to turn around and drive back to pick them up. So, the support player... gets a takeaway dinner in a cold and dark car.... this is how I will pass my two hours whilst the girls have their Kerstdiner. Maybe if I play something that gives the GPU a workout, I can keep warm from the laptop venting!
... that said, it is all worth it! It's just what we do as parents!
I can also be found cross-posting at:
Hive
Steem
Publish0x
Handy Crypto Tools
Ledger Nano S/X: Keep your crypto safe and offline with the leading hardware wallet provider. Not your keys, not your crypto!
Binance: My first choice of centralised exchange, featuring a wide variety of crypto and savings products.
Kucoin: My second choice in exchanges, many tokens listed here that you can't get on Binance!
FTX: Regulated US-based exchange with some pretty interesting and useful discounts on trading and withdrawal fees for FTT holders. Decent fiat on-ramp as well!
MXC: Listings of lots of interesting tokens that are usually only available on DEXs. Avoid high gas prices!
Huobi: One of the largest exchanges in the world, some very interesting listings and early access sales through Primelist.
Gate.io: If you are after some of the weirdest and strangest tokens, this is one of the easiest off-chain places to get them!
Coinbase: If you need a regulated and safe environment to trade, this is the first exchange for most newcomers!
Crypto.com: Mixed feelings, but they have the BEST looking VISA debit card in existence! Seriously, it is beautiful!
CoinList: Access to early investor and crowdsale of vetted and reserached projects.
Cointracking: Automated or manual tracking of crypto for accounting and taxation reports.
Stoic: A USD maximisation bot trading on Binance using long-term long strategies, powered by the AI/human system of Cindicator.
StakeDAO: Decentralised pooled staking of PoS assets.
Poloniex: One of the older regulated exchanges that has come into new ownership. I used to use it quite a lot, but have since stopped.
Bitfinex: Ahhh... another oldie, but a goodie exchange. Most noted for the close affiliation with USDT and the Basic "no-KYC" tier!