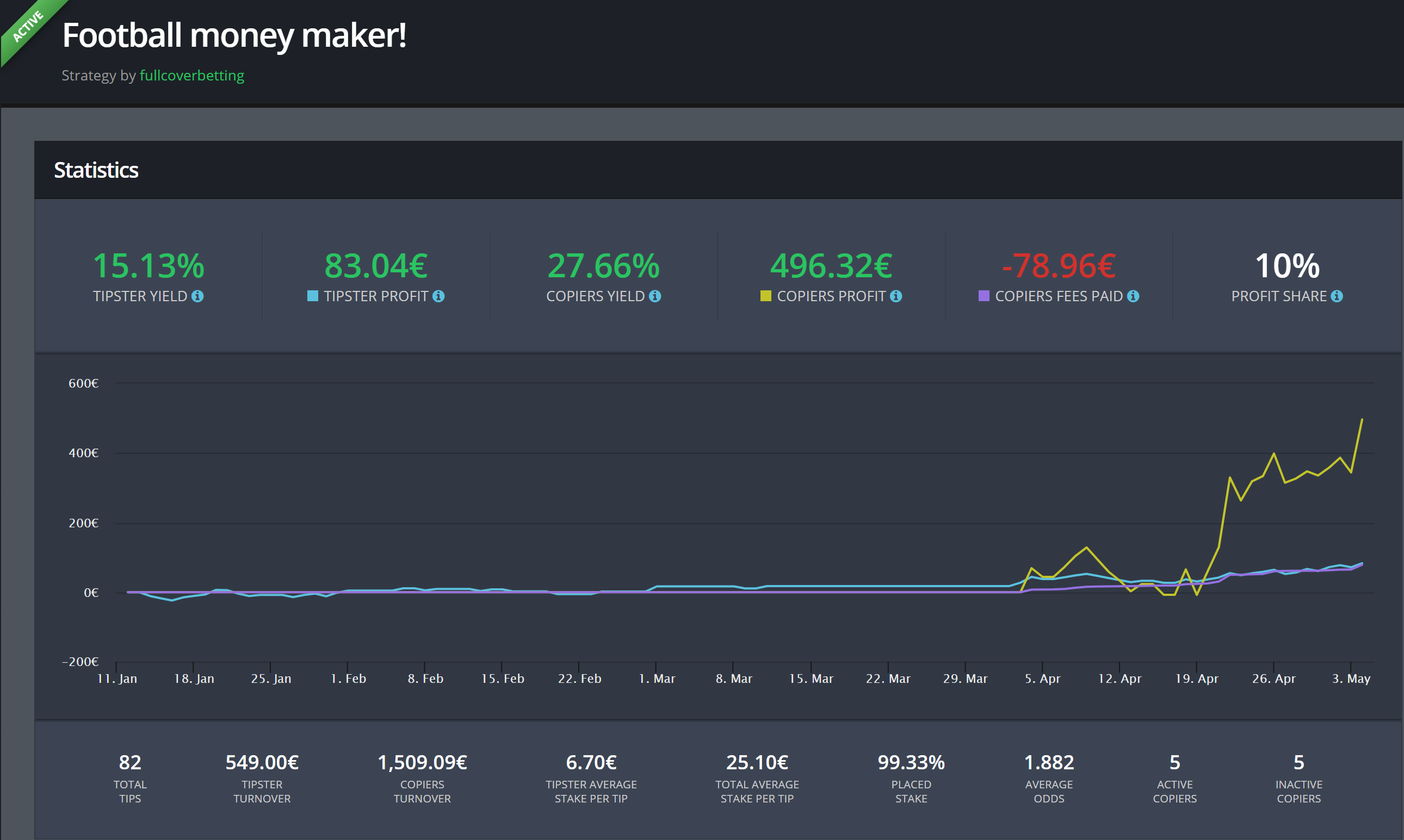 Never imagined that I would turn into a more or less sport tipster. While I have written many post about sportsbetting. Post with previews, post with results and also with tips and advice. Never did I imagine that people I don't know would follow my tips blindly. And this is exactly what is happening to me these days!
All this is due to running hot and I do understand that my followers will leave me within the blink of an eye when I do start running cold! No doubt about it!
The story so far!
Since the beginning of the year I decided that I was going to put focus again on one of my all time favorite hobbies: aka sportsbetting!
After a tip of a friend I did try out Copytip. Copytip is besides a bookie also a platform where it is impossible (oke nothing is impossible these days) to fake results and a platform where you can follow the bets of tipsters.
I decided to try it out as a bookie. It isn't a bookie on itself but more a portal to asian bookmakers, knowing not to block winning punters and having higher (read better) odds.
So an account was created, proof of identity was handed over and 2 strategies were created. One strategy devoted to the Belgian Jupiler Pro League and the other to all other competitions.
Each time you do place a bet, it is mandatory to fill in a strategy. This strategy can be followed by other bettors. A complete history is shown and each bet is recorded.
My idea was to have fun and it did force myself to a flat stake betting strategy of 6 euro per unit. My hope was to getting discovered with the result that other people would follow my bets! This would give me an extra income if I do predict enough winning games.
Until the beginning of April I was just flying solo and enjoying myself. Did made a profit in the Football Money Maker strategy and was loosing a bit of money on the Jupiler Pro League.
But then!
In the beginning of April I did start to run hot. Winning enough bets which very sweet odds to get noticed. And suddenly I did get an email from Copytip that I did have a follower. Suddenly someone was blindly copying my bets with a stake of 25 euro.
There isn't a big difference between a 6 euro and 31 euro bet and still there is. You do feel the pressure because you know that if the bet is lost, other unknown people also will loose some money. And believe me, while the stakes were still small it does increase the pressure. More or less tripling it.
Now we are one month further and followers did come and go. But in total people already did follow my bets for a total of 1509,08 euro.
Some where smart and just stayed to follow me also when some bets were loosing, other did unfollow after one loosing bet. But at the moment, I did already win 441 euro for these followers. This the net amount after they did pay me their profit share and the fees for Copytip.
Today I have placed my biggest bet yet. Have been doubting the complete day if there was a game to my liking. This is my biggest bet ever. A whopping 120 euro on one game. That is 20 times more than my usual bet. And still my share of the bet is still only 6 euro. A stake which I am personally comfortable loosing.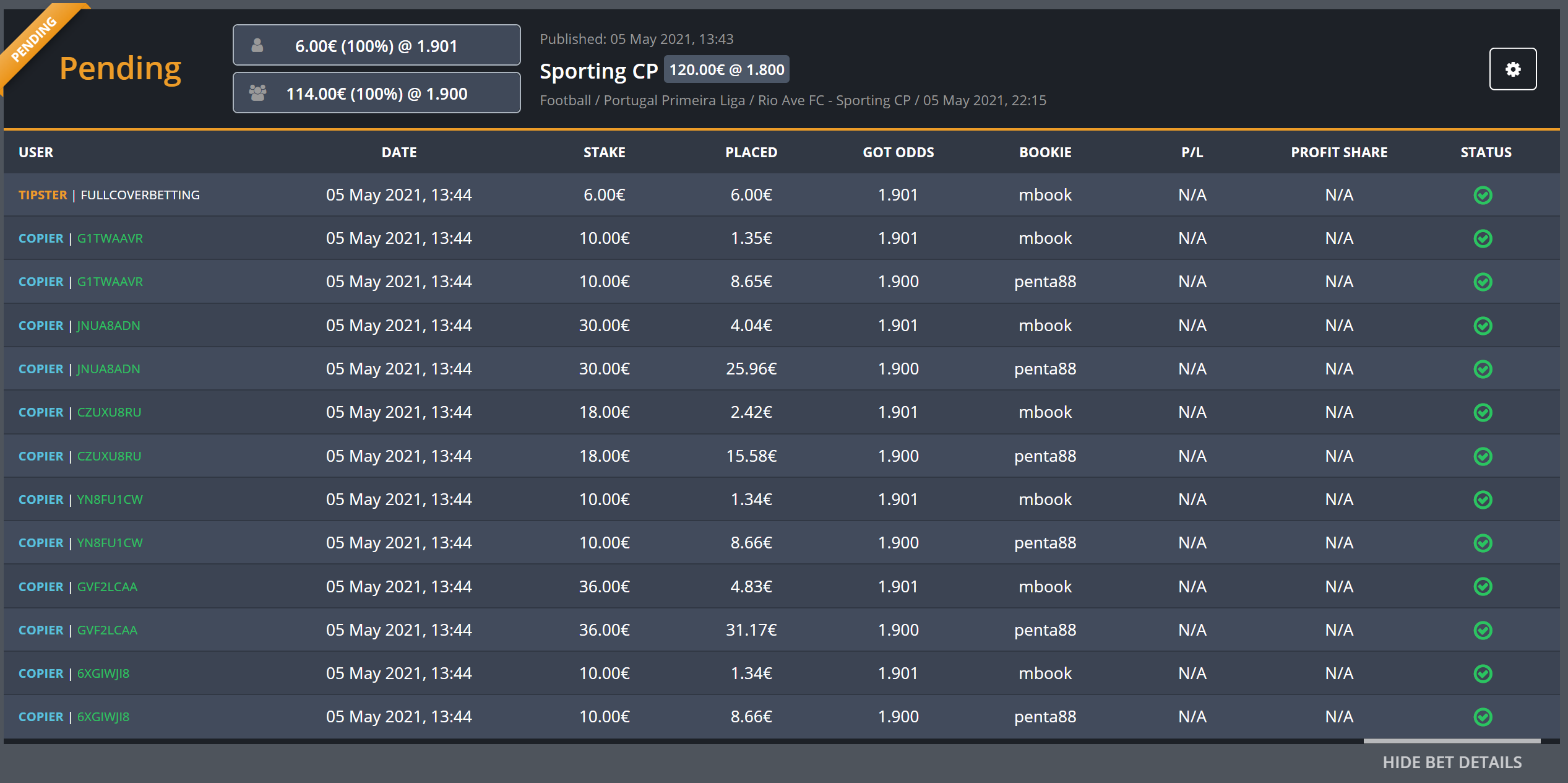 My reward!
Well as a tipster you only get paid when 2 conditions are met. The most obvious one is if the bet was a winning bet. The second condition is that your follower should be below a certain threshold. In my case I do ask 10% of their profit.
So, if they there profit share paid divided by their profit is more then 10% they don't have to pay me. If there profit share is 10%, each following winning tip will result in them having to pay me.
During the month of April, I did earn 37.75 euro as profit share. During April I did made 41.53 euro myself on my bets. So almost doubling my profit.
In the first 4 days of May I already earned 10.71 euro as profit share.
The blue is the profit/loss made with my own stakes, the orange line is the extra income due to my followers!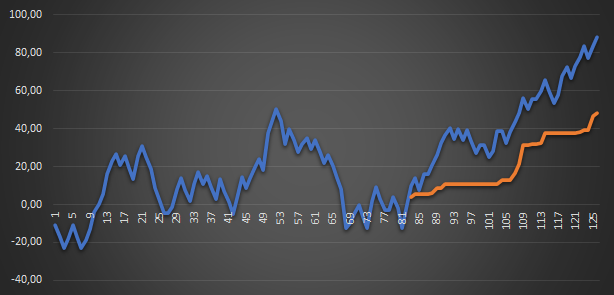 I know these figures are peanuts. But still a result I am very proud of that.
I did give myself time until the end of the year to have a first follower, looks I am way ahead of plan.
But it is easy to have a hot streak and followers as a result, it is way harder to keep these followers on board. The only way to do this is to make sure than I am a profitable tipster on long term.
The strategy is still young, only 83 bets old. Way too early to tell, if I am just having lady luck on my side or that I am on the right track!
Still this adds a complete new dimension to my sports betting. A dimension on one side, which I do like, but also a dimension which makes me think twice, or three of four times before I do place a bet!
Here is an overview of my follower stats so far: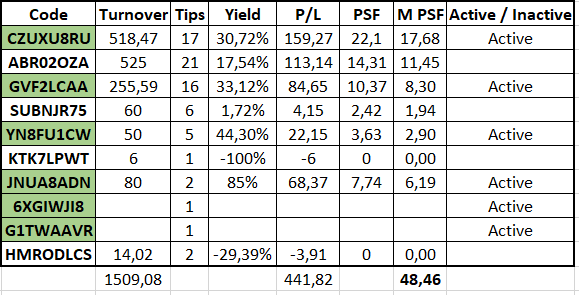 This is the link so you can verify my results:
https://www.copytip.com/en/user/fullcoverbetting/strategy/football-money-maker
If you do want to try out Copytip, feel free to use my referral link:
https://www.copytip.com/en/promo/GrzG3kLR
Cheers,
The80thMinute