April was sports betting wise a dream month, each month should be like this, but as we all know this isn't the case. Sport's betting is like a marathon, it is a continuous struggle with hot and cold streaks. Bet which do into gold, other are lost from the first minute of the game.
But while luck is involved this didn't come without a sweat. After 2 loosing months in a row, it was time to change direction. Working harder to find value, reading more article about sports betting and understanding the importance of odds much better.
It was also a time in which I did start with a new bookie, which did open a lot better odds than I am used too. Asian bookies are a much better tool, than the old land based bookies. You really need them to reach long term success.
And each green month is a superb month, regardless of the units won, the hit rate or yield/ROI. Remember that approximately 95% of all sports betters are loosing in long term.
The stats!
Let's start with the overall stats of the month!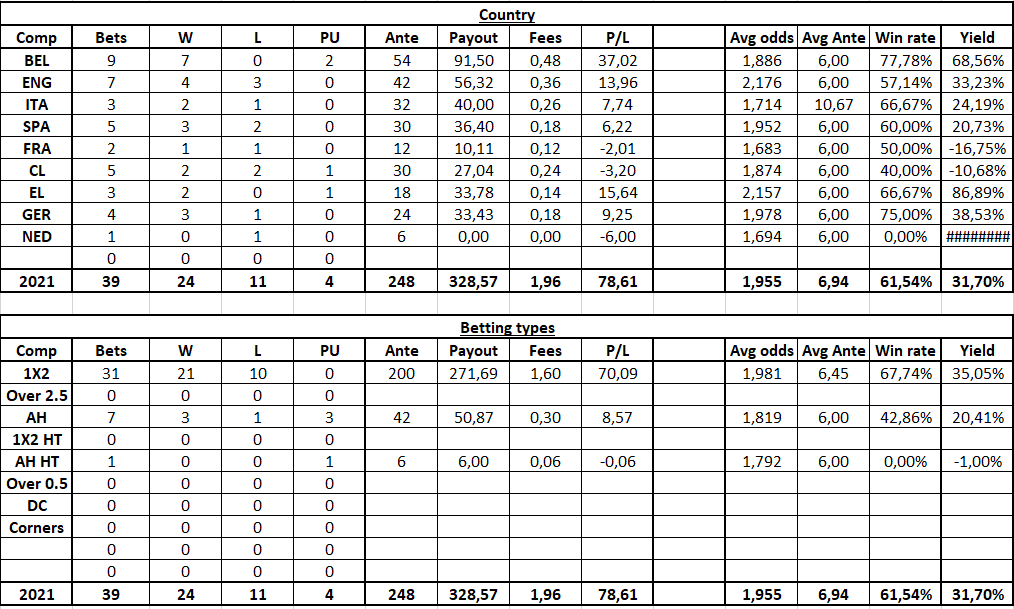 39 bets were played! I am trying to stick to max 2 bets per day. Days when there are enough games in the Jupiler Pro League, this could increase to 3!
24 were won, which is a hit rate of 61.54%. The hit rate is meaningless without knowing the average odds. Most of us case achieve a hit rate of 85 to 95% with odds of 1.05 but still end up in the red.
But in my case the average odds played in April were 1.955. This does explain why this is an extraordinary month.
Another important factor of course is the average stake. The lower the deviation based on the unit stake bet, the better it is. If this difference is too big, this probably indicates a big bet won. My default stake is only 6 euro (I am an amateur) and the average stake over 39 bets was 6.94. In all competitions beside the Serie A, I nicely did stick to my base bet.
One bet in the Serie A was a 20 euro bet, which luckily was won.
My main playground was the Jupiler Pro League in Belgium, closely followed by the Premier League.
This all did result into a profit of 78.61 euro or a profit of 13.10 units.
2021 so far!

It looks like I am getting pretty consistent with the average odds, which is nice to notice.
I did write in the beginning of the article that it sports betting involves winning and loosing streaks. This is clearly visible in the 2021 chart.
It isn't a continuous increasing line, looks like the chart of a cryptocurrency.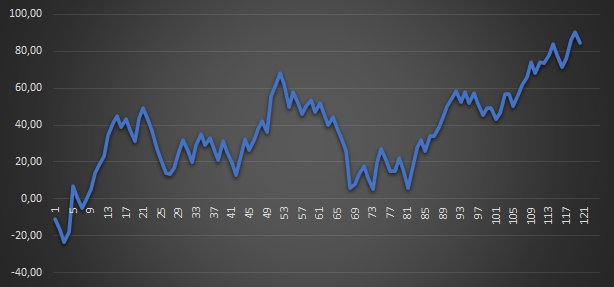 Copiers
April also had something special in mind for me. I did attract some followers on Copytip, my main and for the moment only bookie.
It works like this. Copiers can follow a strategy and will blindly follow the bet of the one they are copying. They can set some staking strategy but that is it. The punter does set a profit share %, in my case this is 10%. This can be done differently for each different strategy.
When a bet is settled, the sofware will check how much the copier already had paid the punter, if this is less than 10% of their profit, the system will charge the copier 10% of his winning for the bet. 80% of that is for the punter, 20% is a fee for Copytip.
I am running 2 strategies on Copytip. One for the Jupiler Pro League and one for all other football games. Both strategies are in the green but the Football Money Maker did attract some attention.

Most of my copiers did make a profit. 2 didn't give the strategy a real chance! At the moment the strategy has only 1 active copier, which does give my mind some rest. Because believe me or not, it is strange to suddenly place a 100 euro bet in stead of 6 euro, regardless if it was my money or not!

So that it is for this month, let's hope that May also will be a green month. Regardless how green. It would be nice to have back to back winning months!
Cheers,
The 80thminute