In View Of Its Mountains.
I have never been to Georgia. It is a country and I am currently finding, it is unbelievably beautiful and fascinating. There are multiple languages spoken there, being Armenian and also Ukrainian, although the primary language quite evidently remains Georgian. Wishing to learn more about Georgia and the Georgian language I have been led to one sweet discovery after another.
The history of the country demonstrates the bearings of kings, religion, and wars, although at the time I chose to focus in on Svaneti. I subsequently learned this is a region of Georgia in the northwestern part of the country, it is situated on the southern slopes of the central breathtaking Caucasus Mountains and inhabited by an ethnic group named the Svans. Why they are called the Svans I am not sure, they do speak what is named the Svan language, and from this I extracted this must have been a result from the formation of history within this country. Therefore I was able to conclude for myself the Svans are named after Svaneti just how it follows that the Tushebi are named after their region, which is called Tusheti and might I add it is just as breathtakingly beautiful if not even more so.
I also learned Georgia has three writing systems or scripts; they are named Asomtavruli, Nuskhuri and Mkhedruli. Amongst the three, Mkhedruli (see below) was used during the Medieval period by the Georgian Empire and has since evolved into the modern script that is still used by Georgians today; whereas Asomtavruli and Nuskhuri I believe are mostly used only in ceremonial or religious texts and had developed historically along similar lines.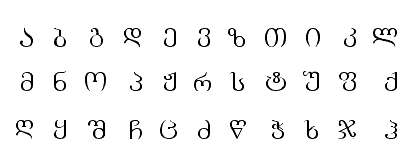 With this small bit of research on my part now ending, I wish to state in conclusion how I learned the national anthem of Georgia is named Tavisupleba, this may be significant since it means 'Freedom'. Thank you for reading, if ever for some odd reason you become similar to me and wish to learn more about this fascinating and beautiful country it would surely be best to ask a local or someone with a more personal connection to the information I have shared.