Since Bitcoin's emergence, a plethora of alternative coins have been established. The name 'altcoin' is an abbreviation for 'alternative coin,' or alternatives to Bitcoin. It is used to describe cryptocurrencies other than Bitcoin. Since the creation of Bitcoin, thousands of other altcoins have been built on the blockchain and launched, many of which have unique features or are meant for specific uses. Altcoins include Ethereum (ETH), Litecoin (LTE), Dogecoin (DOGE), and others. Let's take a closer look at the concept of altcoin season, its signs and triggers.
Some altcoins use updated algorithms. Others are directed towards a certain audience. However, the majority of the coins are still looking for a market fit.
In comparison to other financial sectors, the cryptocurrency market is quite young. The main tendency is to value coins and related initiatives in relation to one another. As a result of this technique, market values have a very high correlation, which is based on observable market cycles in the first place.
Brief Overview of Altcoin Season 
Bitcoin started off with a dominance of approximately 99% when it was first created in 2009. Since then, this value has fluctuated dramatically. Bitcoin's dominance in 2022 will range between 40% and 50%. Despite the value provided by altcoins like real-world assets (RWA) and DeFi applications such as GMX, the market nonetheless allocated the majority of its money to such yield-generating cryptocurrencies. As a result, capital virtually ever rotated back into Bitcoin, resulting in Bitcoin dominance remaining largely stable. It's easy to see that Bitcoin market trends interfere with all altcoins and vice versa. One of these interferences is known as 'altcoin season.' The term refers to a period where altcoins steadily outperform Bitcoin.
One helpful tool to determine the current market cycle is The Altcoin Season Index. Although it's not 100% accurate, according to the website, if 75% of the top 50 altcoins performed better than Bitcoin over the last season (90 days), it is altseason.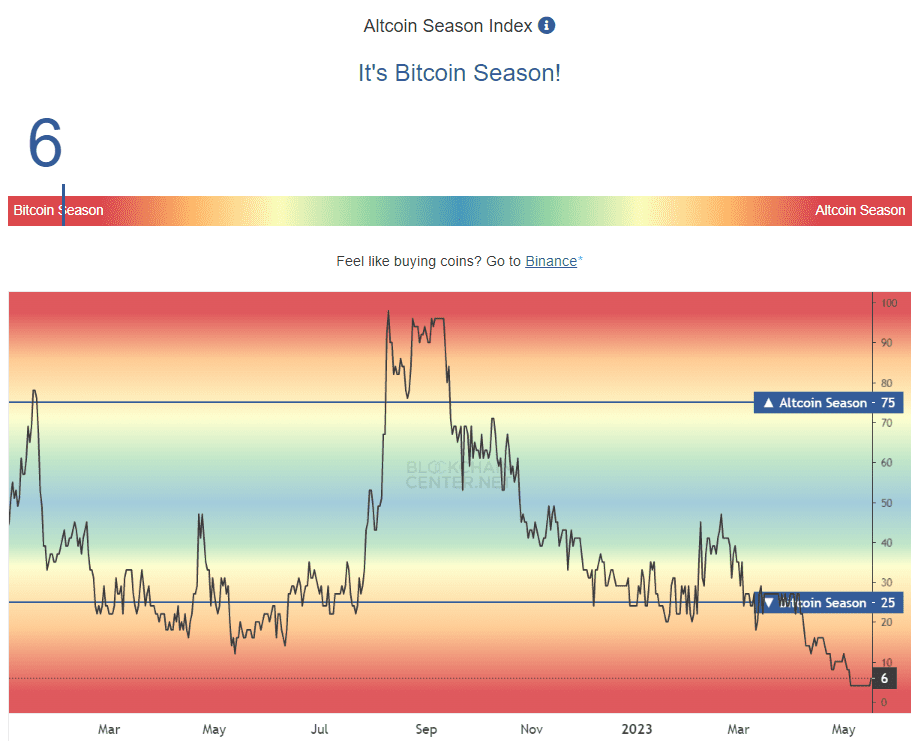 Source: The Altcoin Season Index
Why Is Altcoin Season Important for Investors?
Bitcoin dominance seldom reaches historic highs and lows. However, when the ratio does reach extreme levels, it can offer some good trading opportunities. While there's no such thing as guaranteed profits due to market volatility, altcoin season may be a good time for traders to diversify their portfolios. It's important to manage your risk because the ratio has been known to breach these levels.
Additionally, understanding the current cryptocurrency season might provide you, as an investor, with numerous options to select the proper crypto asset. This season can be a significant indicator of which cryptocurrency prices will rise and which will fall or stagnate. For example, during the Bitcoin season, the price of altcoins will often remain steady or even fall. In this case, you can begin looking into purchasing some cryptocurrencies that are having a price fall or dip. This period may be an opportunity for you to acquire altcoins with high long-term or medium-term potential, since they will peak in altcoin season.
Alcoin Seasons: Blockchain and Cryptocurrencies
Altcoins experienced massive increases for a total of about 10 weeks in 2017, accounting for 19% of the year. Altcoins rallied for nearly a month in May 2017. Also, for a few weeks in August and December of 2017.
However, 2018 was the year in which the cryptocurrency market saw an extended hangover from the December 2017 exponential rally, which saw Bitcoin reach new All Time Highs (ATH) of $20,000. Only in April and possibly in September/October did 2018 provide the cryptocurrency community with relatively brief altseasons.
Yet another altseason was witnessed at the highest degree during the 2021-2022 bull run when many coins and tokens rallied upwards of 1,000%. While BTC made new highs during this time, its returns were far less, causing a drastic drop in its dominance percentage.
Why Is Altcoin Season Coming? Potential Triggers
Cryptocurrency enthusiasts and analysts are still trying to find the signs or cues that will forecast the coming of a new altcoin season with reasonable accuracy. Currently, it seems there are 4 possible factors highlighting that altseason is near:
Bitcoin halved some time ago.
BTC coin dominates the market.
Bitcoin reaches a new All-Time High (ATH).
There are plenty of new players in the market.
Bitcoin Halving
As everybody knows, the supply of Bitcoin is limited. 21 million Bitcoins can be mined and no more. So, the greater number of Bitcoins is mined, the harder it is to mine new ones. Miners need more time and resources to mine and the reward for the mined Bitcoin gets smaller.
The algorithm is that every 210,000 mined Bitcoin blocks, the reward for mining is halved. It is cut in half. There have been two halvings so far. Firstly, it went from 50 to 25 in November 2012. Then it fell from 25 to 12.5. The next cut of the reward will be in May 2020.
After the first halving the price of BTC skyrocketed, then crashed down. But even after the crash, the growth was about 2000% in comparison with the pre-halving price ($11 and $230).
The second halving was in July 2016. The Bitcoin price increased toward the end of the year. And in 2017, it was the largest crypto surge in history. In December of that year, we had a staggering 8.991% increase in comparison with the prev-halving price ($230 and $20.000).
We should consider unique variables that took place during each halving. Nevertheless, a new price surge is a possibility after May 2020.
Recognizing Market Cycles
While many people believe that markets move up or down – bullish or bearish – they frequently move in distinct long-term phases known as cycles.
Market cycles are divided into four stages: accumulation, markup, distribution, and markdown.
While there is no set or clear timeline, the patterns tend to repeat themselves. Identifying these patterns will allow you to enter during an accumulation or markup phase, increasing your long-term profit potential.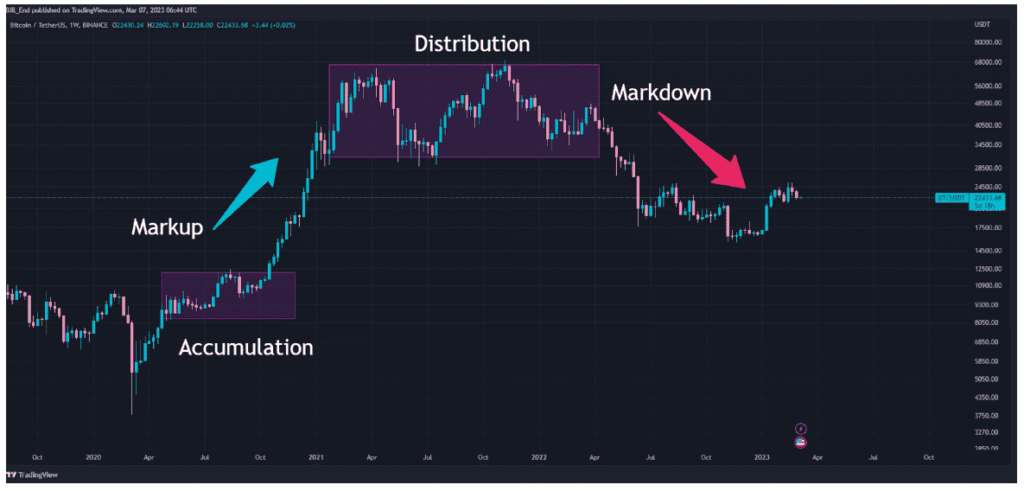 Image: BTC market cycles. Source: TradingView
Although price fluctuations are caused by money pouring in and out of the market, they are mostly driven by market psychology – fear, greed, and cognitive biases.
Bitcoin Dominance 
Bitcoin dominance is a key metric used by investors to help determine where we are in the market cycle and plan entries and exits accordingly. The Bitcoin market dominance has its rises and falls, and so does its market capitalization. Once the Bitcoin share is blown out enough, people see this rise, catch the enthusiasm, and start looking for other opportunities to invest. Bitcoin investments are transferred in altcoins whose prices show an explosive growth. That is how it was in January 2017 when Ethereum price suddenly reached $1,400.
Already during 2019, most cryptocurrencies showed an upward trend. However, the Bitcoin price stands at the core of this trend.
The percentage value is calculated as follows: BTC market cap / Total crypto market cap * 100
In March 2023, Bitcoin dominance was sitting at 47.28%. At the moment, it's 47.99%.
Source: TradingView
Bitcoin New All-Time High (ATH)
All-Time High is the highest price that the coin has achieved. ATH is evidence to suggest that the Bitcoin price is already high and the period of growth has finished. People hesitate to risk their assets and buy Bitcoin at the already high price. They also know that the growth of altcoins is usually behind the one of Bitcoin. So, they are more likely to invest in altcoins that forces even more significant growth of altcoins. 
New Market Players
Many multi-million dollar Initial Coin Offerings (ICO) for open-source blockchains and other networks launched in 2017. Investors were really excited about those new cryptocurrencies. Any of them feels like a candidate to become a new Bitcoin. That is another reason why Bitcoin dominance was waning during the year. Of course, altcoins surged pretty high in response.
Currently, the market has changed significantly. If you look at the 20 altcoins that were on the top 5 years ago, you may be a little frustrated. The top 20 list has changed. Many of that top 20 have passed away or gradually yielded their positions.
It is a great question now, what cryptocurrencies will surge in case of a new altcoin season. Will it be a rise of brand-new coins or a Renaissance for the old ones?
Impact of Altcoin Season on the Cryptocurrency Market
Alternative investing opportunities to Bitcoin are provided by altcoins. Some altcoins are designed to be more efficient or useful than Bitcoin, while others are designed for specific uses like decentralized finance (DeFi) or non-fungible tokens (NFTs). Some cryptocurrencies, such as Ethereum, have experienced tremendous growth in recent years and have the potential for more growth in the future. Altcoin season and associated drops in Bitcoin dominance and price may lead to great short-term gains for altcoin investors. 
In the long run, the results are not so positive. Since the last altcoin season, all major altcoins have lost value relative to Bitcoin. And the lesser the altcoin cap, the greater is the loss. The average fall has been about 70%. And although Bitcoin is a volatile asset, some altcoins are even more so. It is critical to be prepared for rapid price fluctuations when investing in altcoins.
Moreover, Bitcoin is the most popular cryptocurrency, with many shops accepting it and many investors using it as a means of storing wealth. While other alternative currencies have grown in popularity, none are as well-known as Bitcoin. Lastly, some altcoins have innovative technologies, but it is critical to investigate the technical details to determine whether they are viable and secure. 
Nonetheless, each altcoin has its own underlying projects, its problem that is trying to solve within the cryptocurrency landscape. They may prove to be valuable assets in the future as technology will develop more and more.
Predicting the Next Altcoin Season
The most critical factor to defining a new altseason would be a decline in Bitcoin dominance, which normally occurs following an exponential rise and subsequent consolidation. Furthermore, relative transaction volume, social media activity, mainstream attention, new currency listings, and the volume of news stories produced by crypto projects appear to be solid markers of when altseason may arrive. Sharp declines in Bitcoin dominance have always led to massive valuation gains in Altcoins.
Therefore, in order to time an altseason, it's important to assess the likelihood of a sharp decline in Bitcoin dominance. And, according to some market indicators, the moment for cryptocurrencies to shine could be right around the horizon. Bitcoin has gained more than 80% from the beginning of the year in 2023. However, altcoins have received little attention, with very tiny gains in comparison. Some observed that Bitcoin dominance has just recently fallen almost 4% in less than a week. The decline is due to Ethereum's rally following the successful Shapella upgrade on April 12. 
There has been a stir in the crypto community as well. Crypto.com provided its followers with a short guide on how to spot the new altseason: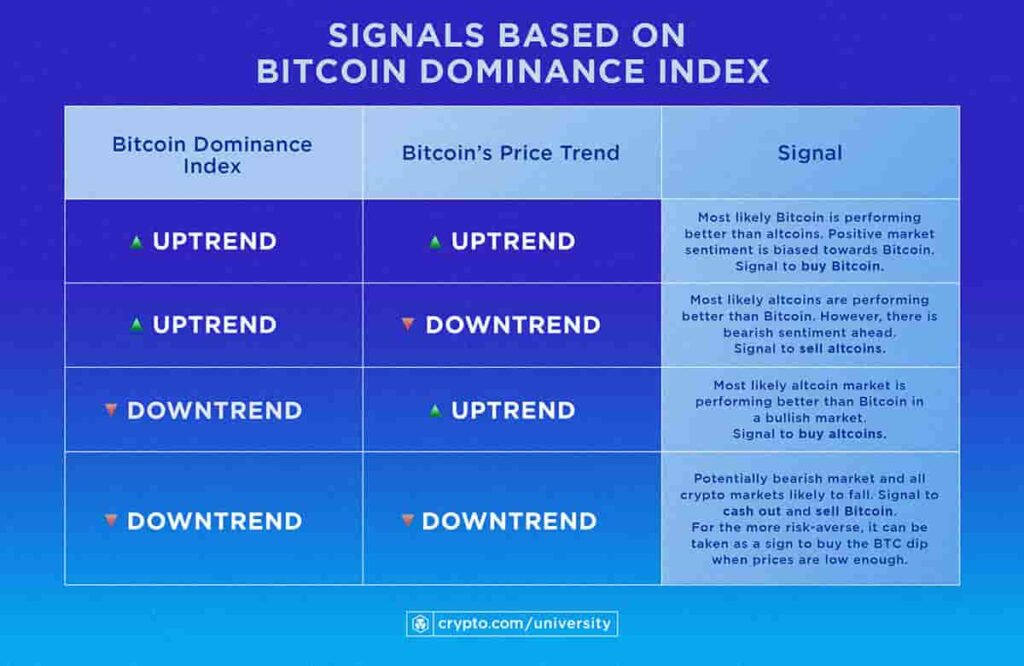 Some minor cryptocurrencies like Polylastic have reacted to the beginning of 2023 with new hopes for an upcoming altcoin season. Arthur Hayes, former CEO of BitMEX, recently took to Twitter to declare the beginning of another altcoin season, while Liam O'Doherty from Binance Australia believes that Bitcoin current dominance might mean moving into the second quarter of 2023: 'When markets rally, major traders will look for better returns than Bitcoin (BTC). During these periods, they'll often trade between BTC and altcoins (instead of fiat or stablecoins) to take advantage of the overall market movement. When BTC rallies, a rally in altcoins often follows as traders use new profits to seek further gains in alts.'
Investing in Altcoins During Altcoin Season
Previous bull runs and altseasons indicate that larger-cap altcoins (beginning with Ethereum) will pump before smaller-cap altcoins begin to move up. This usually occurs after Bitcoin has experienced a significant uptrend, followed by some sideways movement, encouraging investors to seek gains in altcoins, reducing Bitcoin supremacy, and kicking off the altseason celebration.
There are a number of things you can do to identify the best altcoins to invest in. The key to finding the best altcoins is to conduct thorough research which can include looking at a coin's market cap, use cases, team, road map, and more. 
Market Capitalization
Market cap (market capitalization) indicates the stability and growth potential of a cryptocurrency. Work it out this way: the current price of a coin is multiplied by the total number of coins in circulation. The rule of thumb is that the higher the market cap (compared to other coins), the safer the investment. Market cap is a better long-term indicator of the worth of a cryptocurrency than its market price. 
Whitepaper  
An altcoin's 'whitepaper' gives you a comprehensive explanation of the project. They can be quite technical for the average investor, but they will give you an idea of what the project sets out to do, most importantly, its utility, its future prospects, and its underlying technology.
Use Cases 
Cryptocurrency use cases are related to utility – do people really want or need this alternative? Will it become popular within the crypto community and beyond? How contemporary and up-to-date is it?
Competitors 
There are various types of crypto projects, including decentralized finance (DeFi), payment coins, gaming, NFTs, and so on. Because many coins have similar use cases, it is critical to compare crypto ventures to their competitors. Competitors who were first into a user-space are often better placed; this may explain Bitcoin and Ethereum market domination. However, it is critical to recognize that multiple projects might exist and excel in the same area.
Cryptocurrency Roadmap  
Is a particular altcoin going to be around for a long time, and will its developments help grow your crypto portfolio? Is there a vision for the future, a roadmap? A roadmap is a planning technique that identifies short and long-term objectives of a crypto project. It can be a great indicator for future performance, especially if past performance shows that the project has been able to meet past objectives. The roadmap will usually be displayed on the project's website. 
Additionally, it's best to analyze the altcoin community, the project's updates, the amount of altcoins, etc. There are many types of altcoins, and many of them are very worth investigating.
Conclusion
While knowing market cycles and watching Bitcoin dominance might help you predict when an altcoin season is on the way, it's also crucial to keep an eye on the development progress and direction of some of your favorite projects. Crypto projects that achieve their objectives while pushing the boundaries of blockchain technology are likely to succeed well in the long run. When looking for profit, you can look for altcoins that have a strong development team, a product with clear utility, and a loyal community that continues to grow. These cryptocurrencies are not guaranteed to bring their investors big money, but they can prove to be very attractive for returns in the future.
---
Where and How to Buy Altcoins?
StealthEX is here to help you buy altcoins. You can do this privately and without the need to sign up for the service. Our crypto collection has more than 1000 different coins and you can do wallet-to-wallet transfers instantly and problem-free.
Just go to StealthEX and follow these easy steps:
Choose the pair and the amount you want to exchange. For instance, BTC to LTC.
Press the "Start exchange" button.
Provide the recipient address to transfer your crypto to.
Process the transaction.
Receive your crypto coins. 
Follow us on Medium, Twitter, Telegram, YouTube, and Publish0x to stay updated about the latest news on StealthEX.io and the rest of the crypto world.
Don't forget to do your own research before buying any crypto. The views and opinions expressed in this article are solely those of the author.