img source
I've been wanting to do a Technical Analysis on WLEO for a really long time! TBH I don't have a reason why I didn't do it...so don't judge me!
Let's see what charts have for us!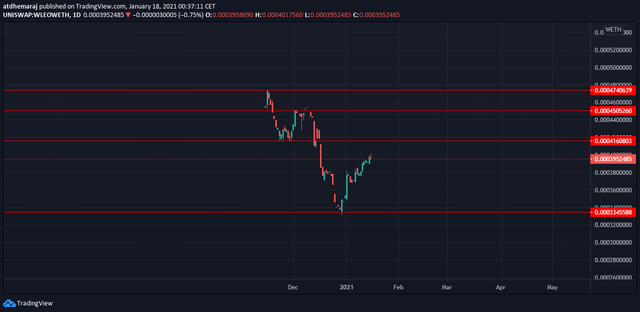 As usually I mark the most significant zones, that means Support and Resistance areas!
What we see here is that WLEO found support at 0.000334 area which in terms of fiat is 0.4131435$!
You might ask.
Where are we headed now?
Well let's see and check the details.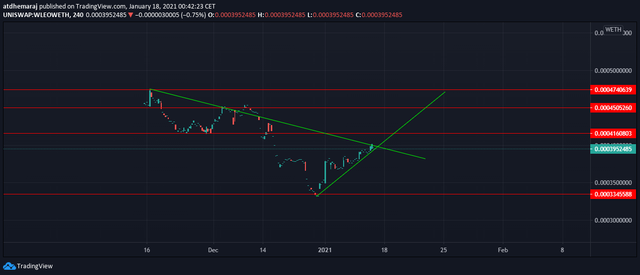 Even though for a good technical analysis we do need more history, I'll be trying to find out what will be happening with WLeo in short term.
We have a bearish flag formation. If we break this trendline then we can see new highs. What is inevitable is that price will touch 0.00041 area (in terms of fiat $0.5124139), it all depends on what happens when we touch that area. It has proved that this area is pretty significant for WLEO/WETH.
Now, as usual...I'll show 2 case scenarios:
First: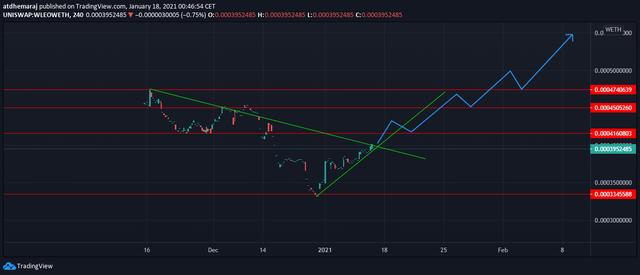 Usually my first case scenario is where I put my vote in...I like to go with the good things first.
If we do break above 0.00041 area we will be continuing higher. Meaning: we will make a new higher I see it touching 0.00055 or 0.685025$. I really do think that WLEO will reach there and form there even higher this year. But, for now, I see it reaching there.
Second: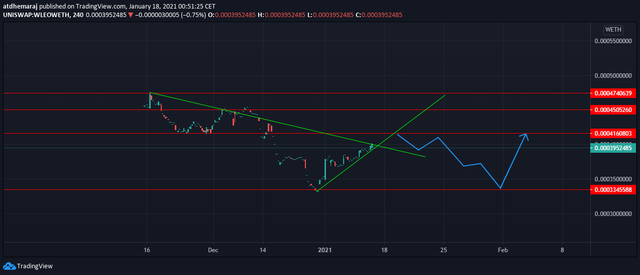 If we do fail to break the 0.00041 area then we will be declining through the zones until we reach base! Base in this case is a very strong support area at 0.00033.
If price touches there I expect an Impulsive Bullish move!
Why?
Touching the 0.00033 area means make a very respectful pattern in the markets! Double bottom or double tops are one of the most respected patterns out there, and that's what we will get if price touches 0.00033 again.
What are your thoughts on WLEO/WETH?
theatdhe!
Catch with me on Leofinance!