img source
Ethereum is the second largest cryptocurrency! A lot of other coins are based in it's ecosystem.
It's price had a bullish run which surely happened after the explosion of Bitcoin, but not only that.
Ethereum announced the Ethereum 2.0 project which addresses some of the main concerns that traders and holders have with the current version of Ethereum.
Fees
Gas fees went high and actually pretty astronomical when Ethereum price surged on bullish run. With Eth 2.0 these fees will be reduced.

Going green
Ethereum 2.0 will eliminate the need of mining. Transactions will be done by a different system known as "proof-of-stake".
Having that in mind...we do see that Ethereum is working on updates that will make Ethereum transactions cheaper and faster and that's not only for Ethereum but for other coins that use it's ecosystem as well. But, there are other platforms like Polkadot, presents a very serious competitive. Check my article to understand why.
Ethereum broke into a All Time High (ATH) this year, but we do know that after every sharp movement we have to expect a pullback. Let's see what price action of Ethereum tells us.
Are we really about to reach 2k?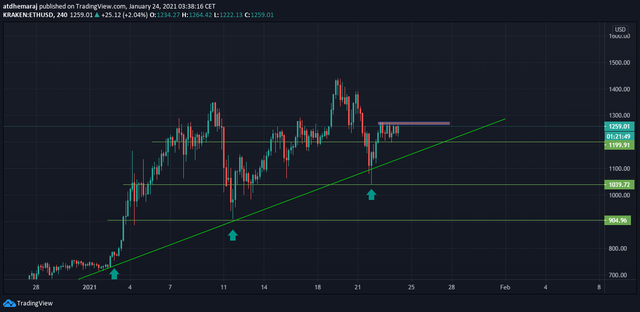 What we see here is Higher Highs and Higher Lows.
The Green Arrows show where price hit support areas which gave it a bullish push. Those are really significant zones that should be taken into consideration.
At the moment Ethereum's price is in what we call "Box and Chill". Box and Chill is nothing more than ranging. You, at all times should stay out of trades when you see something like this. The reason is that no matter the formation price can burst into irrational movement.
1268 area seems to be acting as a Resistance, this zone is a pretty significant one if you check on the left.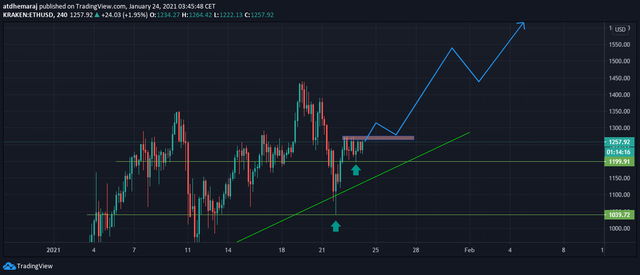 The green arrow shows a candle that indicates turn on the price temporary movement, in this case it shows that price won't be moving further down and bulls are about to take place.
If, we break above 1268 area, I do expect a last tap on this zone or at least a close reach around it before we go into a new ATH.
My bias for Ethereum is bullish at all time this year.
But a second case scenario would look like this: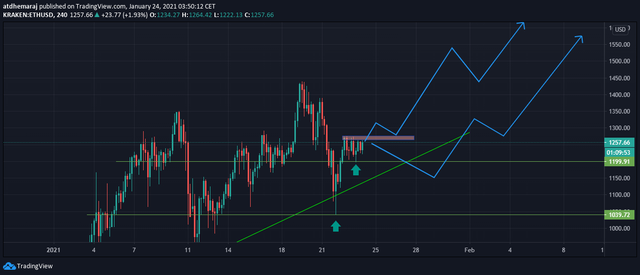 If price fails to break above 1268, then I'd expect a pullback to a very interesting zone at 1145 area, this zone will give Ethereum's price a big bullish push.
Do you think that Ethereum will reach 2K this year?
theatdhe!
Catch with me on Leofinance!