What you are about to see is graphic! If you are under 18 please check this with your parents or any other adult.
Ok, let's see what really happened here.
About 16 days ago I posted an article on some coins, one of them was KCS there is another crypto as well that I've invested and that is Rune.
Now I didn't put my money in those coins immediately (that would have been stupid), I did my technical analysis on them and waited for my entry point.
I bought them exactly 6 days ago.
So let's see some charts!
RUNE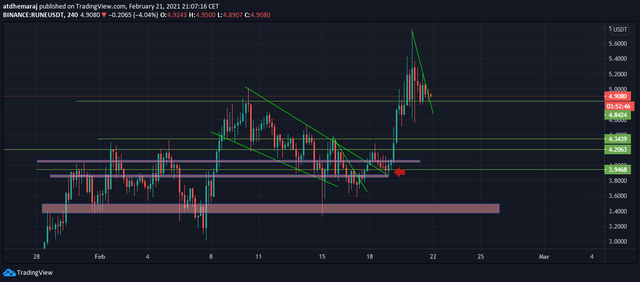 As I've expected price came down for a retest. My entry was where the red arrow is. You can see the trend lines, price was forming a bullish flag pattern, this is one of my favorite patterns. My entry was not perfect since we did have a slight negative amounts floating but that sniper entries are such a rare thing. From where I bought to the highest point it reached I was 46.6% in profit.
What is happening now!
Price is holding on the 4.84 area, I do expect another bullish push during the next week.
So yes, I'm still holding Rune.
#runetothemoon
KUCOIN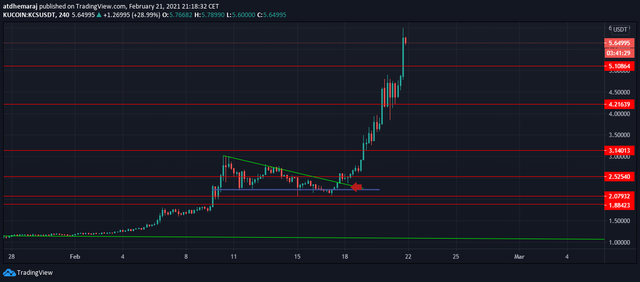 My entry point was around 2.2 USDT. We had a bullish triangle formed and I entered immediately when I saw the confirmations on the small timeframes. From my entry I'm 122.46% up. Although, Kucoin will go Higher I took almost all the profit at 5.1 USDT.
I will be buying again after the dip though, but I'm in no hurry, and as a trader I do advice you to take a break from time to time. Trading is fun and should be kept that way...overtrading might have a negative feedback, causing stress and loses.
Moral of this article!
The main things here are:
Trend is your friend (never trade against trend)
Do your own analysis (this way you will know what is going on)
Do not over trade (focus on one max 3 pairs and take your profit and then you can look for others)
No matter how higher the profit would be if you didn't sell, keep in mind to always follow your analysis. Anything can happen after you close, you should be happy for what you got.
Let me know if you entered these trades as well!
theatdhe!