Hello!
Las 30 days have been really good for the price of Bitcoin. The price went from 5900$ to 8700$ in just a month. This is an amazing 47% rise in price! I have bought some in the last dip, now it feels that I bought too little but on that time we didn't know where the bottom was.
Earlier this year I set myself a goal, to buy a small amount of BTC from time to time, with the goal of dollar-cost-averaging until I got 1 full Bitcoin. This would place me at 2.68% of wallets that own 1 Bitcoin or more, according to Bitinfocharts.com: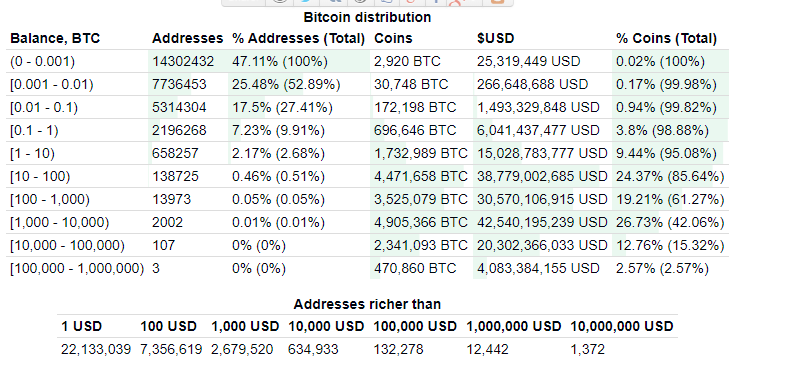 There are very few days left for the halving event, where the daily production of Bitcoin by miners will be reduced by half. This can lead to massive upward price movements that will make it much more difficult for me to reach my goal.
However, the first thing you should have in mind to get what you want is to have a plan. And mine goes through buying in different periods of time until I get it, and I am 100% commited to my plan.
There is also a positive side of the story, when there are corrections I am able to buy more quantity of Bitcoin with the same amount of cash and I love when this happens. Las month was perfect for me and I almost doubled my holdings.
After a 50% pump it is likely that a correction will happen, the only problem now is that all the buzz surrounding the halving is putting a lot of upwards pressure.
Another thing that I read on twitter today is that Binance volume for the last 24h reached a new high of $11.345.459.707. Last time it was that high was January of 2018, almost 2 years ago when the last bull run happened.
I don't know if my strategy will be the most profitable but all the articles I read suggest that for the non-experts like me it is the safest one!
Enjoy!😊



I invite readers to comment on the post, as engagement MAY get rewarded due to the (Challenge Link Sponsored by: @blocktrades @threespeak @theycallmedan and @ocd-witness.
Please consider voting them as witnesses.
I leave a link to my Twitter Post to show #ProofOfShare - #posh
https://twitter.com/ResilienciaHODL/status/1255606804219912196?s=20