While it is widely known by now, I first heard of the Brave project in June 2019. At first I was reluctant to dismiss my Google Chrome browser and I was also a bit worried to install a fairly new browser that could also have turned out as a piece of phishing software. In retrospect, I am glad I jumped over the blockade, as I soon made Brave my default and ditched Chrome entirely. Two years later, I found a nice little bonus of almost 300 EUR in my bank account.
On April 13th 2021, I had accumulated 237 BAT from just browsing the internet and with Bitcoin above 60k USD and other cryptos following suit, I had an inkling that that day might be a good day to rebalance my portfolio by taking some profit and converting it to stable coins. In what turned out to be just the right timing, I found myself selling coins for USDT and BUSD on Binance and KuCoin.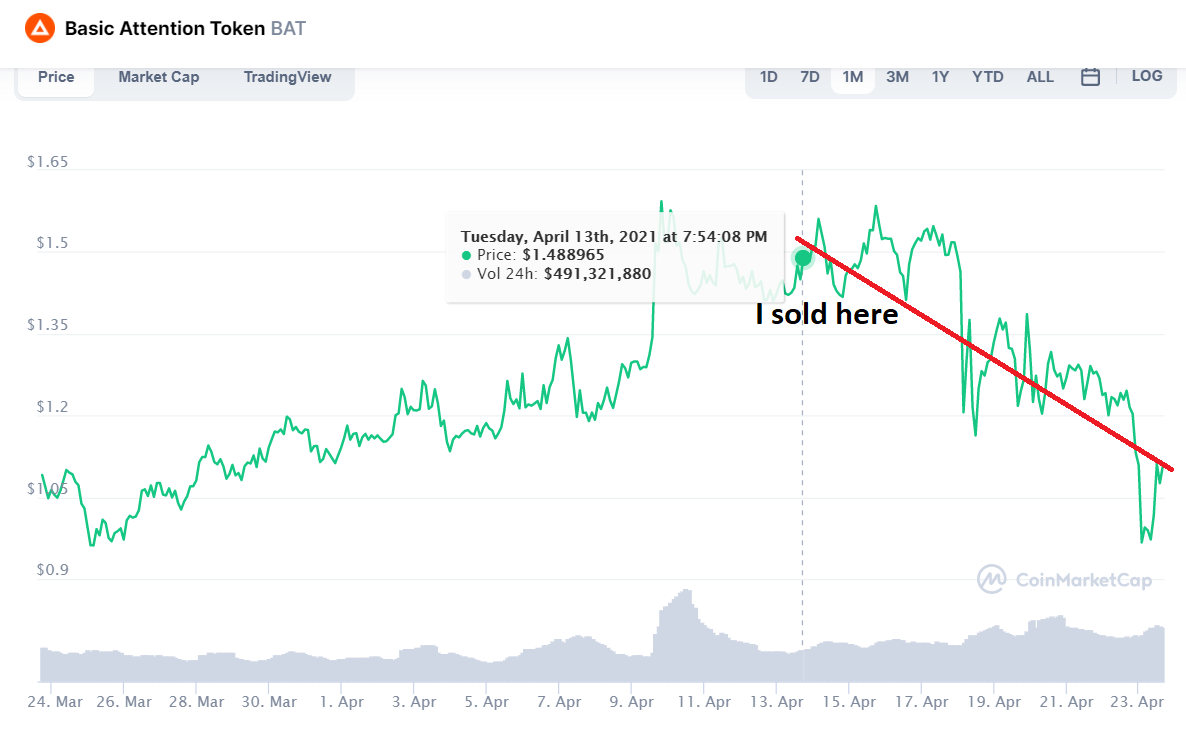 But my BAT was already sitting on Uphold, where I could convert to Euro directly without the need for stable coins. So, I sold and while I usually don't divest from crypto (this was a first), soon withdrew the earnings to my bank account for a little treat from Mr. Crypto.
But first things first…
Brave is an open-source project that created a browser with the purpose of giving the user control over their own data. In contrast to Google's Chrome, which is said to collect as much data as possible about your browsing behavior, Brave's core feature is what they call 'shields'. The shields are basically super-aggressive ad and tracking blockers that will show exactly what they blocked on which site.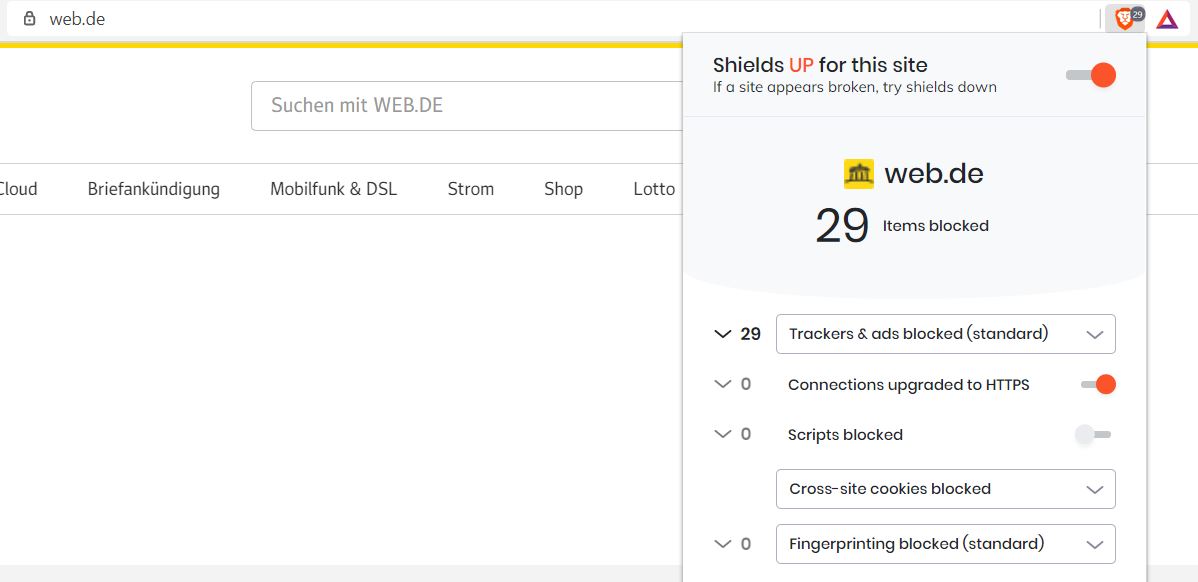 The browser proudly shares the stats of how much it has blocked, every time you open a new tab.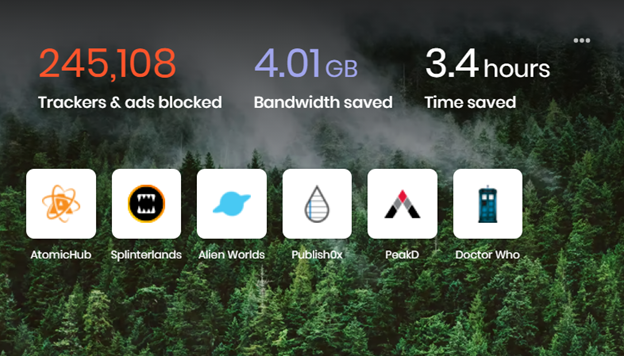 I was surprised how effective the blocking is without breaking the sites you are browsing. In the rare occasions that something does not work due to the shields, you can easily and selectively, lower the shields for that site only.
While Brave is not Chrome, it is still a Chromium browser, which means that all of your favorite Chrome extensions are available for install.
There also is a mobile version of Brave, which was a bit clunky to use when it was released but has matured by now and even offers a synch chain for bookmarks with your desktop PC (not yet for passwords, but then again, you shouldn't store those in the browser anyways – don't tell me, you do?).
How to Earn Money with Brave
While the Brave team shields you from being bombarded with ads against your will, you have the choice to opt in for being sent ads from the browser itself. Unlike other ads, you would find online, these reward you for having them pop-up by crediting an ERC-20 token called BAT. The tokens accumulated thus, are deposited in your account once a month.
You can either use BAT to book ads yourself, or if you don't want to advertise, trade it freely like any other ERC-20 token.
Needless to say, this won't make you rich. But I have been using the browser for almost two years and just cashed out 288.66 EUR creating a monthly average earned of ~12 EUR for doing nothing but using a browser (in which I was earning other crypto at the same time by playing Play2Earn games). Of course, the earning potential depends on the exchange rate, the BAT pool and ETH gas fees.
How to Cash Out
When using Brave to earn BAT, I advise to create and link an Uphold account asap. While Uphold may not be the best of exchanges, it is required if you want to cash out your BAT. More importantly, if your laptop crashes and your Brave installation gets wiped, having your funds in a linked Uphold wallet will be the only way to not lose them.
Being a centralized exchange, Uphold requires KYC but the procedure was uncomplicated and didn't take too long. Once verified, you will have to execute two transaction to get fiat out of this.
On the Uphold dashboard, start a transaction from "Brave Browser" to your "EUR account". This is you in-site account for Euros deposited to your Uphold account. This transaction will cost fees. I don't remember how much exactly, and I can't find it anywhere in the records, but I think I paid something between 5-10 EUR. Although, 'paid' might not be the correct wording, as actually I just earned less.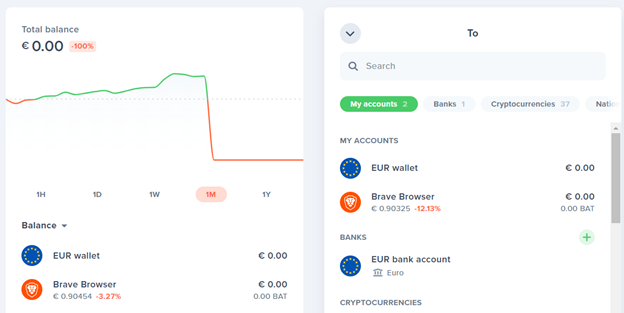 Once your account has EUR in it, you can withdraw it for free to your private bank account via SEPA format. Adding your bank details is a bit tricky, though. You do not enter them directly but instead fund your Uphold account from your bank account, which will directly verify and add the account details to your Uphold profile. The deposit doesn't have to be substantial, 1 cent is enough and you can directly withdraw it again afterwards with the rest of your funds.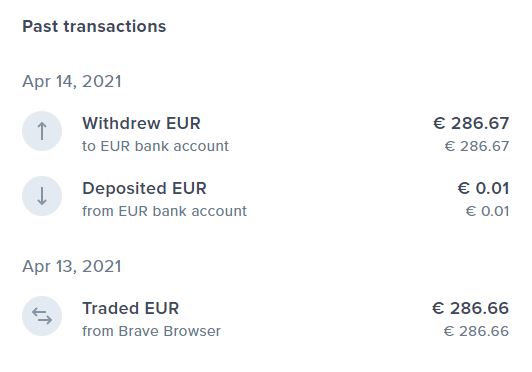 Just one day later, my private bank account had an additional 286 bucks in it and I am smiling as BAT and other cryptos are declining with sharp drops.

Disclaimer: No financial advice included in this article. Just sharing my personal experience. Do your own research!
Some links in the article are referral links, feel free to use other sign-up methods.
Images courtesy of Unsplash.com or taken myself.
This is a re-published post from my account on the HIVE blockchain.