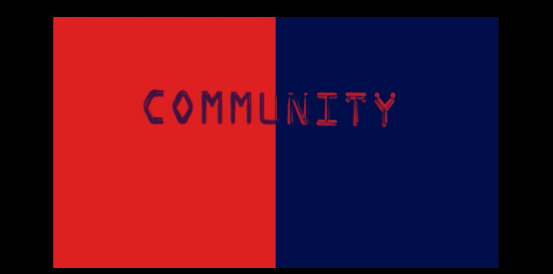 Disclaimer! This is not in any form to be considered as financial advice! I am an ape who likes crypto and investing. Do your own research and don´t risk funds you can not afford to loose!
If you can´t sleep at night because your portfolio does huge swings up and down then you are too exposed!
A few words on my strategy
I am a passive investor, that means each month I take a chunk of my money that goes to retirement and put it in different forms of investments. And the key word here is different! All kinds of investments from risky ones to really boring ones. My main power in this game is time.
The longer I stay in the market and the more diversified my investments are the likelier I will make a profit at the end of my timeframe. Gerd Kommer writes in his books on investing that the person only investing in the market without trying to beat it makes a bigger profit at the end of a longer timeperiod than the person trying to beat the markets.
Meaning a long term HODLER will statistically make a bigger profit than 95% of the swing or day traders.
Is it boring? I don´t... know is it boring, knowing your portfolio grows on automation mode or not?
Each month on the 15th I put away 45% of my sallary to invest in the stock market the crypto market and the peer to peer lending market. I also have a savings plan working with state bonds which has a ridiculous ROI(1,1%) but is granted by state and bank. (Whatever that means) My portfolio weight is about 10 % peer to peer lending 55% stock market with a 90% ETF 10% STOCK ratio, 35% is in crypto that is an involuntary number. I only invested about 10% of my savings in crypto but that just made the biggest Roi. By the time of writing the ratio is out of control thanks to ADA prices shooting upwards after the coinbase listing.
How I invest is the most interesting part.
By diversifying the investments even more. Before I knew Hive and Leo I invested in the BCI25 by bitpanda that invests in an Index controlled by Mvis a daughter of VanEck one of the biggest providers of index funds and exchange traded funds.
So the BCI 25 diversifies in the 25 biggest cryptocurrencies by market cap. Each month they do an automatic rebalancing selling winning positions for profit and buying new positions.
This is what the BCI25 consists of at the time of writing when you buy 25€: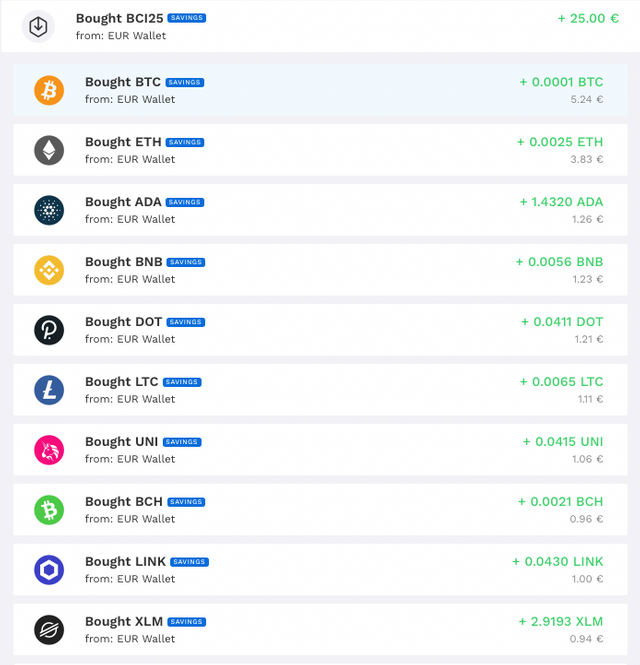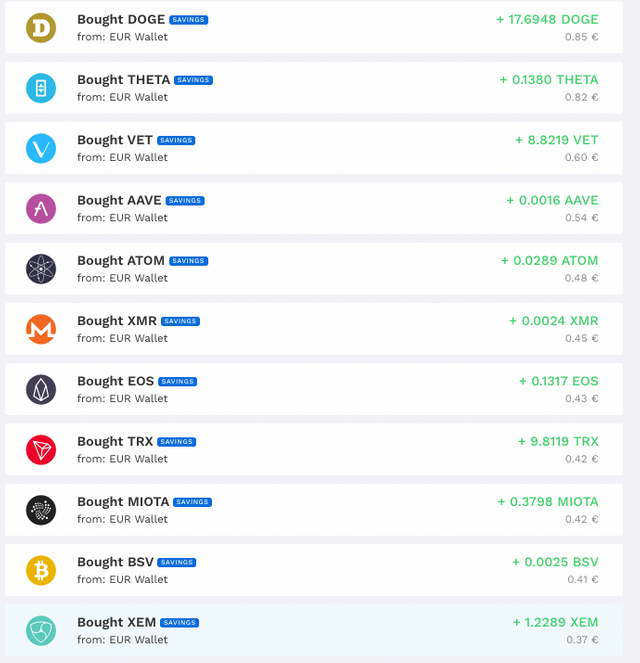 You can follow my instagram where I post rgular updates on my investment in the BCI25
I started with an inicial investment of 101€ and so far have invested 25 more each month totaling to 151€ and as you can see so far it performed really well. You can also see how the investment is diversified in percentages: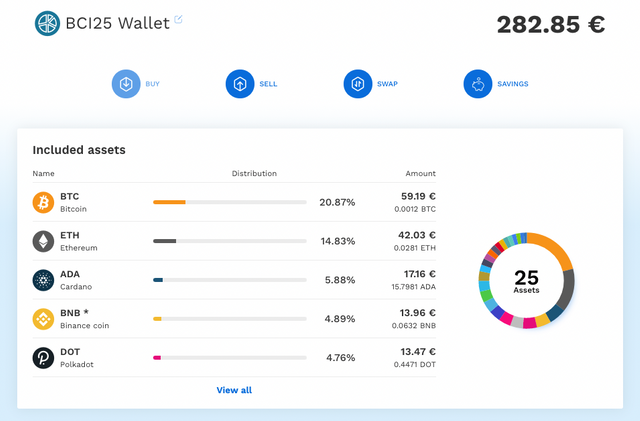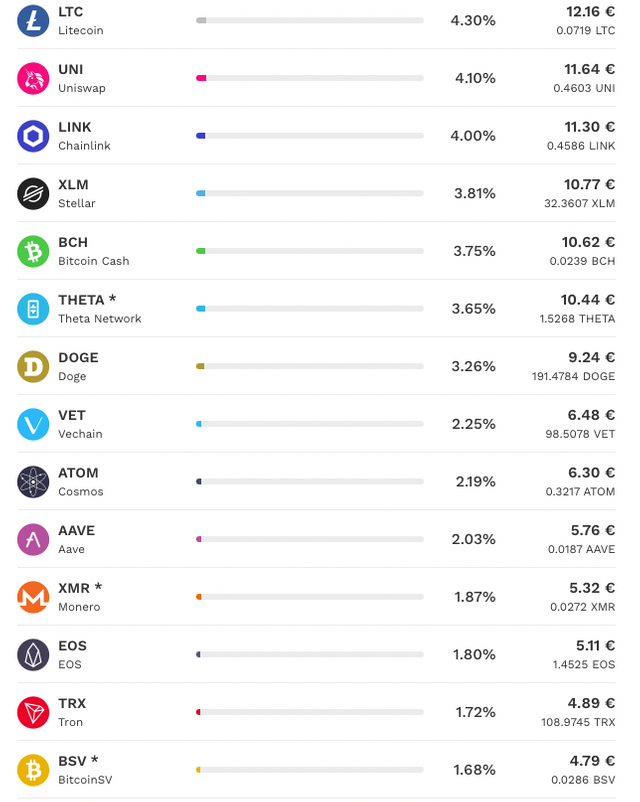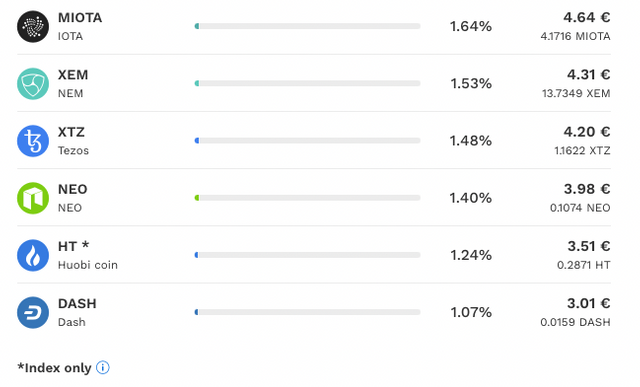 The index only mark indicates the assets that are not yet listed on bitpanda.
So far I am very pleased about the performance. If you also want to initiate a savingsplan on bitpanda you can use my referral link and we will both get 10€ Bonus when you make your first trade of at least 25€
On Bitpanda you can also do a savings plan for metals and I am buying 50€ of silver each month.
I also have a savingsplan for buying ADA that I immediately transfer to my wallet and stake it for extra income. Each month 25€ goes in this part.
The other chunk of my investments is mainly really conservative ETFs like the FTSE all world and the MSCI world 1c. I have an esports etf since I believe that that industry will make a huge leap in the next decade. I have an ETF covering emerging markets and one covering chinese property yields. I am also invested on two peer to peer lending markets where I buy shares of mortgages. This is one of my riskier investments but there is only fund in there I would gamble anyways.
On the crypto front I am staking KUSAMA on the KUSAMA network I am staking ETH in ETH 2.0 cant wait to free that up. I am holding on to my small piece of DPI (DEFI pulse index by tokensets.com) if you are into the ETH network and want to invest in all DEFI going on there but also dont ant to take the risk of picking the right project this index is for you. It invests in different DEFI projects like AAVE and UNISWAP etc. I am holding since 3 months now with a ROI of nearly 100%
And I got myself a chunk of hive, and invested it in the #liotes project run by @ph1102 and @achim03
you can see a video on the latest developments here https://leofinance.io/@liotes/dwqgkjdf
On the launch day I got myself 260 LENM and built it up to 280 with my earnings from posting and selling NFTs.
CHECK OUT MY GALLERY THERE IS A HUGE SALE GOING ON FOR HIVES 1st BIRTHDAY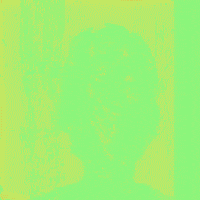 I am really excited about everything thats going on on hive and I am really bullish about it. I got in at 0,3 on the 8th and I am so happy about it!
So far my LIOTES energy Mills have made me


Still will take a while until I break even with my MILLS but since I know there will be an increasing of 20% as soon as the first mills sell out at 4HIVE till then I will tank up as many as I can.
I am planning to go even bigger in producing NFT art pieces and I hope there is more and more collectors coming to hive.
I also still got my biggest loser: the BST #bullshit token.
the project braught to life by @st8z has been a blast and the NFT version of the whitepaper is one of my bestselling NFTs You can still win one of these just head to this article to find out more about all the great artists on @nftshowroom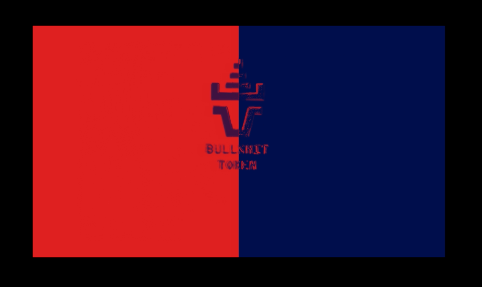 Thanks for reading my article I know it was long but I hope you had as much fun reading it as I did while writing.
Ah yeah each of the $BST NFTs is backed by one BST you will receive it straight to your wallet as soon as I see you made a purchase!
LONG POST, HUNGRY?
NFT SANDWICH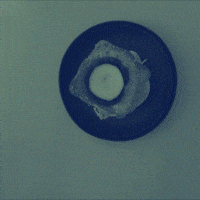 Posted Using LeoFinance Beta
5% commission kickback on Binance
10€ Bonus on Bitpanda
Cashback
DEFI
Wallets
Exchanges 
Games
PLAY POKER FOR REAL SATOSHI FREE SATOSHI TO START!!