Currently the traditional centralized data brokerage industry functions with grey operational processes. None knows what kind of data is stored, how the data is stored or how they monetize the data. Often the data is collected unlawfully and stored in outdated technical infrastructure that is prone to hacking. In 2018, Equifax, a leading data brokerage firm, was hacked and 147.7 million American's personal information was stolen from its servers. Also the consumers, who create the data, receive nominal revenue from the data whereas the data brokers make billions of dollars.
Insights Network came with the mission to solve the problems of traditional data brokerage industry with its decentralized platform. It is connecting consumers with businesses for mutually beneficial data exchange by using digital currency and blockchain technology. Each Insights Network user is KYC approved and issued a committed value to the blockchain that allows participation in our network. Instar is the native token of the platform and migrated from ERC20 token to EOS mainnet and it is listed in coinmarketcap. Primarily, there are serving two types of users: those who request data (requesters) and those who provide it (providers). The app is revolutionary. More features are going to be added in 2020 which Instar Wallet users are likely to appreciate. With the increasing interest in blockchain & cryptocurrency, it is expected that interest in Instar Wallet will also grow rapidly. KYC is needed to use the app.
Privacy, security & transparency:
The platform stores data in its native blockchain. The user's personal data remains private. The requestor can access only the user data, which he/she has agreed to share for the survey through the smart contract. All surveys are recorded on the blockchain in encrypted form. As it is audit-able, it provides great transparency to the survey process and outcome.
Image Source- The irony of data privacy
Instars Wallet work flow: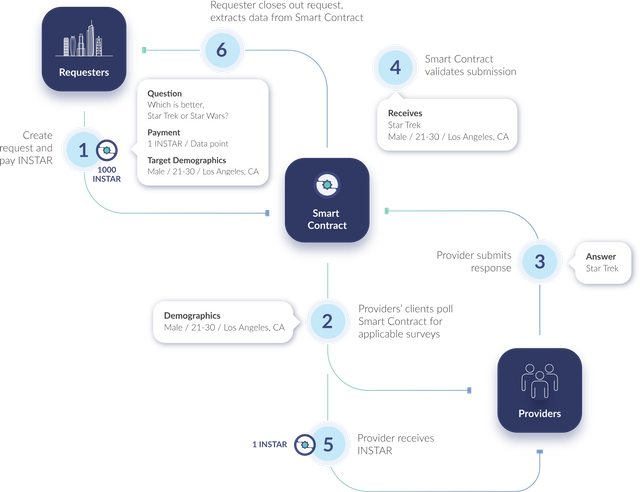 Image Source - Instars website
INSTAR blockchain daily operations are more than BCH and LTC :
The blockchain platform is going strong day by day. Currently it is ranked 17 as per blockchain activity index of Block'tivity and it has over 100K daily operational volumes, which is more than BCH and LTC. Not to forget that, Instar blockchain has over 250K active users and maximum traffic is generated from the Instars DAPP. 
Image Source - Block'tivity
Android mobile app view:
The user interface is smooth. It does not take much time to load also. 
Image Source - screenshots taken by the author
The requestor dashboard view:
If you want to create your own survey, you can create with a click here.
Image Source - Screenshot taken by the author
Earning method for individuals:
• Doing paid surveys
• Uploading receipts and providing reviews (new feature)
Withdrawal:
• Presently you can accumulate INSTAR mainnet coins. Withdrawal is also allowed to other wallets and exchanges for trading.
Coin Details:
• Coin Symbol: INSTAR
• Circulating Supply: 128M
• Total Supply: 300M
Download Android App or use Web Wallet:
If you want to try the app and earn INSTAR token by completing regular surveys, Click here
Note: You can follow the author on twitter.