The day was 31st October, 2019. A token named EIDOS was released on the EOS network on that date. EIDOS does not have any use case and its website does not have any details about its team. It looks like an anonymous virus made to prove a point to the EOS community. Quite mysterious!
EIDOS website says, "If you send any amount of EOS to this address, it will instantly send it back to you, and at the same time it will also send 0.01% of all EIDOS tokens it holds. Starting November 1, 2019, 8am GMT, it will also mint 25 new EIDOS tokens every second. 5 EIDOS will be sent to the team account, 20 EIDOS it will hold for the airdrop. This will go on for about 15 months, by then 1 billion EIDOS will exist and 800M of it are given to the community for free." An EOS holder can send minimum 0.0001 EOS to the EIDOS contract to get the airdrop.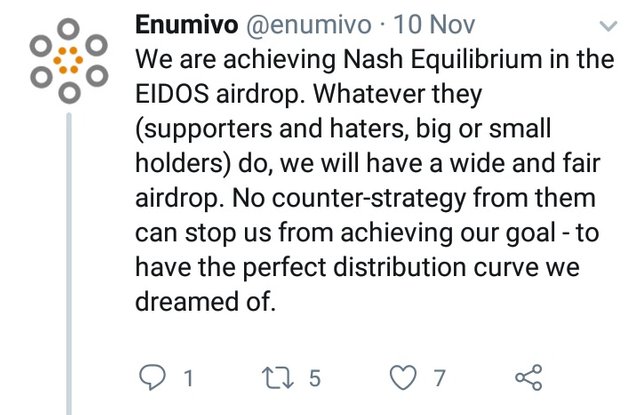 Image Source – Tweet of the twitter account behind mysterious EIDOS project
Some exchanges started to list the token within a few days and people realized that they can repeatedly send EOS to EIDOS contract to generate more airdropped EIDOS and trade them immediately. Some wallets like TokenPocket arranged an 'EIDOS miner' in their DAPP store to automate mining of EIDOS. The EOS network got flooded with transactions. On 9th November 2019, Coinbase reported 95% of all EOS transfers are related to EIDOS contract. The EOS network was not built to handle such flow. The sudden increase in network activity pushed the EOS network into congestion mode. Normal users with low CPU resource became unable to do transactions. CPU price also rose dramatically as demand increased. All DAPPs running on EOS network got stalled.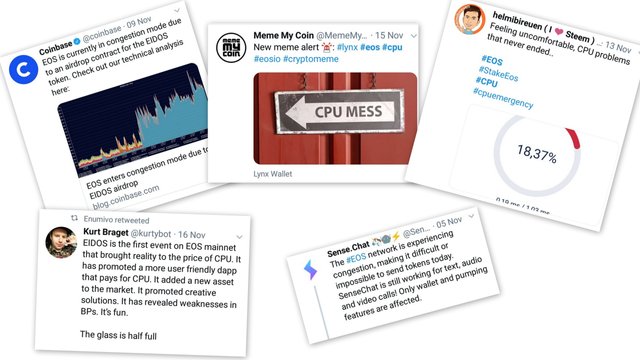 Image Source – Various tweets regarding CPU congestion
EIDOS is basically a 'waste-token'. It is currently motivating the users to waste CPU resource only. As it is a listed token, trading activity is providing the fuel to the demand of the token. The incident exposes extreme vulnerability of EOS network. EOS community never expected this 'guerrilla attack'. No answers are found to tackle this resource crisis. Many decentralized exchanges started to provide 'free CPU' to their users to keep the trading activity alive. Some wallets like TokenPocket, Wombat devised ways to provide CPU with nominal charge.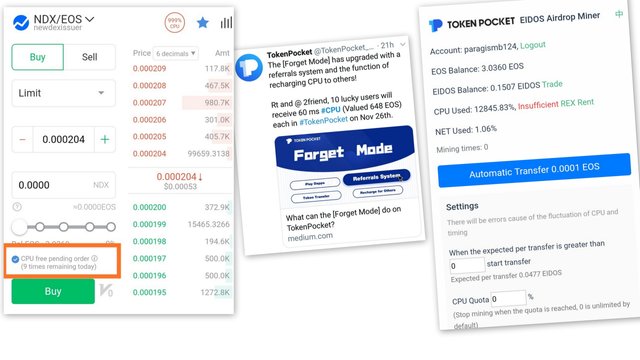 Image Source – Various (Newdex decentralized exchange offering 10 CPU free transactions per day; TokenPocket tweet to announce 'Forget Mode' of CPU; TocketPocket EIDOS miner DAPP)
How long will the problem continue to exist? Difficult to say! EOS network behavior is not fundamentally wrong. Simply it was not prepared for this event. 23 days have passed since the attack started and the community is under shock. There is no fix till now. Good news is that the EOS network is still doing its functions under heavy load. The sudden attack caused by 'EIDOS pseudo mining' or 'EIDOS airdrop' may give EOS community good food for thought about the way ahead. Some community members have come up with an 'immunity token' concept. The concept says that to fight this bubble characteristic of 'waste token', one adversarial bubble should be created which will serve as the immunity of EOS blockchain. The 'immunity token' will reward the users for not wasting CPU and thus balance the CPU demand. Whatever happens! EOS needs to save its blockchain castle from the threat now. High time for the block producers to wake up from slumber to save the blockchain and its popularity.
Note: You can follow the author on twitter.