You know how some people are in fact truly miserable inside. They may embrace liberal values, to escape their conscience. They may have nothing to do except criticize others. Escaping into a Fantasy World, they may come to think themselves better and/or more intelligent than anyone else. They often seek, and may find a false sense of security, by forcing their values and/or will upon others. The symptoms of misery come out in many ways!
Occasionally, we can all succumb to this effect, even if for a short time. I have found a great way to focus my attention( sure you could too) on positive ways to release some of that stress. It is entertaining, it is fun, it can be intense, it can be educational, and the list goes on! You can work it into your routine, and/or you can enjoy some of your leisure time there! Not only does it help you take your mind of of negative people, places, and things, you can acquire some decent amounts of BitCoin, in the process!
I have shared some links, in some of my more recent posts as well as post throughout my long history here, that lead to some very good places to be. If you are interested in quality links, you may want to go back through my blog history of posts. Almost all, if not all, links I have shared, are still relevant today!
In this post, I am going to discus one of those links. If you have been reading my recent post, then it will come an no surprise to find that I am talking about Cointiply. It may be a little difficult, for some anyway, when you first start participating there. This is more evident, should you be like me, and proceed without reading much documentation. With just a little bit of experience there, much of it becomes intuitive. I have discovered a little routine that will help you get up and running. You can be successful and find the experience enjoyable. I will share this little routine next.ou
Once you have set up your Free account and Logged in, you will find yourself on the home page. No surprises there. LOL. The first simple step is to simply drop a couple to 3 lines in chat. The more reasonable and constructive, the higher the payout. Just remember, keep it simple, at the beginning. Say hello, introduce yourself, and maybe state that you are new and looking for any advice. Something along those lines. You will become eligible for their "Rain Pool" which is a pot of Coins that are divided among the chat participants. Don't wait around for the rain, it could be a long wait. The next thing i suggest, is that you go out and watch some PTCs. They pay different amounts of Coin, as with all here, that can be redeemed for BitCoin or Doge cryptos. Once you become comfortable with these paying offers, you can advance to more activities. The highest paying, and more complex opportunities, are those of surveys. You can gain anywhere from a few hundred coins to well above 12k to 18k coins. Generally speaking, but not always true, the longer the survey - the higher the pay. Should surveys, not be your preference, there are also opportunities to be found in gaming, app. uploads, web surfing, and a host of other earning opportunities! 
Once you become comfortable and profitable, in your simple routine, you can easily branch out into other earning opportunities, thus customizing your own experience. I also recommend that you at least try the surveys. As always proceed with good judgement and caution. If you like to  share your opinion, you can get handsomely rewarded! I do have to warn you, it can also become addictive. I certainy enjoy spending time there, and watching my Coin balance quickly grow , is a cherry on top!
IF you have already accepted my invitation and followed the link, please give this routine a try if you have not already. If you don't already have a Free Membership Here, then I think you will be Happy, if you follow my link! 
http://cointiply.com/r/4DAXA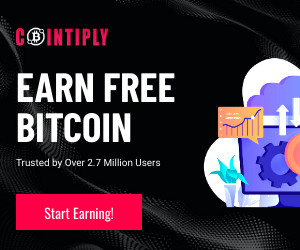 Thank You for Your Time, Attention, and Interest!
Anthony