I'm getting good vibes from this one.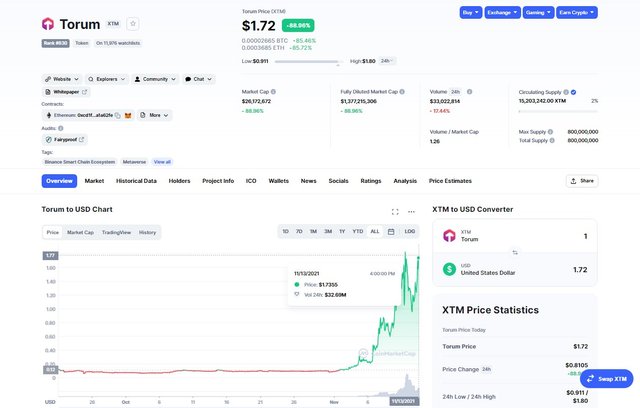 So glad I joined Torum back in January. This is all thanks to some cool LeoFinance folks like @knowhow92 and @katerinaramm - please excuse me if I'm forgetting anyone. To be perfectly honest I haven't spent that much time on the platform. HIVE and LeoFinance is my main thing, but I have been using Torum as well in order to promote my LeoFinance links.
That said, the rewards have been rather juicy. It's been absolutely worth it so far.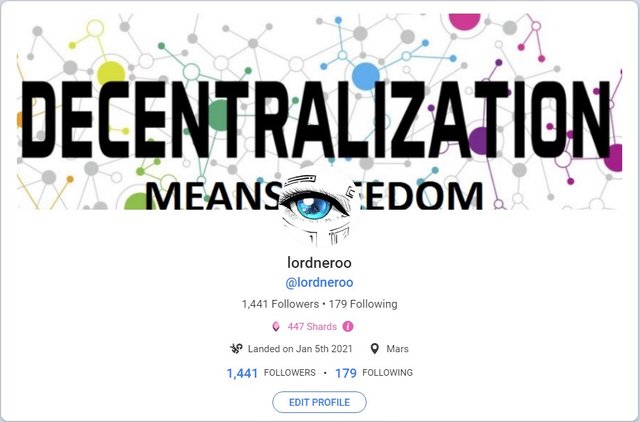 I never even imagined getting anything out of Torum when I first started using the platform. I would just pay it a visit once a day for a few minutes, give out some upvotes, share a few links, claim my daily mission rewards and head out. The habit of stacking up more and more crypto tokens for free is what kept me going.
Sharing referral links and thus creating more streams of passive crypto income is another addiction that helped me remain consistent on Torum for the last 10 months or so.
Long story short, I've managed to accumulate 3,140 XTM as we speak, which equals approximately $5,400 with the current prices. Another case of free money out of nowhere thanks to the crypto revolution of our time.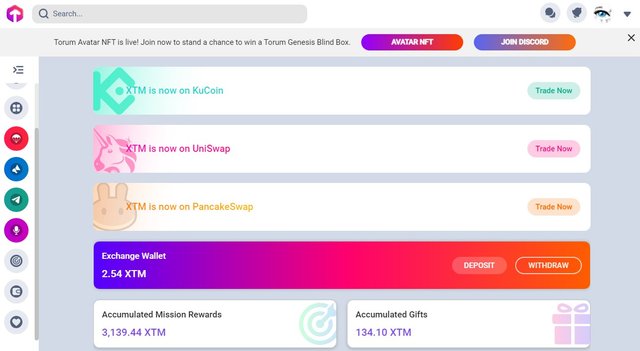 I have already moved them to my ETH wallet - I know it sucks, as I will have to pay like $150 in fees if and when I decide to swap them for ETH. I could just grab my loot and ride off into the sunset, but for some reason I believe there's more to come. I could be wrong, so don't listen to me.
XTM has been demonstrating real power over the last 10 days, dipping and then bouncing back in spectacular fashion. Taking its market cap into consideration, I will be happy to sell some once it does another 10x. I won't have any regrets regardless, as I honestly don't feel like I put any effort into getting my hands on those tokens. $5k won't make a difference in my life, but $50k would be a different story.
Plus it's a relatively new project with a really cool team behind the scenes and a lot of things being prepared for the future.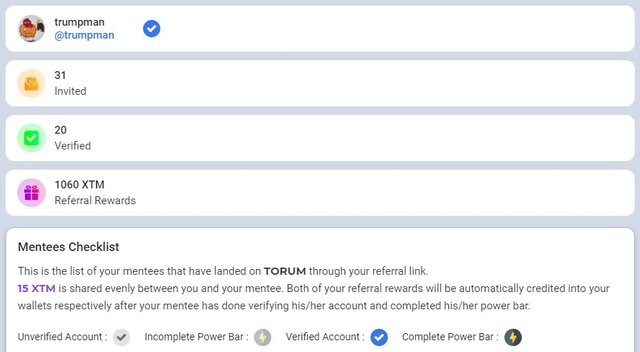 Oh, let's not forget about those sweet referral rewards! 1,060 XTM just for getting people to sign up through my ref links isn't that bad of a deal, is it? That's like $1,800 for doing absolutely nothing at all. And I also get to brag about adding value to the platform by raising awareness and bringing in more users. Tricks to the crypto trade.
Join Torum today because why not. Use my referral link to get 7.5 free XTM in the process, provided that you verify your account. I get 7.5 XTM too if you do. Find me here if you're already active on Torum.
That sums it all up for now. Catch you around later!
---
Never forget!
NFA - DYOR
---
Best Faucets to Earn Crypto with Zero Risk (Affiliate Links):
Best Exchanges to Trade Crypto (Affiliate Links):
Best Platforms to Earn Crypto for your Content (Affiliate Links):
Connect with me Here: