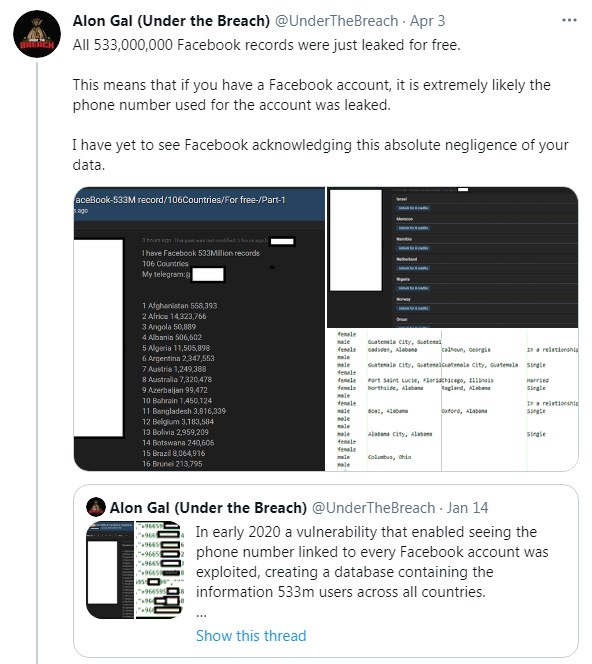 Identity theft is one of the world's fastest growing crimes.
I'm pretty sure everyone has heard about the recent Facebook data breach, which resulted in approximately 533 million people having their personal information leaked online, exposing them to danger. The personal data includes phone numbers, full names, locations, email addresses, and biographical information. By the way, you can check if your email is in a data breach using this tool created by Troy Hunt.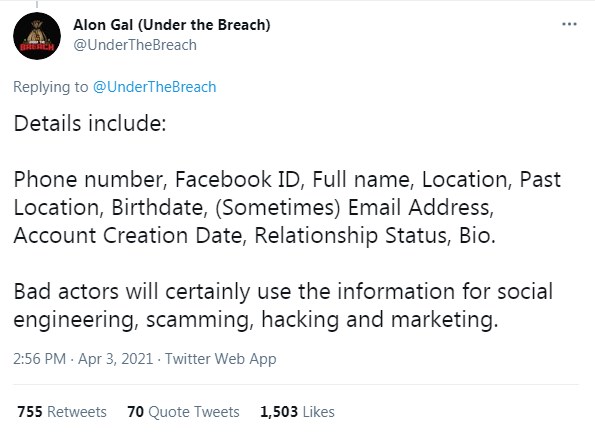 As a matter of fact, this is not the first time something like this happens. The company has endured several data breaches since 2013, but hasn't had to face major repercussions for having the data of billions of people leaked on a regular basis. Here's some history:
June 2013 – 6 million users
In June 2013, Facebook discovered a bug had been exposing the personal data of 6 million users to unauthorized viewers for over a year. User phone numbers and email addresses were exposed, and anyone who knew at least one piece of contact information or who had some type of connection to the person could access the data.
May 2018 – 14 million users
A glitch in the system in May 2018 caused the normally private posts of 14 million users to be shared publicly without their knowledge or consent. The bug was only active for five days, and Facebook quickly returned all posts to their normal privacy settings (ie. not public). Nevertheless, for those few days those posts were made publicly available, and the private lives of users were completely exposed.
September 2018 – At least 50 million users
In September 2018, it was publicly announced that attackers had managed to gain access to somewhere between 50 to 90 million user accounts. The attackers could see everything on a user's profile. Facebook also confirmed that third-party sites that those users logged into with their Facebook accounts could also be affected.
March 2019 – At least 600 million users
In March 2019, cybersecurity expert Brian Krebs reported that Facebook was storing hundred of millions of user passwords in plaintext files. Only employees could access these files, but that still means that account passwords were accessible to over 2,000 Facebook employees.
April 2019 – 540 million users
In April 2019, it was discovered that hundreds of millions of Facebook user records were sitting on a public server. Researchers at the security firm UpGuard discovered the breach, and reached out to the Mexican company hosting the server, Cultura Colectiva, multiple times before the server was finally secured months later.
September 2019 – 419 million users
In a breach that feels a bit like Groundhog Day, the data of 419 million Facebook users was discovered sitting on an exposed server. If it sounds familiar, it's because it also happened in April 2019.
December 2019 – 309 million users
Facebook finished off 2019 with a bang when yet another database was left exposed. More than 300 million Facebook user phone numbers, names and user IDs were left unprotected on the dark web for nearly two weeks.
Source: selfkey.org
It is now more than obvious that the old ways of managing our digital identity have become obsolete, however, the blockchain technology is here to fix this mess and set higher safety standards with the aid of cryptography. Having to share your personal data with a private company like Facebook means that you have practically lost ownership over it, even if the company is capable of keeping it safe from leaks.
This used to be necessary evil, but not anymore. It is now possible to use blockchain-based identity management systems utilizing incorruptible, decentralized public ledgers in order to retain ownership of our identity and full control over our data. Blockchain-based identity management systems are the next big thing, and I can see this concept going mainstream in the years to come.
Self-sovereign identity is centered on a person, free from dependence on any corporation, organization, or nation-state.
Source: github.com/WebOfTrustInfo
Handing centralized authorities total control of sensitive information related to your identity is the equivalent of handing them total control of your funds. You wouldn't want to do this under no circumstances, but unfortunately this is exactly what has been going on for decades now, as it wasn't even possible to get around this problem until recently. Thankfully, Satoshi's vision has made it easier than ever to ensure security and privacy, and we are just beginning to grasp this concept.
Information is valuable, and as we are heading towards a fully digitized future, we will keep coming up with innovative ways to monetize it. But personal data must always be protected, and we should be the ones deciding who can see and use our personal information at all times. The importance of self-sovereign identity solutions (SSID) is immense, and will keep soaring over the next years, as the ever-growing internet economy is destined to reshape the way we communicate value to each other and perform transactions on a global scale.
In reality, this is just another one of the many ways in which the blockchain technology will eventually reshape our lives for the better, providing us with the weapons necessary to fight corruption and intransparency. We are slowly beginning to realize the enormous potential of decentralization, and the rise of cryptocurrency is already acting as a catalyst for change. Utilizing this revolutionary technology to create reliable peer-to-peer transaction systems is just the beginning.
I do believe that the significance of this technological achievement is still beyond human comprehension; it's like a vast universe filled with endless possibilities we can't even think of. It's really hard to imagine what we will build around this technology in the not so distant future, but it's already evident and obvious that decentralization will set the foundations for a better, fairer, rapidly evolving world. We are blessed to be living in exponential times, witnessing history in the making and being part of the decentralization movement.
If you're reading these lines, you rock! In the future you will look back and feel proud you were there when it all started.
---
Thank you for your attention.
Alright guys, that's it for now. I sincerely hope you learned something new today. Thank you for taking the time to read those lines.
Just my two cents. This is by no means financial advice. Just sharing my personal views and experiences. Please do not take my word for your investment choices, and always do your own research.
Stay safe and have a good one,
@lordneroo
---
---
Best Faucets to Earn Crypto with Zero Risk (Affiliate Links):
Best Exchanges to Trade Crypto (Affiliate Links):
Best Platforms to Earn Crypto for your Content (Affiliate Links):
Connect with me Here: