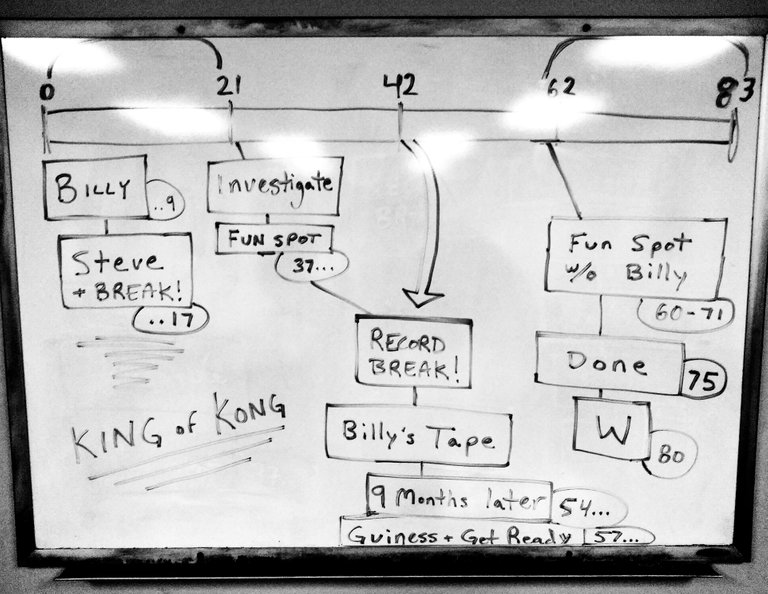 Great film. Great documentary. I was curious to take a look at the structure, and it seems to break down in a very clear way.
Trailer: https://m.youtube.com/watch?v=L5XvArGGIzk
IMDb Page:
https://imdb.com/title/tt0923752/
Act 1 here sets up the normal. This is gaming. This is Donkey Kong. This is Billy the Record Holder. Introduce the inciting incident. Steve sets his eyes on breaking the record himself. When he does it and sends off the proof, we have a story question and an Act 2 launch off.
Act 2 shows us there's more coming: investigation and voiding of Steve's score and a trip to the official gaming location to attempt to break the record live and in person.
Midpoint comes as Steve succeeds again, but this time there's no denying it. Does Billy step out in person to reclaim his record holder spot again? No. Instead he sends in a tape that looks questionable upon review, but the score is accepted as official, and the dust settles with Steve being bumped to 2nd place all time.
Until... Guiness Book of World Records decides to print the Donkey Kong top score holders in their upcoming edition. Steve decides to go for it again.
Act 3 brings us back to the Fun Spot as Steve starts to play. He fights hard but falls, fails, cannot pass Billy again. He says he's done. A hard finish.
Until... We find out that Billy's new top score gets stripped from him after his tape is officially deemed fake. Steve Wiebe takes the crown.
Great fun. Amazing characters. A classic.
---
Be well.
LionSuit.com
(words and image are original. posts may also be shown on my hive.blog page.)