Guide for migrating Cub from Den to Kingdom in cubdefi.com
Today , when Leofinance team announced that Kingdom is live for staking cub, I know I should migrate my cub to Kingdom for better rewards(Cub +BNB) and for auto Compounding.
I expected that migration might be tough for me, but kudos to the team that believe in KISS principle (Keep it simple, stupid) so that any novice can be able to transact with ease.
For migrating first I need to go to my Den (https://cubdefi.com/dens). Sometimes this direct link does not work on my system so you can go to https://cubdefi.com and then append dens to it.
Once you are in Den and do the details on cub, you will see something similar to below shared screenshot.

So first I harvested my cub and proceeded to unstake my Cub by clicking 0n - (minus sign). You will see below screen after the click.

Click on "Max" and the "Confirm" to complete the withdrawing of cub from Den.
Now you are ready to move to Kingdom (https://cubdefi.com/kingdoms)

Just click the highlighted arrow ,so that it can expand the details, and you will see the screen similar to below.

There you see 2 contracts to approve, one for "Balance" and other for "Deposit" . I approved "Balance(wallet)" contract and look like both are approved in same go.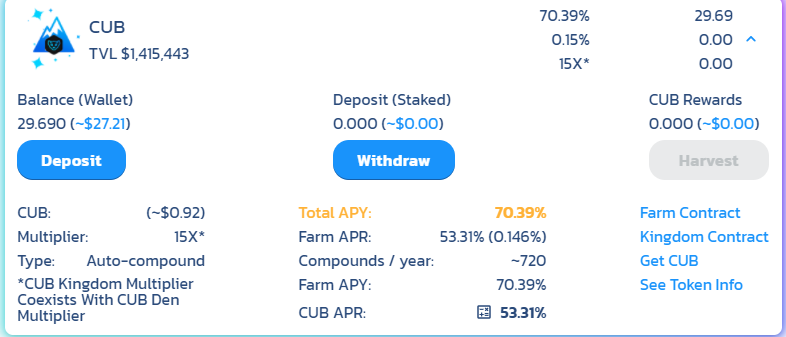 Once contract are approved, you are ready to Deposit , click on "Deposit" and stake "Max" or whatever number you prefer from your wallet balance ,nd stake it. You are now successfully migrated from Den to Kingdom.
How much it cost to migrate
BNB transaction cost is cheap and I guess it might be less then cent each for Harvesting from den, unstaking from Den and deposit to kingdom.
Around 12 cent fees is charged for approving Contract in Kingdom. so BNB fees are not a hindrance at all.
Apart from fees, Deposit in Kingdom cub take 1% in deposit fees so this also need to be considered.
Why you should migrate.
I feel to migrate because auto compounding will make it purely passive and you do not have any need to check ,when you should harvest. Second advantage is that Kingdom cub staking rewards include both cub and BNB both so it is nice method of passive farming of BNB too.
Third, whether you are in Den or Kingdom, you rewards of cub are not changing as explained by team in their post, but you are getting advantage of getting BNB dividends and auto compounding.

If In case if you do not know what LeoFinance is then you can read about this platform at https://leopedia.io/faq/#what-is-leofinance
If you are wondering about wLeo then you can read about wLEO at https://leopedia.io/wleo/
If you want to start with wleo trading in uniswap pool, then please check https://wleo.io/
LeoFinance allow you to earn LEO that you can swap for wLEO and wLEO can be swapped for ETH in defi pool. So it is also equivalent to mining ETH from blogging.
If you want to convert LEO to bLeo (Leo in Binance smart chain then you can do it here https://wleo.io/bsc and you read the documentation here
If you are looking for Defi earnings then you can try Cub Finance

Hope you have liked it, Please feel free to upvote, reblog and comment.
Also feel free to give me a follow at https://leofinance.io/@r1s2g3
Posted Using LeoFinance Beta