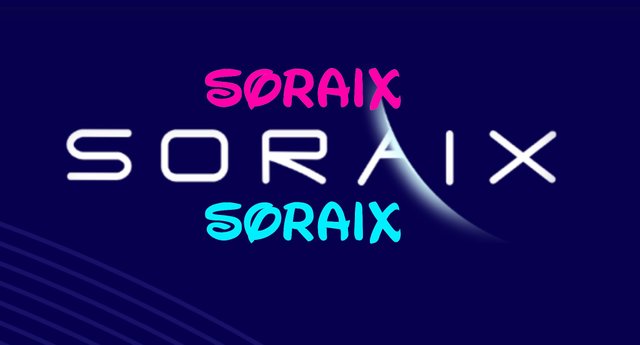 INTRODUCTION
I talked about different type of blockchain projects over the week which was the major point of discussion in the entire blockchain community. But today I'm back again with another unique project which I believed my followers and subscriber would love to know about. This project is known as "SORAIX". SORAIX is an equity and crypto-currency exchange platform which aims to solve the problems facing equity crowd-funding and crypto-currency trading through the use of Blockchain technology which is the mostly rated and powerful technology in this era.
Equity crowd-funding via the internet is a new channel of raising money for startups and new projects. It features low limitations to entry low fee, high speed, and thus encourages innovation. In recent years, equity crowd-funding has undergone a few developments but a few problems still stay unsolved in practice. Blockchain is a decentralized and distributed ledger technology to ensure data protection, transparency and integrity as it cannot be tampered with or forged, the technology is deemed to have extremely good capacity within the finance industry.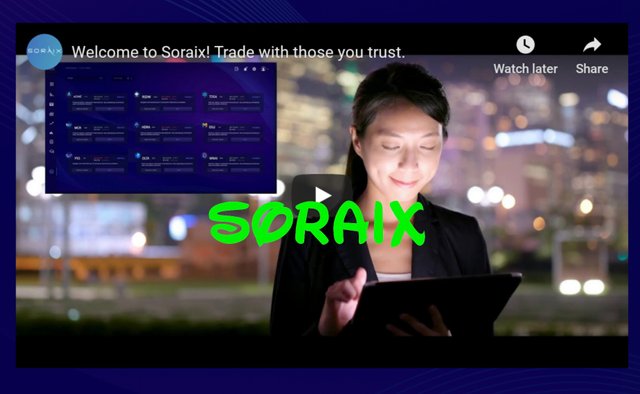 Blockchain can be a secure, more efficient, low-fee solutions for the registrations of stocks and shares of a firm financed by crowd-funding, this technology also simplifies the transaction and transfer of crowd-funding equities, and for that reason facilitates their circulation. Blockchain technology also allows peer-to-peer transaction among investors and entrepreneurs and solves the trouble of regulatory compliance and protection of fund management. Blockchain technology can also be used to develop a voting system for crowd-funders which permit them to be involved in corporate governance. SORAIX through the use of blockchain technology will allow startups to raise funds and capitals within the platforms.
As I have said earlier-on, SORAIX is a global crypto-currency exchange platform which has promised to revolutionize the entire world through the use of blockchain technology. Before the launch of SORAIX project we have seen different trading platform in existence but none of these platform actually possesses the features of SORAIX which is what makes this project unique.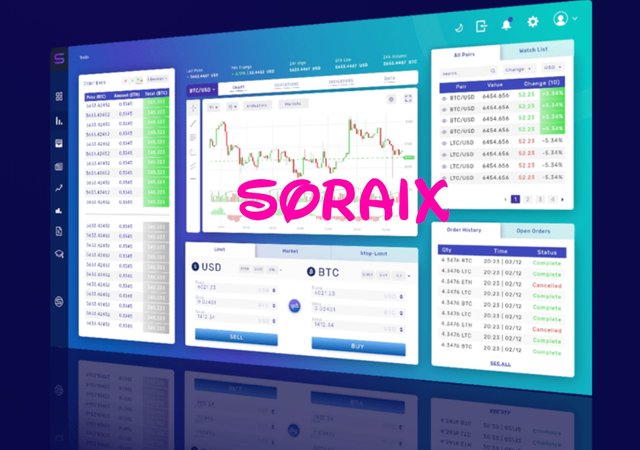 As trader and investor of crypto-currency what you should firstly look out for before you select a trading platform is the level of security available in the platform. Crypto-currency platforms have been under heavy security threat over the past few months and as a result of that, SORAIX has introduced the most secured exchange platform for the traders and users of crypto-currency. Security has been one of the biggest issues in the industry which is why SORAIX has developed a new secured platform.
Low fee is another great feature of SORAIX. Crypto-currency exchanges at times charges their customer high fees for processing and transaction fees in the platform. This problem has makes SORAIX to come up with the solution for traders and introduced a new platform that charges low fees.
SORAIX platform is designed in such a way that traders will be offered unique trading tools and good revenue sharing model. Investors in SORAIX platform will be allowed to trade their equity for another or any other form of digital asset within the platform.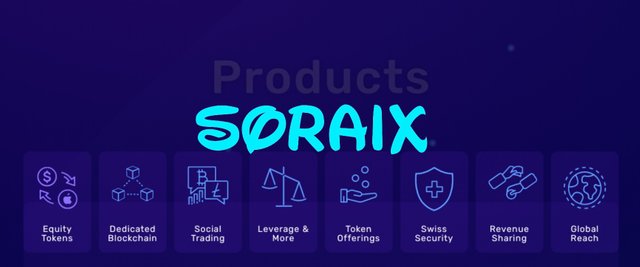 SORAIX has introduced its own token which can be used to purchase equity token in which equity token can serve as the share in the company
High level of trust and transparency, good user interface are other features of SORAIX platform. Good user interface is a great feature of SORAIX in which both new and existing users will be able to navigate through the SORAIX system.
TOKEN DETAILS
Token Symbol => SRX
Total Supply => 1,000,000,000
Token Price => 0.00025 ETH
Soft-cap => $4,500,000
Hard-cap => $24,000,000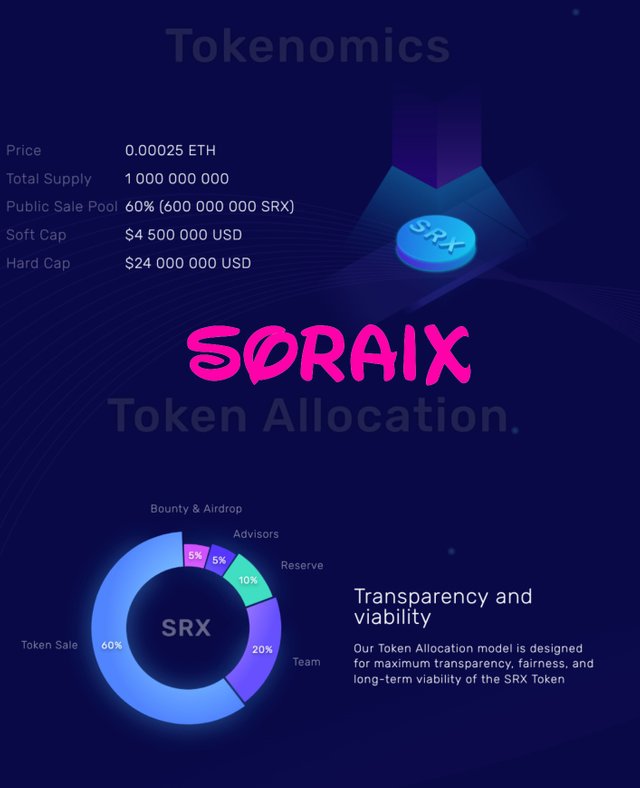 TOKEN DISTRIBUTION
Allocated to token sale => 60%
Allocated to Reserve => 10%
Allocated to Team => 20%
Allocated to Advisors => 5%
Allocated to Bounty & Airdrop => 5%
TEAM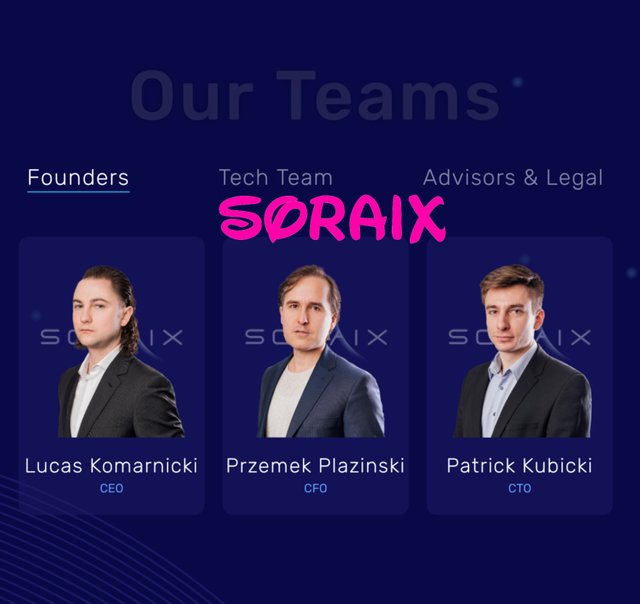 ROADMAP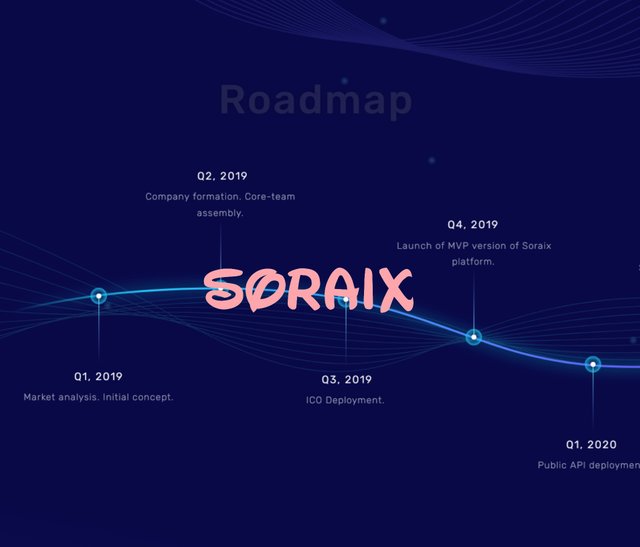 To know more about SORAIX project check the links below
Website: https://soraix.com/
Whitepaper: https://soraix.com/static/whitepaper.pdf
Twitter: https://twitter.com/Soraix3
Facebook: https://www.facebook.com/soraixteam/
Telegram: https://t.me/soraixico
Reddit: https://www.reddit.com/user/Soraix
Linkedln: https://www.linkedin.com/company/soraix/about/
Instagram: https://www.instagram.com/soraix_exchange/
AUTHOR'S DETAILS
Bitcointalk Username: Samunto
Bitcointalk Profile: https://bitcointalk.org/index.php?action=profile;u=2550421
Writer: Lekato