"Earlier this week, Voyager Digital issued a default notice to Three Arrows Capital, the crypto hedge fund whose apparent recent demise has sent shockwaves throughout the cryptocurrency industry, impacting other firms that had exposure to it" [Hayward, A. Voyager Digital Halts Trading and Withdrawals After Three Arrows Capital Default. (Accessed July 2, 2022); See, also, Nagoda, K. Feeling the Pinch Voyager Digital Issues Notice of Default to Three Arrows Capital. (Accessed July 2, 2022)].
In a Press Release yesterday, July 1, 2022, Voyager Digital CEO Stephen Ehrlich announced: "Voyager Digital LLC … is temporarily suspending trading, deposits, withdrawals and loyalty rewards, effective at 2:00 p.m. Eastern Daylight Time today" [Voyager Digital. Voyager Digital Provides Market Update. (Accessed July 2, 2022)].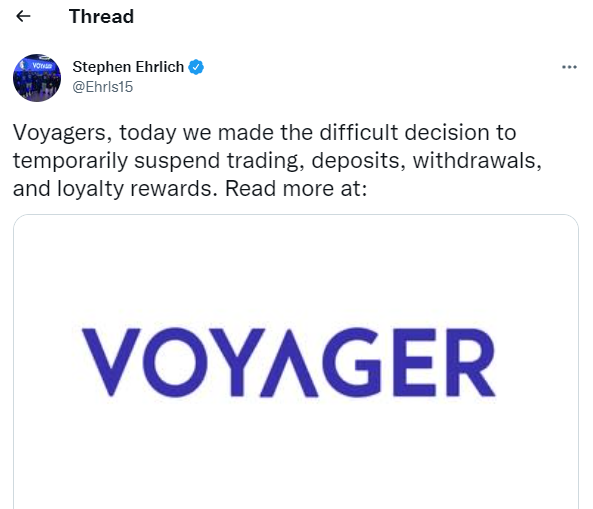 Photo Source
Ehrlich then continued:
'This was a tremendously difficult decision, but we believe it is the right one given current market conditions'… 'This decision gives us additional time to continue exploring strategic alternatives with various interested parties while preserving the value of the Voyager platform we have built together. We will provide additional information at the appropriate time'.
[Id].
Ehrlich then cited the cause of the trading halt, etc., as follows:
Voyager previously announced that its subsidiary, Voyager Digital LLC, issued a notice of default to Three Arrows Capital ("3AC") for failure to make the required payments on its previously disclosed loan of 15,250 BTC and $350 million USDC. Voyager is actively pursuing all available remedies for recovery from 3AC, including through the court-ordered liquidation process in the British Virgin Islands. To support its exploration of strategic alternatives, the Company has engaged Moelis & Company and The Consello Group as financial advisors, and Kirkland & Ellis LLP as legal advisors.
[Id].
On Wednesday, a court in the British Virgin Island ordered the Singapore-based Three Arrows Capital to liquidate its assets to repay debts and financial obligations. Three Arrows Capital, led by Zhu Su and Kyle Davies, had risen to prominence amid the crypto bull market of the last two years. However, the recent implosion of Terra (LUNA) and the UST stablecoin apparently dealt a significant blow to the fund, and other lenders like BitMEX, Finblox, and Deribit have taken measures to minimize losses and recoup debts.
[Hayward, supra].
"Voyager Digital has been attempting to maintain solvency throughout June's industry-wide crypto liquidity crisis. On Jun. 22, Voyager secured a loan worth over $500 million in cash and crypto from Sam Bankman-Fried's Alameda Research" [Dalton, M.
Voyager Digital Halts Withdrawals and Other Services. Accessed July 2, 2022; See also, Nagoda, supra].
"Voyager Digital did not indicate when it would restore trading, deposit, withdrawal and loyalty reward services" [Andersen, D. Voyager Digital freezes trading, deposits, withdrawals and rewards, blames 3AC default. (Accessed July 2, 2022)