Core Ethereum Developer, Marius Van Der Wijden, has announced in a tweet the creation of a 'shadow fork' (a testing environment) ahead of implementation of staking withdrawals contained in the Shanghai upgrade.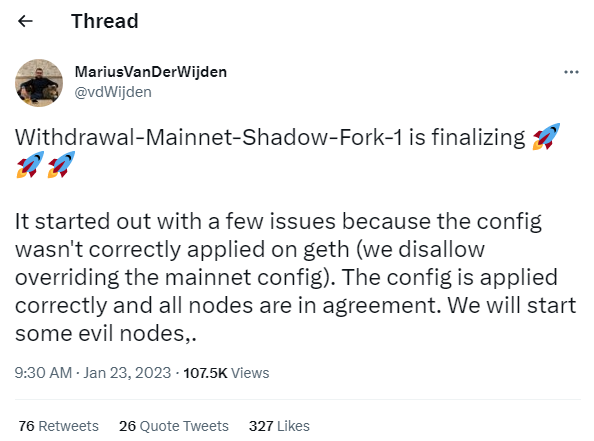 Photo Source
This new 'shadow fork' was created for the purpose of trying out the various mechanisms necessary for withdrawing the staked ETH post 'Merge'. Ethereum developers released this 'shadow fork' staging area to work any bugs out of the system and to provide a vehicle validators will utilize to withdraw their staked ETH from the Ethereum proof of stake network. Presently these withdrawal mechanisms are disabled but are intended to be activated in 'Shanghai'.
Part and parcel of the requirements to migrate to a proof of stake network necessitated the pooling and locking of 32 Ether per validator plus additional Ether voluntarily staked by investors. According to a December report by Nansen, more than 14.5 million ETH (valued at over $23 Billion) have been deposited into the Ether staking contract which currently cannot be withdrawn.
Back in November, 2022, the Ethereum developers were criticized for moving the dates around for permitting withdrawal of the staked Ether. On January 6, 2023, results of a developer's meeting marked their agreement to exclude the EVM Object Format (EOF) from Shanghai. Even though this EOF would make the POS network easier to upgrade, the developers decided to exclude it from Shanghai based on their fears it would delay the implementation of the staking withdrawals.
Van Der Wijden further tweeted that multiple clients will employ this 'shadow fork', those being clients that develop validator software for use on the Ethereum network. This list includes: Lodestar, Teku, Lighthouse, Nethermind, Geth and Prysm.
Van Der Wijden also stated that he and another developer by the name of 'Potuz' will create malicious nodes for the purpose of sending bad blocks and messages to the other testnet nodes attempting to get these nodes to adopt a false version of the network. Presently Van Der Wijden reports the network is running 'smoothly', but states he wants to see if he and 'Potuz' can 'break it'. This is being accomplished to see if the upgrade can prevent any malicious attacks or if not afford the prior opportunity to make any necessary changes prior to mainnet implementation in Shanghai.
The Shanghai upgrade is currently planned to implemented sometime this March (March, 2023).