Introduction
PolyCub is finally here and it presents a wonderful offering of high yielding investment options for your consideration. One such offering is the pLEO-wMATIC Farm, currently yielding 643.02% APR.
So, you've done your homework and now are ready to open your wallet and take advantage of this wonderful opportunity. But you are new to the world of DeFi and don't have a clue as to where to begin. Well, never fear, here are the detailed instructions (w/ photos) to guide you through the investment mechanics. To end this article, I'll give you my 2 cent opinion concerning this PolyCub Farm.
How to Invest in the pLEO-wMATIC PolyCub Farm
In actuality you will find this to be a very easy process. I will attempt to keep the instructions as simple and concise as possible.
Preliminary
If you do not already have one, a Metamask Wallet is preferred with the 'Matic Mainnet' already downloaded.
If you do not already possess pLEO and/or wMATIC tokens in your Metamask wallet you'll need to acquire them:

pLEO may be acquired by either a). purchase of pLEO tokens from SushiSwap (preferred), or b). converting BSC LEO tokens to pLEO tokens using the Polygon Leo Gateway.
Acquiring pLEO-wMATIC LP Tokens
[Note: for the purposes of this instruction we will be adding both wMATIC and pLEO already present in a Metamask wallet and will be only adding the modest amount of 1 MATIC and a proportional amount of pLEO. Also, all photos are sourced from PolyCub or SushiSwap as the case may be.]
Open polycub.com on your browser and from the menu on the left side of the screen click 'Farm'. You should be able to view the following: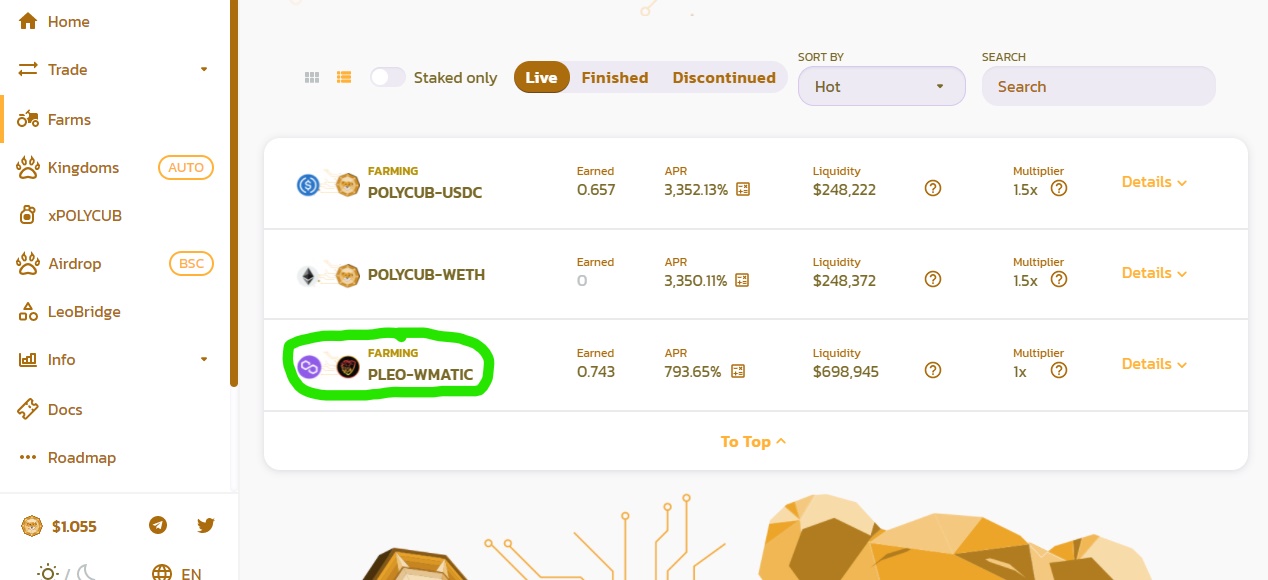 Click the pLEO-wMATIC Farm (as circled in the above diagram).
After clicking you should see the following:

Click on 'Get pLEO-wMATIC LP' circled in green in the picture above. This will take you directly to the page where you will add your liquidity for this Farm. Connect your wallet (top right side of screen) and this page will appear as follows: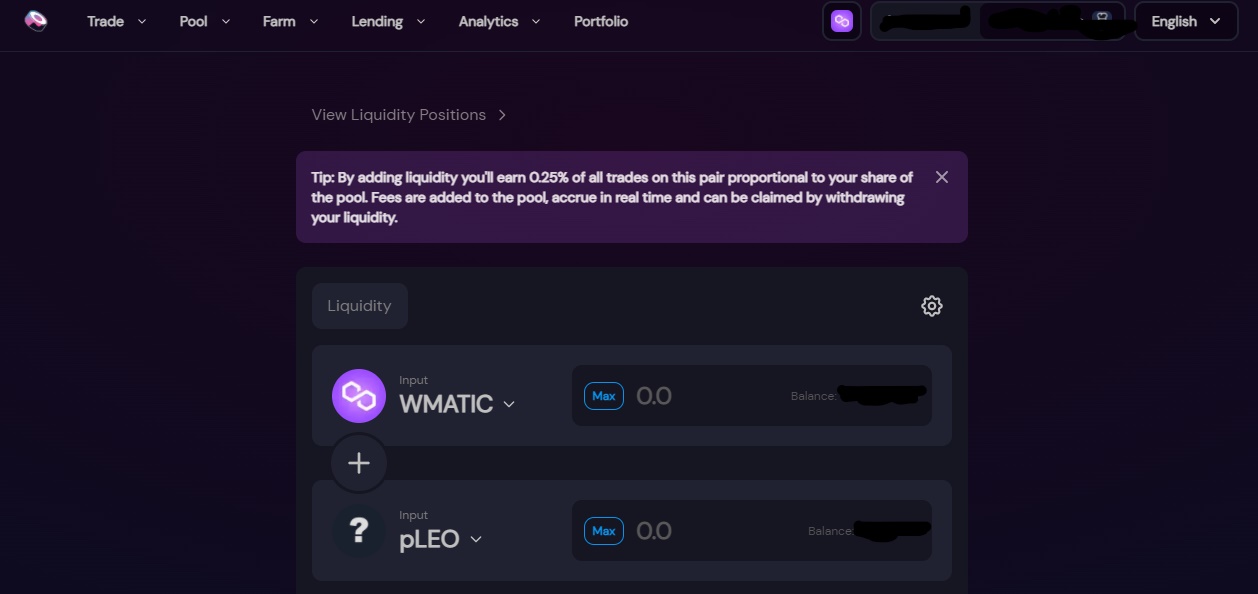 Next, in the wMATIC Input, type in the amount of wMATIC you wish to add for liquidity. The necessary proportional sum of pLEO will be automatically added for you. If you wish instead, you may enter the amount of pLEO you wish to add and the amount of wMATIC will be automatically added. Remember, for this instruction I am adding only 1 wMATIC, which when added to the wMATIC input looks as follows: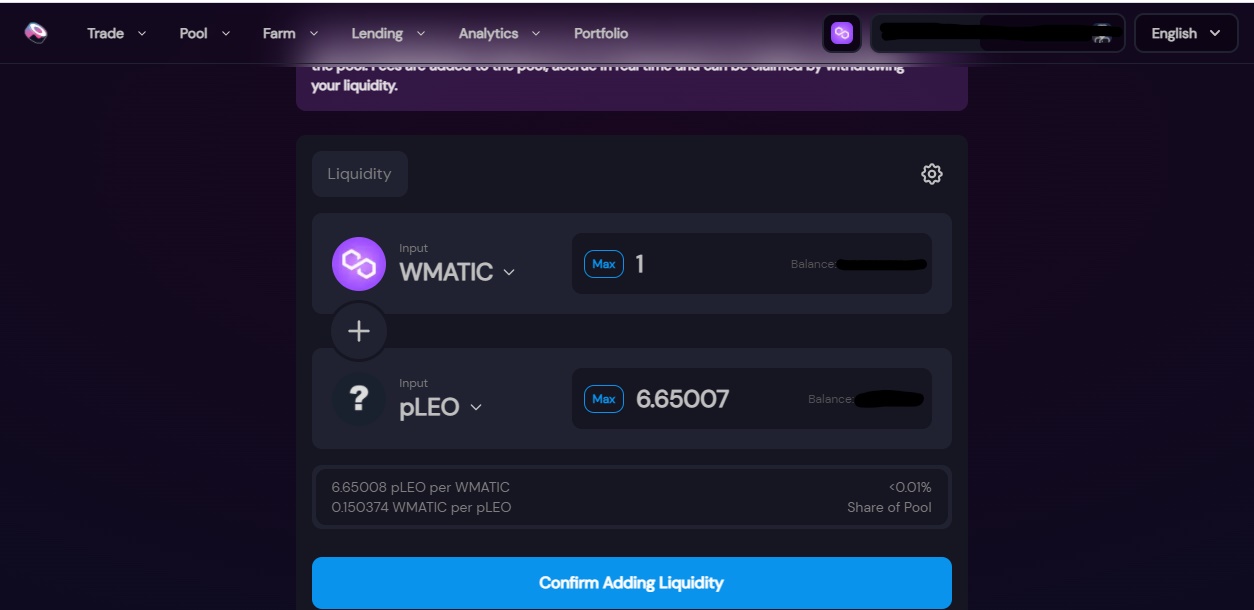 Click on 'Confirm Adding Liquidity' (the big blue button on the bottom center of the page).
You will get a pop-up from SushiSwap requesting that you confirm supplying tokens. If you wish to proceed, click the blue/purple button 'Confirm Supply':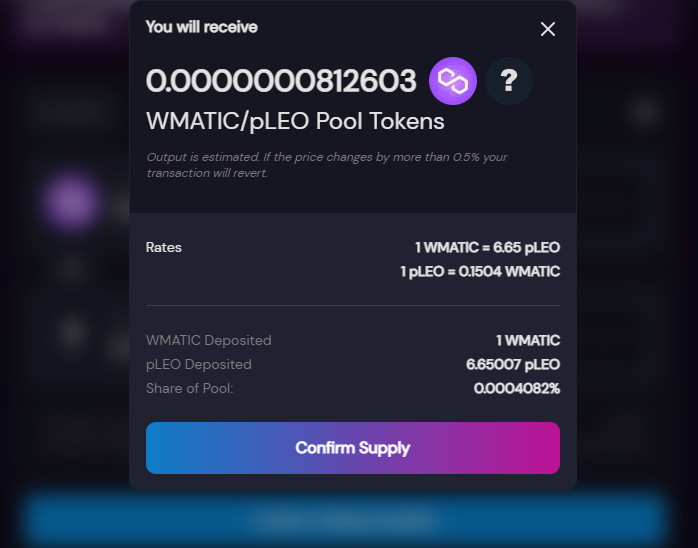 A Metamask pop-up will appear at the right margin of your screen. If you wish to proceed scroll down the pop-up and confirm the transaction and pay the gas fee.
On the SushiSwap page a timer appears at the top right of the page. Once that timer has expired, the pLEO-wMATIC LP token has been added to your Metamask wallet.
Adding the LP Tokens to the PolyCub pLEO-wMATIC LP Farm
Return to the PolyCub Farms page.

Click on the '+' symbol, marked in green in the above photo.
A new page opens as follows: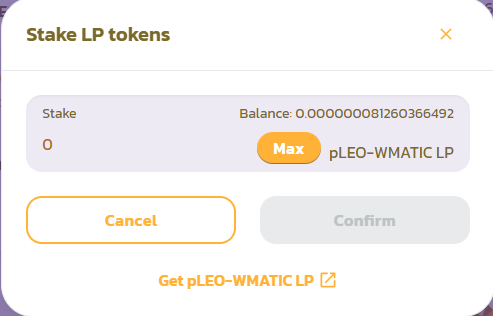 If you wish to add all of the tokens you just purchased, simply click the orange 'Max' button, then click 'Confirm'. A Metamask pop-up appears at the right margin of the screen. Scroll down the pop-up and click 'Confirm' to confirm the transaction and pay the gas fee.
If you followed these instructions you have just successfully added LP tokens to this Farm. [Usually within 30 seconds you can watch the LP tokens being added to your balance for this Farm on PolyCub.
Final Thoughts - Why the pLEO-wMATIC LP Farm is a Good Investment
[The foregoing is solely the opinion of your Author and is for educational purposes only. In no way should it be deemed investment advice]
I believe that pLEO will prove to be just as undervalued as the BSC LEO token presently is. As such, I see this token appreciating in value. Additionally, I am very bullish on the future potential of Polygon and I believe that token as well will be rising in value. All in all, I believe in the long run, significant upside potential exists for this Farm and accordingly I personally have taken a long position in the same.
I see value increases in the value of the LP tokens themselves while earning a hefty rate of return as well - a win-win potential scenario if I am correct in my assessment. In any event, even though I am retired, I can tolerate a certain degree of calculated risk in my portfolio decisions and this investment falls under that category.
Good Luck!
Posted Using LeoFinance Beta