What a difference just a couple keystrokes make!
A misplaced keystroke plus a devious 'bot sniper' cost the owner of an 'etherrock' over a cool million dollars. NFT Collector DinoDealer mistakenly listed his very expensive Rock NFT for 444 WEI instead of the intended 444 ETH. The difference, well, 444 WEI is about one-tenth of a penny while 444 ETH is about $1.2 million.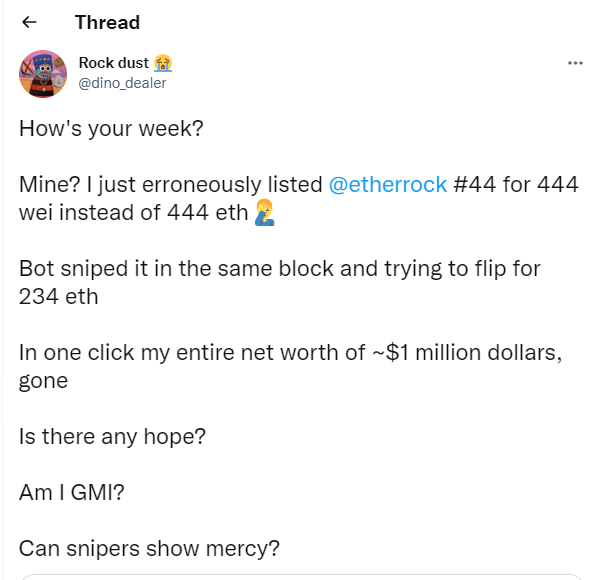 Photo Source
In the Tweet, Dino Dealer refers to 'bot sniped'.
Sniper bots (or "snipe bots") are automated bots that monitor time-based activity and submit information at the very last moment, removing the opportunity for other people to respond to that action. The most common example of sniper bots' use is last-second bidding on auction items on sites such as eBay.
[Netacea. WHAT ARE SNIPER BOTS?. (Accessed March 19, 2022)].
In the NFT genre, use of these sniper bots has grown. For a mere $200, you can obtain a sniper bot for PancakeSwap. Nonetheless. a sniper bot for NFTs will set you back a little more (like to the tune of $4000) [See, Upwork. Results for "sniper bot". (Accessed March 19, 2022)].
These 'sniper bots' may be expensive to obtain, but once the bot snaps up a valuable NFT listed erroneously, the point of no return has been reached by the lister due to the immutable nature of the blockchain. As such, simple mistakes, like was made here, can prove to be extremely costly with little hope of relief.
Dino Dealer appears however to have somehow come to grips with the loss. In fact it seems Dino Dealer has resorted to humor by adding a crying emoji immediately following their Twitter handle:


Photo Source
As well, Dino Dealer added a new profile picture. In the following photo, please note the sniped etherrock crossed out in red located at the left of the avatar: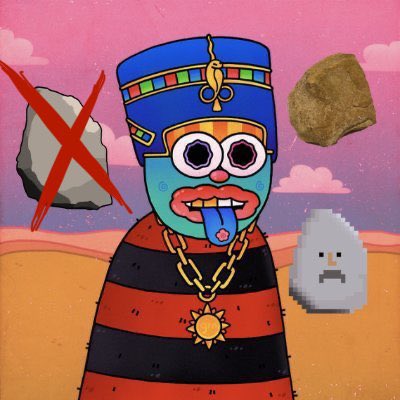 Photo Source
More humor resulted from Dino Dealer's unsuccessful attempt for help from 'crypto customer service'. The Twitter dialog referred begins with Dino Dealer stating: "OK crypto customer service is very friendly and responsive, who'd have thought?" then posting the following dialog: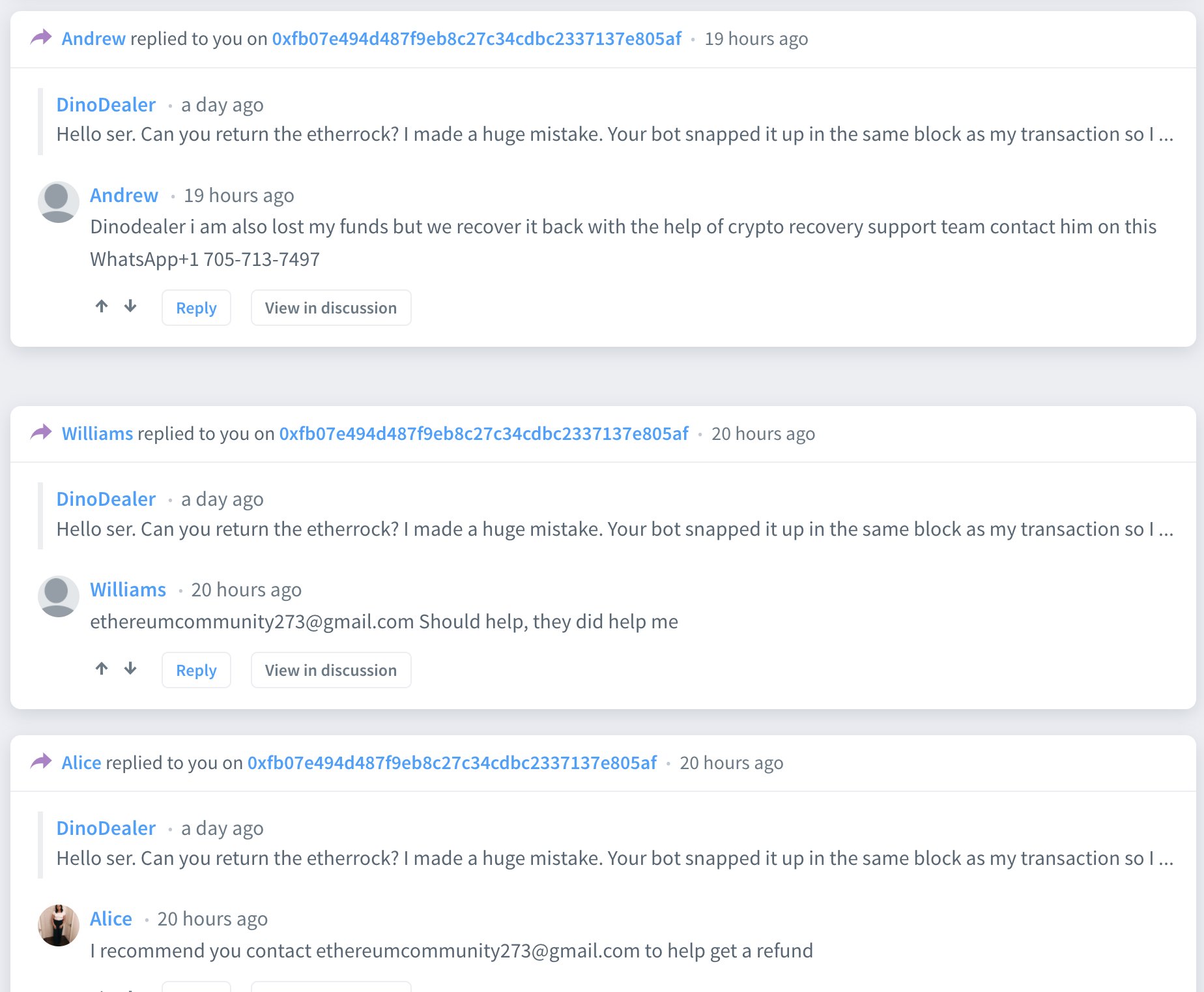 Photo Source
It is a shame the a real and present plea for help (such as was made to the crypto community by Dino Dealer) had to be met with responses from users posting ultra-suspicious information under the guise of helping.
While it is very true that human error exists and is prevalent in crypto transactions, a very simple rule flows from this fact (and is amplified by the above). No matter how comfortable you are with a web site, or have conducted the same transaction many times, always check all of the transactional information you entered twice - and when done with your double check - do a triple check. It is your hard earned money on the line!
AUTHOR'S NOTE: This article was originally published on Leo Finance and several other tribes on the Hive blockchain.