Introduction
THORChain (Rune) is a decentralized liquidity platform providing users the ability to exchange assets across a range of blockchains (cross-chain) in a permissionless fashion. As per CoinMarketCap, at the time of the writing of this article (March 23, 2022 at 10:15 EDT) there is a circulating supply of 330,688,061.33 RUNE. With the current price of $8.43 the market capitalization of THORChain (RUNE) is $2,786,803,920. There is a total supply of 500,000,000 coins authorized yielding a fully diluted market capitalization of $4,219,610,462. Presently, THORChain (RUNE) is ranked No. 49 by CoinMarketCap.
As demonstrated on the following price chart, since the third week of January, 2022 to date, the price of the Rune token has been on an upward tear: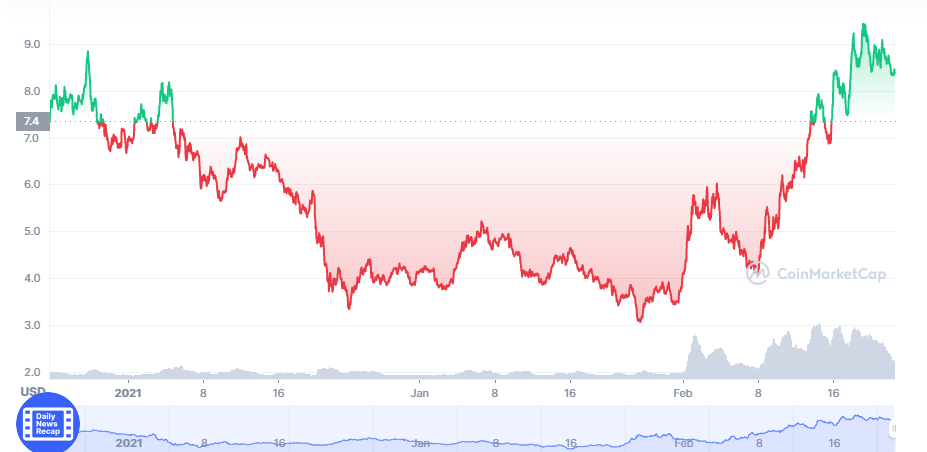 Photo Source
It should be noted that the current RUNE price movement basically is bucking the trends within the cryptocurrency markets resulting from the geopolitical turmoil in Eastern Europe and macroeconomic risks associated with inflation, supply chain lags, and the Federal Reserve. In fact, since the third week of January 2022, the price of Rune has more than doubled.
In this article, let's investigate the existing factors which have led to this price rise. Also, let's give a look into the projects contemplated by THORChain to see if this upward price trend is sustainable.
THORChain's Recent Roll-Out of New Features
On March 10, 2022, THORChain launched the provision of 'synthetic assets' on its platform which allows its users to trade tokens backed by 50% of the target token and 50% RUNE as security. THORChain also permits users, if they choose, to redeem the synthetic assets for the real asset on a 1:1 ratio.
Chad Barraford, a THORChain core developer, stressed the importance of offering synthetics by tweeting the following:
Why would someone want a synthetic asset? 1) Synthetics can be used to change the pool depths, and therefore correct the pool price to match market demands, ie arbitrage. This is super important because it means the pools can be arbs faster, cheaper, and more efficiently. 2) Trading with synthetics on THORChain has half the swap fees, making swaps cheaper, cheap gas fees, and faster for traders. You can do near instant trades at a high volume.
What does this mean for the LPs?
For anyone that mints a synth, they add capital to the pool, but DON'T take ownership of the pool. Instead any yield they would have gained is passed off to LPs. This effectively means that LPs gain the yield of a higher amount than they deposited.
Barraford, C. Tweet. (Accessed March 23, 2022.)].
As noted by TheRuneRanger on Twitter, THORChain clocked $40 million in volume on the day of it's launch of synthetics: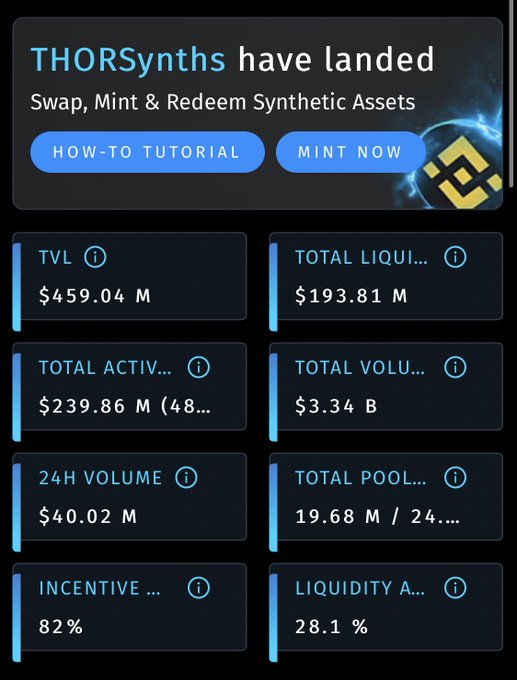 Photo Source
Adding to this upward price pressure for THORChain lies with the complete integration of Terra (LUNA) into the THORChain protocol.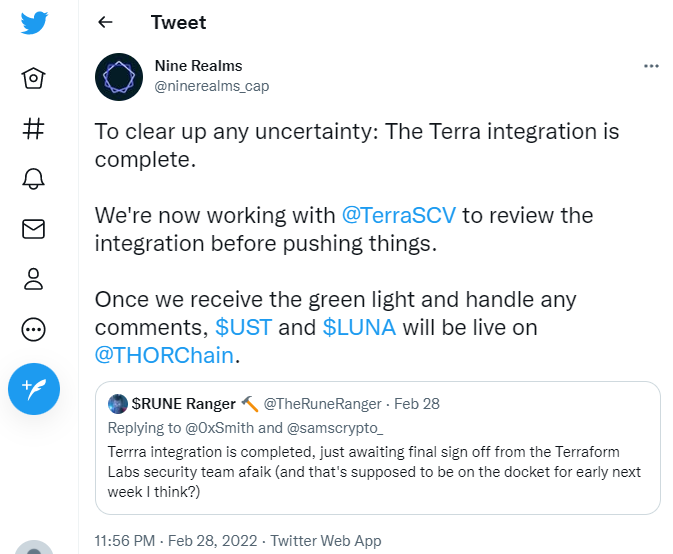 Photo Source
This integration occurred early in March with its effect readily seem in the price chart presented above. "Terra integration brings LUNA token, along with the TerraUSD (UST) stablecoin to the THORChain ecosystem and gives users more trading and staking options" [Finneseth, J. Rune's upcoming mainnet launch and Terra (LUNA) integration set off a 74% rally. (Accessed March 23, 2022)].
Future THORCHain Plans Having the Effect to Sustain the Price Increase
In this regard, we may point to three specific upcoming THORCHain offerings:
THORChain Mainnet Launch
The increased attention to the RUNE token is due in part to the much anticipated, and delayed since late 2021, Mainnet launch. THORCHain community members have endured hacks, downtime, and delay yet remain highly interested and motivated for this launch. However, at present, no specific date has been set.
"The requirements for mainnet launch are meeting all testnet goals, which includes the rehearsal of adding and removing chains, removing Bitcoin (BTC) and Litecoin (LTC) from the testnet, and several test runs with forking the chain" [Id]. This Mainnet launch is highly anticipated by the THORChain community members and many within the cryptoverse, and is rumored to be close to fruition.
THORFi
While the protocol has been introducing it's synthetics, "the THORChain team is preparing to roll out a suite of new features as part of its THORFi upgrade. THORChain has hinted that the upgrade will enable lending and saving, and Chad Barraford has presented a video explaining the lending and savings of THORFi which may be accessed here.
Additionally, a series of tweets by #laowrey.ust provides great insight into the benefits of THORFi:
laowrey.ust 🌔⚡️
@laowrey
·
Mar 21
The hype about #THORfi is absolutely warranted. Much has been written about the mechanics, which is some real giga brain stuff. But there are two things about what this means that I am most excited about 1. Adoption 🏃‍♂️ 2. Tokenomics 💰…
Adoption - Terra has shown that the path to adoption is to make things simple (e.g. $ANC). #THORfi does this in spades with a) a lending product that has 0 liquidation risks (no more sweating on whether you might have been liquidated during a flash dump)
The lending product has 0% interest rate - no more having to watch your yields move up and down depending on demand in market.
What this means is you could choose to borrow money against your crypto and go buy more crypto or even a real world asset like a house without fear of being liquidated and at 0% interest rate!
b) a savings product where you can earn yield on stablecoins or any bluechip L1 assets e.g. yield on BTC! You can now actually earn a passive income on a $780b asset class where there are currently not many alternatives.
Tokenomics - #RUNE already has a deterministic model where the price of $RUNE is 3x the TVL of non-native assets. However, #THORfi has gone a step further with a burn mechanism. Terra has shown the genius behind a deflationary tokenomics model driven by adoption.
Whilst the lending product increases supply of $RUNE, the savings product is the counter-balance and there is an economic incentive to place much higher pressure on burning $RUNE supply because the yield is attractive.
As the collaterisation ratio > 100% the net impact is likely to be deflationary. With more adoption the higher likelihood of more RUNE burn. And we have seen the impact of burn on token price (LUNA)
[laowrey.ust. Tweet. (Accessed March 23, 2022)
"This suite of new features has been slated for June 17" [Kelly, L. Thorchain's RUNE Token Rallies Double Digits Amid Wave of New Features. (Accessed March 23, 2022)].
THOR.D
The concept of a THORChain stablecoin appeared in a THORChain Tweet on April 1, 2020: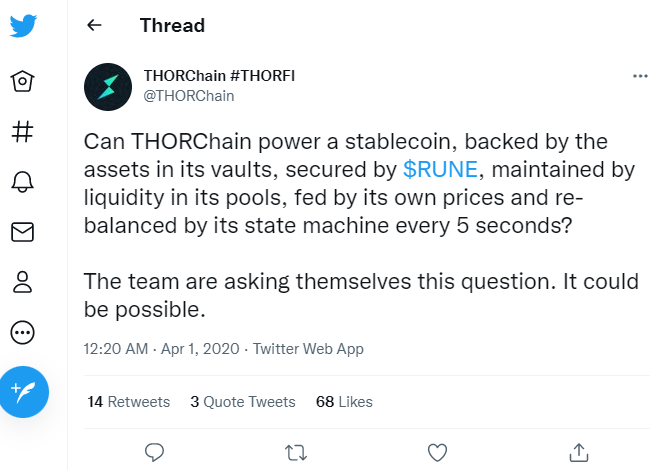 Photo Source
Well here it is almost two years later and we finally have hope in the issuance of a THORChain stablecoin. While revealing the date for the launch of THORFi, Chad Barraford likewise revealed this possibility. His "… revelation also included a proposal to build a native stablecoin called THOR.D, employing Terra's burn-and-mint tactic featuring its native token LUNA and stablecoin UST" [Gola. Y. THORChain quietly outperforms crypto market in Q1 — Can RUNE price break $10 next?. (Accessed March 23, 2022)].
There has been no mention of a launch date for this stablecoin and when you attempt to research information on a THORCHain stablecoin on the THORCHain website, all that is provided is: "Work in Progress" [THORChain. Stablecoin. (Accessed March 23, 2022)].
Final Thoughts
Each of the factors (already existing or future contemplated) function as an upward price driver for the RUNE token. Given the content of the various factors coupled with the anticipation and hype for the coming factors, the future for the price of RUNE appears bright.
The content herein is presented for educational purposes only and should not be construed as investment advice.
AUTHOR'S NOTE: This article was originally published on Leo Finance and several other tribes on the Hive blockchain.