Disclaimer
This review is analytical and not a forecast or trading recommendation.
Futures reports are a useful tool for traders to help them catch the mood among major players and complement the vision of the market situation. 
National holidays are held in the USA, and we have a COT report on bitcoin futures on the Chicago Mercantile Exchange (CME) only for the period from June 16 to 23. Despite the fact that the report is outdated, its data should be taken into account to understand the full picture.
The Asset Managers section has accumulated a significant number of long-term contracts (+236), despite a fall in prices since early June. Holders of 297 short positions are in no hurry to add new ones. This speaks in favor of a bullish mood in the camp of institutional players.
In the speculators section, Leveraged Funds, there are almost twice as many holders of shorts as longs. Moreover, an increase in short positions amounted to 521 contracts. Speculators mainly focus on short-term price movements, so very often you can notice sharp changes in the ratio between longs and shorts.

The goals of Asset Managers are different, so they are bullish, while Leveraged Funds is bearish.
Bitfinex recorded a downward trend in margin lending rates. From June 1, a fall began to $ 9000, which negatively affected the rates. Now the daily rate is floating at 0.02% (0.6% per month). This indicates a weak demand for opening margin positions from retail traders. As history shows, demand jumps on the growth of bitcoin.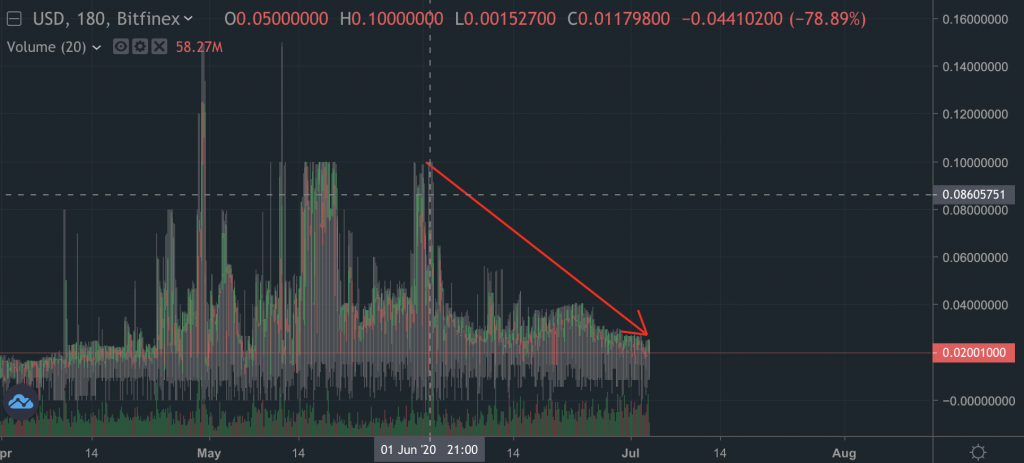 The chart below shows the indicator BTCUSDSHORTS (short positions on Bitfinex, red line) and BTCUSDLONGS (long positions on Bitfinex, green line). The dynamics can be said to be zero from the beginning of the report period (June 16-23). This suggests that Bitcoin has been stagnating for quite some time. The price cannot break through $ 10,000, but sellers cannot sell below $ 8900 for more than a month.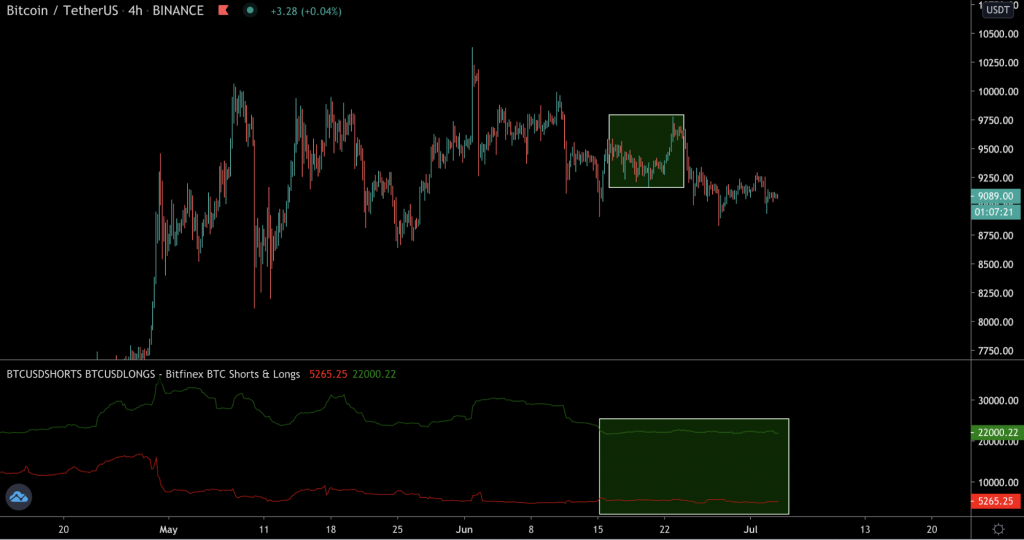 For market speculators who cannot "sit on the fence" and wait for a denouement, it makes sense to trade from key support and resistance levels with a short stop loss.
Futures analysis is only part of a comprehensive analysis. In no case can you make trading decisions based on futures analysis only. The bitcoin market is very volatile, do not forget about risk management, hedging and diversification.