Created in 1981, the Gulf Cooperation Council comprises six Arab and Muslim monarchies of the Persian Gulf: Saudi Arabia, Oman, Kuwait, Bahrain, the United Arab Emirates, and Qatar.
Of these six countries, Oman has the lowest GDP. Unemployment is low at just 3.7%, but job opportunities are far less prestigious and abundant in the country than they are in the United Arab Emirates, for example.
According to official statistics, while 24% of Omani graduates specialize in computer science, only 5% manage to secure relevant jobs in this sector.
Of course, Oman still relies on the oil sector for the present, with significant oil reserves given the country's size, which nevertheless makes it only the 21st country in the world in this field: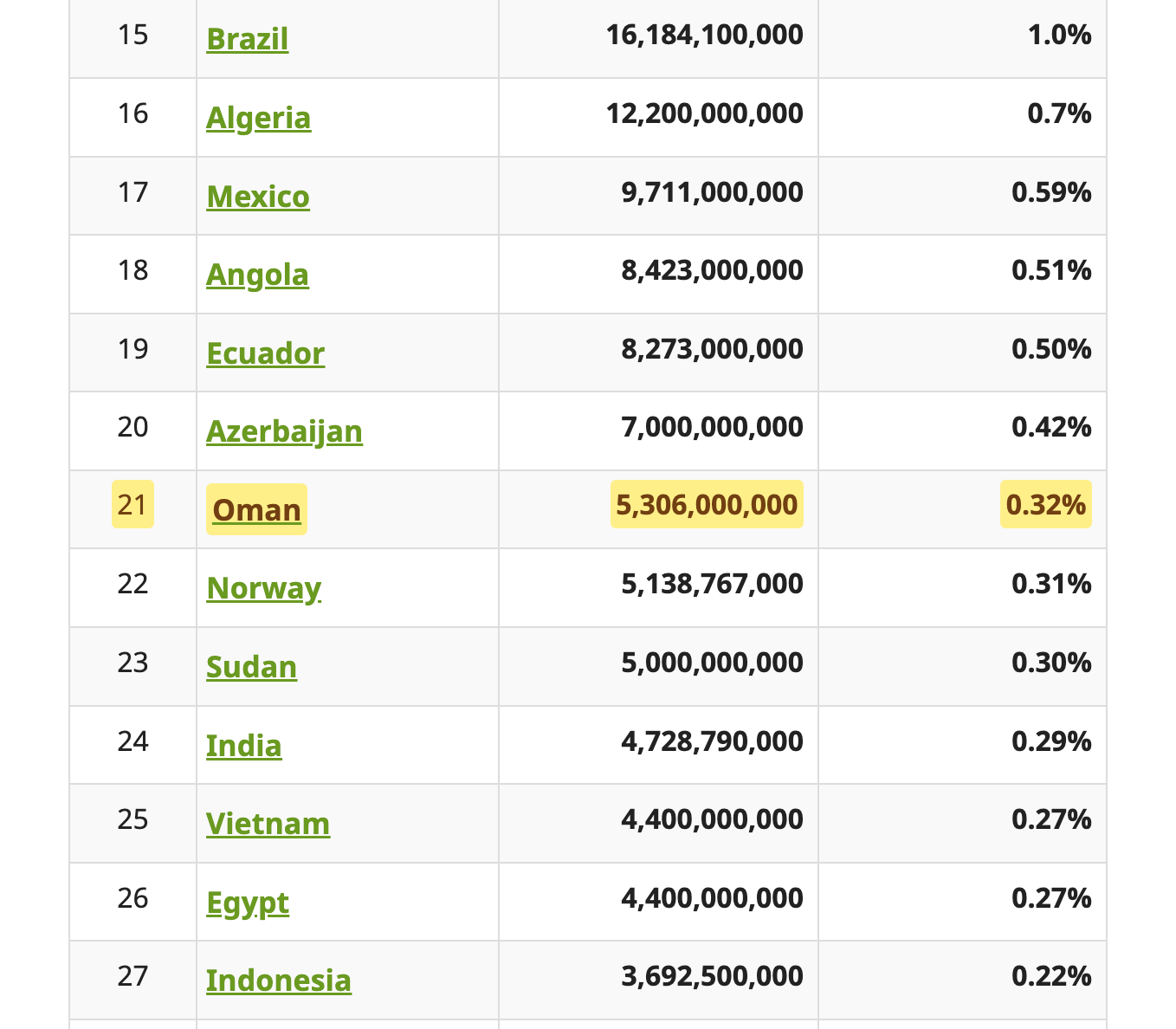 Oil exports still account for 70% of the country's revenues and nearly 30% of its GDP.
But Oman has understood that the world of the future will be digital. If the country is to continue to prosper, it must promote the development of the digital economy.
What better way to do this than to seize the opportunity presented by Bitcoin Mining?
Following the example set by El Salvador in September 2021, when it went one step further with its Bitcoin Standard, Oman decided that since Bitcoin was here to stay, it would be better to be among the first to take full advantage of it.
This is why the country has just decided to support a project to set up privately owned Bitcoin mining facilities. H.E Sheikh Mansour Bin Taleb Bin Ali Al Hinai, Chairman of Oman's Authority for Public Services Regulations, commented on this bold initiative for the country:
"This initiative aligns with our goal to diversify our economy, integrating modern technologies while upholding our commitment to ethical and sustainable practices."
For a conservative country like Oman, where Islamic Law reigns, this is a major innovative move. Discussions began back in 2019 as to whether Bitcoin could be considered as respecting Islamic Law. The Omani authorities judged that this was indeed the case and that it was therefore possible for the country to go further in its investment in the Bitcoin system.
Oman's forward-looking vision compared to its neighboring countries paved the way for Exahertz, a local startup, to occupy a central position in this digital evolution.
Jad Fredrick Kharma, CEO of Exahertz, details his vision of the project for Oman:
"Our project transcends the boundaries of traditional mining data centers. By synergizing purpose-built hardware, hyper-scale capabilities, and smart energy consumption. We're building a robust framework that is both innovative and sustainable, in line with Oman's 2040 vision."
The project initially started with an 11 MW capacity Bitcoin Mining pilot site. Ambitious plans call for expanding the site's capacity to 800 MW. The ambitious budget of $1.1 billion should enable the project to achieve its objectives.
For Oman, this is an essential project not only for the country's future but also to enable Omanis to find jobs in this promising field.
Today, with the Exahertz facilities built on a modular basis and able to be adapted to support the power grid and avoid overloads, plans have also been approved to harness wasted flared gas and develop new sources of hydro-energy.
A Bitcoin Mining project totally in tune with what's being done today, as Kharma explains:
"Our blueprint for future expansion prioritizes eco-centric operations. Utilizing gas flares and hydro-energy underscores our dedication to fostering a green, sustainable digital economy."
Kharma has perfectly grasped the importance that Bitcoin will take on in the future:
"Bitcoin represents more than a digital currency. Its open ledger system is a significant leap for civilization, ushering in a new era of transparency and innovation."
Oman's plans for the digital world will not stop at Bitcoin Mining, as the country has many other projects that will build on this initial success: data center projects for supercomputers and machine learning projects.
Oman wants to follow in the footsteps of Dubai, which has understood for several decades that it needs to make the transition from an oil-centric economy to a digital-centric economy of the future.
Seeing Nations seeking to take advantage of Bitcoin Mining is a strong signal of what lies ahead for Bitcoin in the future. The digital war for control of the Bitcoin network's Hash Rate will indeed take place in the years to come. The good news here is that this will have a positive effect on all network participants, as it will continue to make Bitcoin more secure.
All in all, Bullish news that will do you good while the Bitcoin price is still on the $26K line and signs of a more prolonged short-term dip are still there:
---
Bitcoin Seems To Be Holding On to $26K, but Here Are 5 Reasons Why You Should Prepare for a Sharper Correction.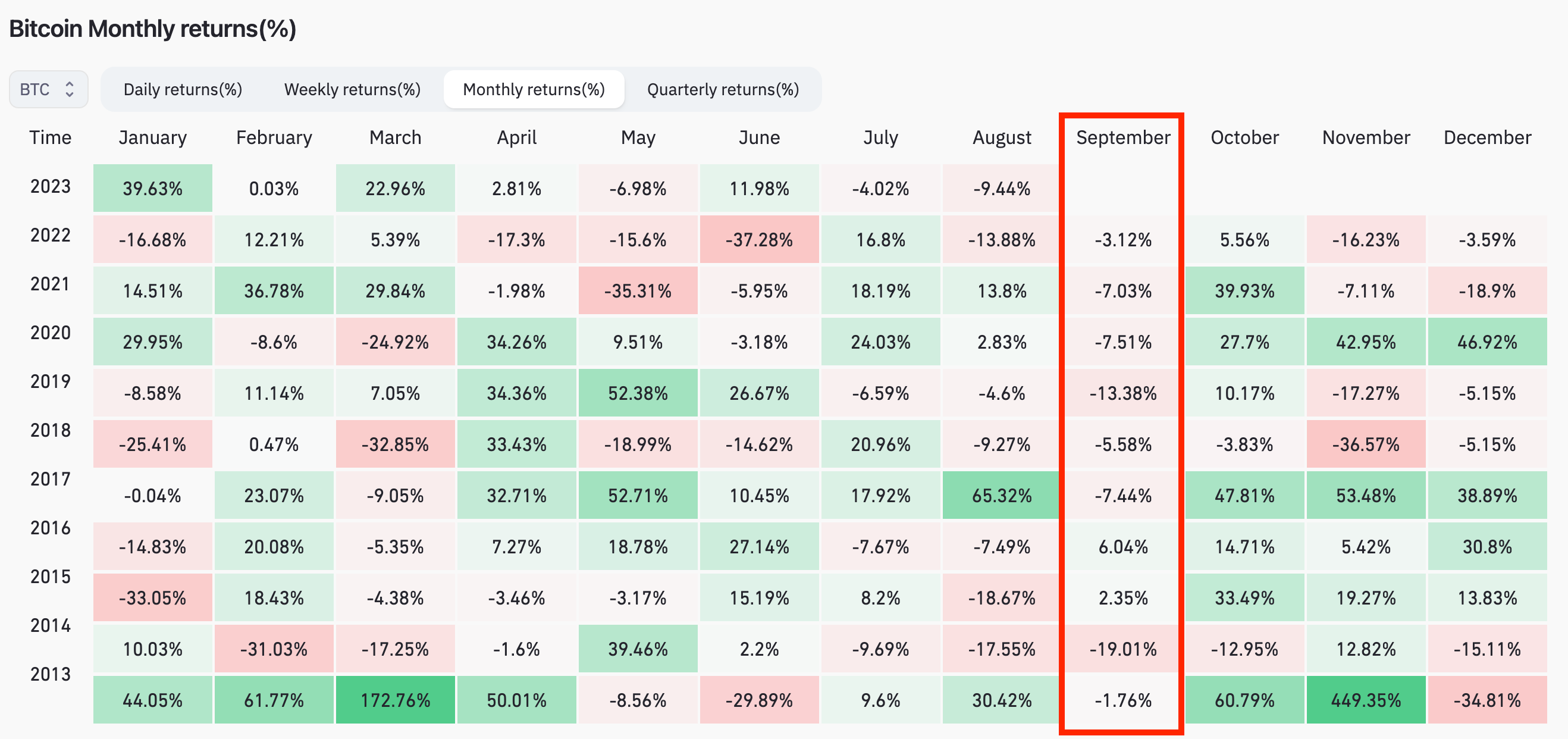 Just a few thoughts, no guarantees as always.
Link: https://inbitcoinwetrust.substack.com/p/bitcoin-seems-to-be-holding-on-to
---
Stay strong, Stay Bitcoin HODLers.
---