Should You Try Your Luck by Mining Bitcoin From Home?
As you know, or so I hope, Bitcoin supply is limited to 21 million units, whatever happens.
There are currently 19,462,543 BTC in circulation.
By the time you read this article, that number will have increased. Every 10 minutes on average, a new block of transactions is issued by the Bitcoin network. The miner (or the mining pool) who finds the hash associated with this new block wins a reward. This reward is currently 6.25 BTC.
For every 210,000 blocks issued, the reward is automatically halved by the Bitcoin system during an event called Halving. This event, which will take place no matter what enables the system to plan the issue of Bitcoin supply that is not yet in circulation.
The next Bitcoin Halving, the fourth of its kind, is scheduled for April 2024.
The reward for miners will then be halved to 3,125 BTC. And so on, until the entire BTC supply is issued by 2140.
To better understand this mechanism, I invite you to read or re-read this article I wrote on the subject in 2021:
"Having Trouble Understanding How Bitcoin Mining Works? This Reverse Lottery Analogy Should Help"
Contrary to popular belief, finding the hash of the next block is not about solving a complex riddle. There's nothing complex about it, but it does require computing power. And in 2023, a lot of computing power! This computing power is directly related to the difficulty of mining on the Bitcoin Blockchain, which is linked to the total hash rate of the Bitcoin network.
The difficulty of mining on the Bitcoin network is thus adjusted every 2,016 blocks issued, i.e. on average every 2 weeks. As the Hash Rate increases, so does the difficulty. The reverse is also true. All this is automated within the Bitcoin network and aims to maintain the target of one block issued on average every 10 minutes, to keep the Bitcoin system's monetary policy predictable.
With the current mining difficulty on Bitcoin, mining Bitcoin at home has become practically pointless. Sure, you might still manage to have the luck of your life, but you're likely to lose far more money in electricity costs (not to mention the initial investment in mining ASICs) in particular than you'll make.
This is why Bitcoin mining has become an industry in its own right, dominated by industry giants who are even listed on the stock exchange in most cases.
But, as with the lottery, there are always a few lucky ones who manage to win the jackpot. This is exactly what just happened on the Bitcoin network on August 19, 2023, at the block height 803,821: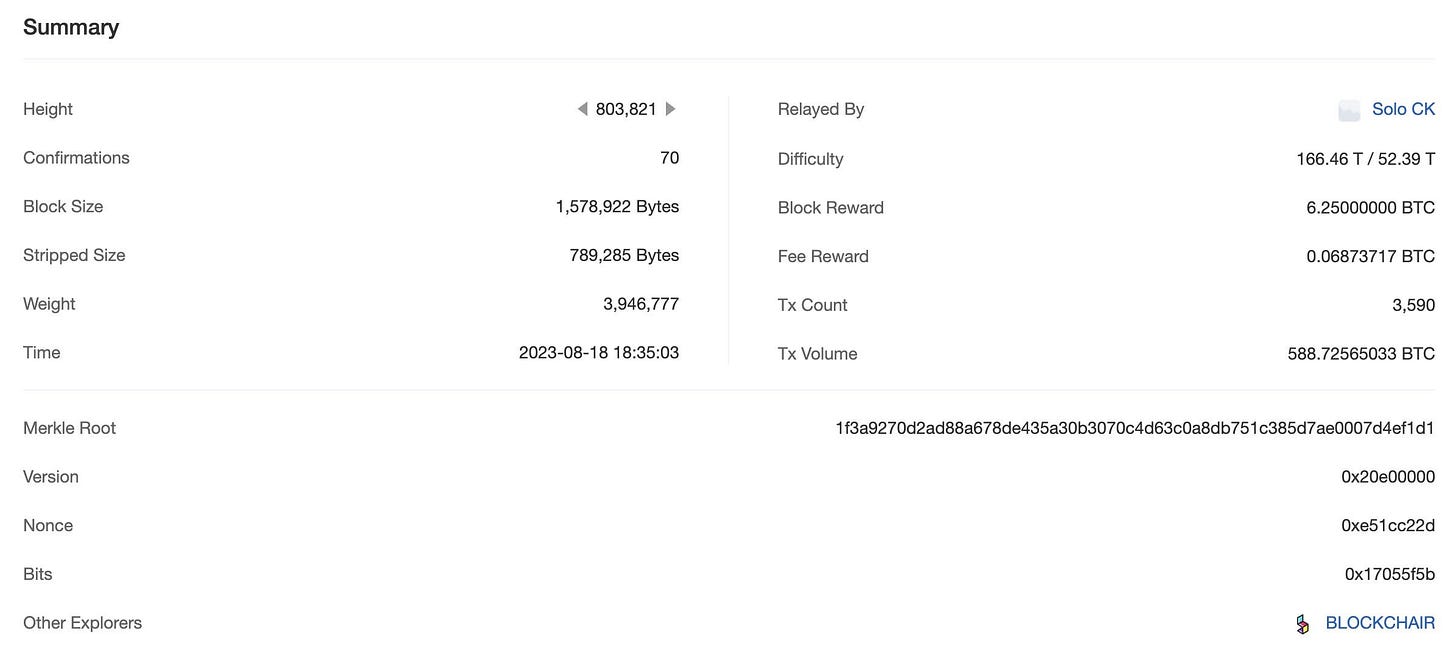 Block details can be viewed on any Bitcoin Blockchain explorer:
https://explorer.btc.com/btc/block/803821
The solo Bitcoin miner's address is: bc1q2za4ejga366sn288273pty8trasn5zs4y9hqg6
With approximately 1PH of Hash Rate, the miner solved the 277th solo block through the Solo CK Pool. The admin of CK Pool posted a tweet to congratulate the lucky winner of the Bitcoin mining lottery:
He also explained how rare this event was:
"A miner of this size would only solve a block solo on average once every 7 years at the current difficulty level."
Earlier in June 2023, another solo miner won the jackpot with just one Antminer S9 mining machine. That miner solved Bitcoin block 793,607 and earned 6.175 BTC, which is worth over $160,000. He was also using the Solo CK Pool.
What does this finally show us?
It shows us that even if mining Bitcoin at home is something that has very little chance of being profitable for you, there's still a way for it to be because the Bitcoin system is an honest system that gives everyone a chance.
Before you go ahead and buy a Bitcoin mining ASIC, however, I'd advise you to read this comprehensive analysis on the subject that I made at the very beginning of 2022 concerning another lucky solo miner:
"Solo Home Miner Earns 6.25 BTC Reward – Should You Try Your Luck by Mining Bitcoin From Home?"
Have a great day, and remember: Stay Strong, Stay Bitcoin HODLers!
---
Bitcoin Price Falls Below $25K in a Matter of Minutes. What Happened?
What's Next for Bitcoin Price?
Link: https://inbitcoinwetrust.substack.com/p/bitcoin-price-falls-below-25k-in