In my article "Gary 'Security' Gensler and the SEC Crashed the Market by Suing Binance - Time to Buy the Bitcoin Dip," I told you that the SEC would very quickly turn its attention to Coinbase. After all, the problem with Coinbase is the same as with Binance from the SEC's point of view.
I thought that Coinbase might be protected for a little longer by the fact that it's an American company with a foothold in Washington, but in the end, the SEC was quick to pursue Coinbase as well.
What CZ, the CEO of Binance, was trying to say about it not being SEC Vs. Binance, but SEC Vs. Crypto is now confirmed. I told you yesterday that I agreed with him on this point.
If you look at the SEC's various indictments of Binance and Coinbase, you can already get an initial list of cryptocurrencies considered to be securities by the SEC:
If you study this list carefully, you'll see that there's one big absentee.
Do you have it?
I'll give you a few more seconds to look for it...
It starts with an E ...
Got it?
This big absentee is the ETH for Ethereum, of course!
If doubts may have existed in the minds of some in the past, Ethereum's switch to Proof-of-Stake (PoS) in September 2022 puts ETH firmly in the securities category.
The SEC has not yet mentioned Ethereum, but it won't be long before it does. Unless the SEC continues to leave Ethereum on the sidelines to protect influential institutional investors who have put a lot of money into the Ethereum network...
We have also learned in the last few hours that the SEC asked a Washington, D.C. federal judge to freeze the assets of Binance's U.S. subsidiary, alleging that the company and its founder Changpeng Zhao held a "disregard" for U.S. law.
This claim, if successful, will act as an eye-opener for Binance. We'll find out whether Binance US has segregated its assets from its customers' assets.
2 possible outcomes:
Binance gets found out to be bad and we know not to use them.

Binance is proven to be completely above board and confidence in them will be higher than ever.
Binance's credibility is at stake.
Those who still have Bitcoin on Binance would do well to repossess their private keys, just in case ... Not your Keys, Not your Bitcoin, as I keep telling you.
By the way, do the same with Coinbase. You might thank yourself later for this strategic move to secure the fruits of your labor.
After a logical fall towards $25K, the Bitcoin price has reacted strongly in recent hours to close in on $27K and re-enter its $26.8K - $28.5K range.
Proof that for Bitcoin, it makes no difference, because Bitcoin is apart from this SEC Vs. Crypto war.
Bitcoin is a commodity in the eyes of the SEC, which will have to leave any regulation of Bitcoin in America to the CFTC. Of course, the powerful at the head of the current system won't stop there and will try to attack Bitcoin in the future. This was obvious in the past, and it's even more obvious today.
But Gary "Security" Gensler and his friends in Washington will have to find other angles to attack Bitcoin. Perhaps this will push Bitcoin's price a little closer to $20K as a result of the panic that future attacks on Bitcoin will create.
However, once everyone comes to their senses, Bitcoin will emerge stronger, as it will become obvious to more people that Bitcoin is in a class of its own. Bitcoin is a unique monetary revolution that gives the same opportunities to every one of its users. No user has more rights than another within the Bitcoin system.
There was never any pre-mining of BTC before the launch of the Bitcoin system.
Satoshi Nakamoto explained from the outset that Bitcoin could not be compared to a security, but was rather to be considered a commodity: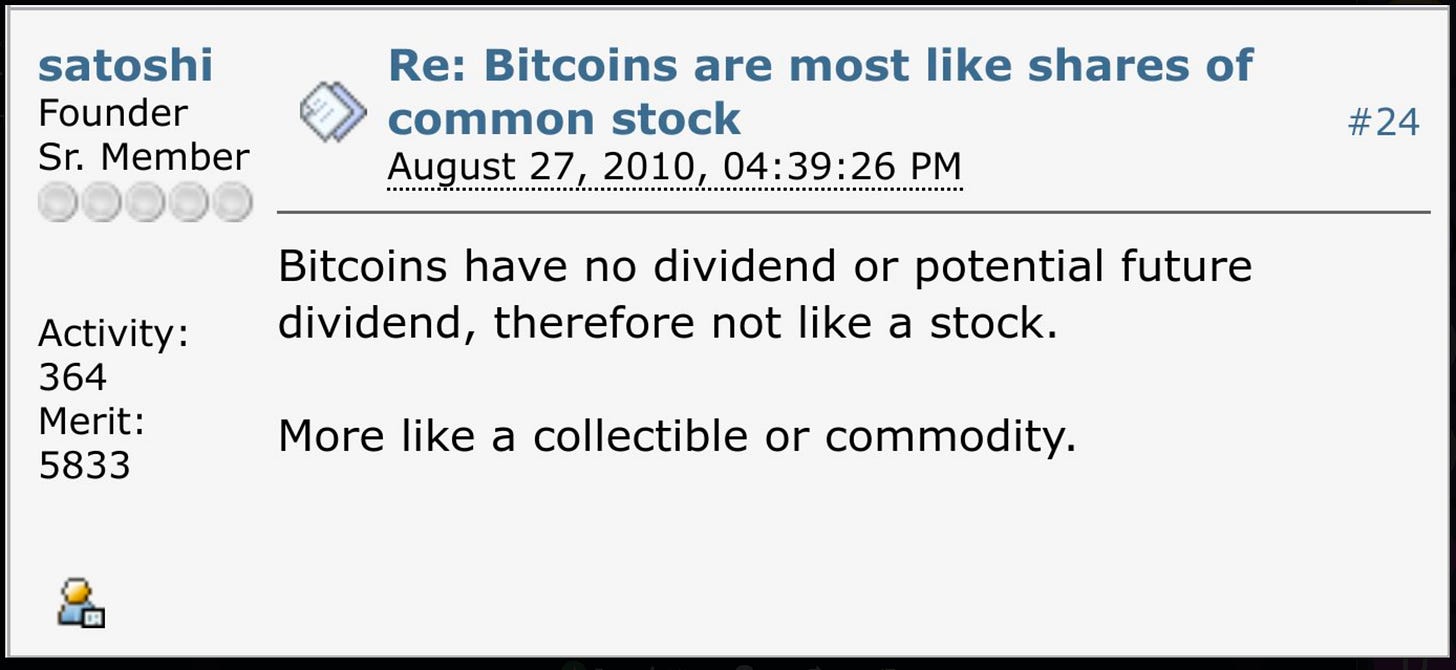 Returning to Coinbase, it's quite amusing to recall its CEO and founder Brian Armstrong's tweets in 2015 professing his love for Bitcoin: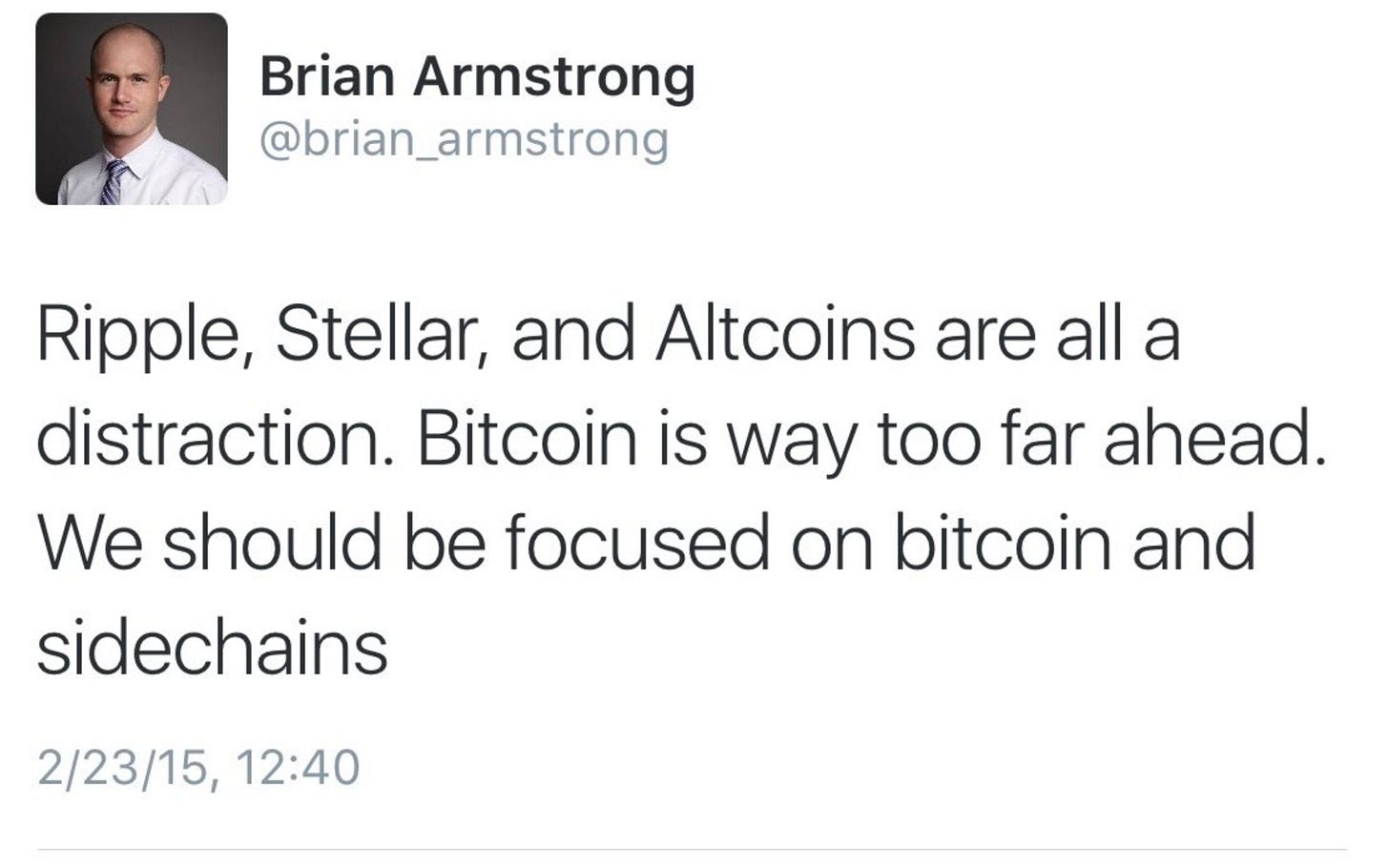 The same Brian Armstrong whose platform keeps tempting you with Sh*tcoins today understood back then that we needed to focus our efforts on Bitcoin.
What happened in the meantime?
Brian Armstrong probably gave in to the lure of a quick buck and Balaji Srinivasan's plans to list Altcoins on Coinbase to generate ever more profits.
The result is that today, Coinbase is in trouble and under attack from the SEC.
The big question we have to ask ourselves is: what can Coinbase do to get out on top?
In my opinion, the best thing to do is for Coinbase to refocus on its founder's original vision. Coinbase needs to refocus on Bitcoin and the Bitcoin revolution. There's a lot to be done, and Coinbase has a lot to gain by investing fully in the future of the Bitcoin revolution.
It would be a win-win situation.
For those who spit on what Coinbase has become - and I'm one of them, I must admit - we mustn't forget that Coinbase has been helping to popularize Bitcoin for several years now. Coinbase helped bring MicroStrategy into the Bitcoin world too.
In short, Coinbase has done a lot for Bitcoin, even if Brian Armstrong's platform has become too distracted by the noise in recent years.
Coinbase's situation is obviously complex, but rather than spend millions of dollars in a lawsuit against the SEC to prove that the Altcoins offered by Coinbase are not securities, when in fact they are ..., Coinbase would do better to make a deal with the SEC, and then remove these Altcoins from its platform to concentrate on Bitcoin.
Given Coinbase's current commitments, in Ethereum staking, for example, this couldn't be done so simply, but yet it's Coinbase's best option to come out on top.
If you have any doubts about Coinbase, Ark's Cathie Wood continues to believe in it more than ever, as Ark has just announced that it has bought a further 21.6 million Coinbase shares. Cathie Wood will eventually become Coinbase's majority shareholder at the rate things are going ...
More in the next episode!
Stay strong, Stay Bitcoin HODLers.
---
More reading
---
For those who still want to put their trust in Ledger, giving them another chance after the disastrous handling of the Ledger Recover affair, Ledger is offering a 30% discount on the purchase of the Ledger Nano X or the Ledger Nano S Plus colored version. If you're interested, click on the button below:
---
Otherwise, look no further than Trezor, which continues to profit from the Ledger Recover disaster.
For the Trezor Model One, click here: Trezor Model One
For the Trezor Model T, click here: Trezor Model T
---
Don't take for granted the word of Bitcoiners who tell you that Bitcoin is an incredible monetary revolution, but verify it for yourself by developing the knowledge to build your truth about Bitcoin.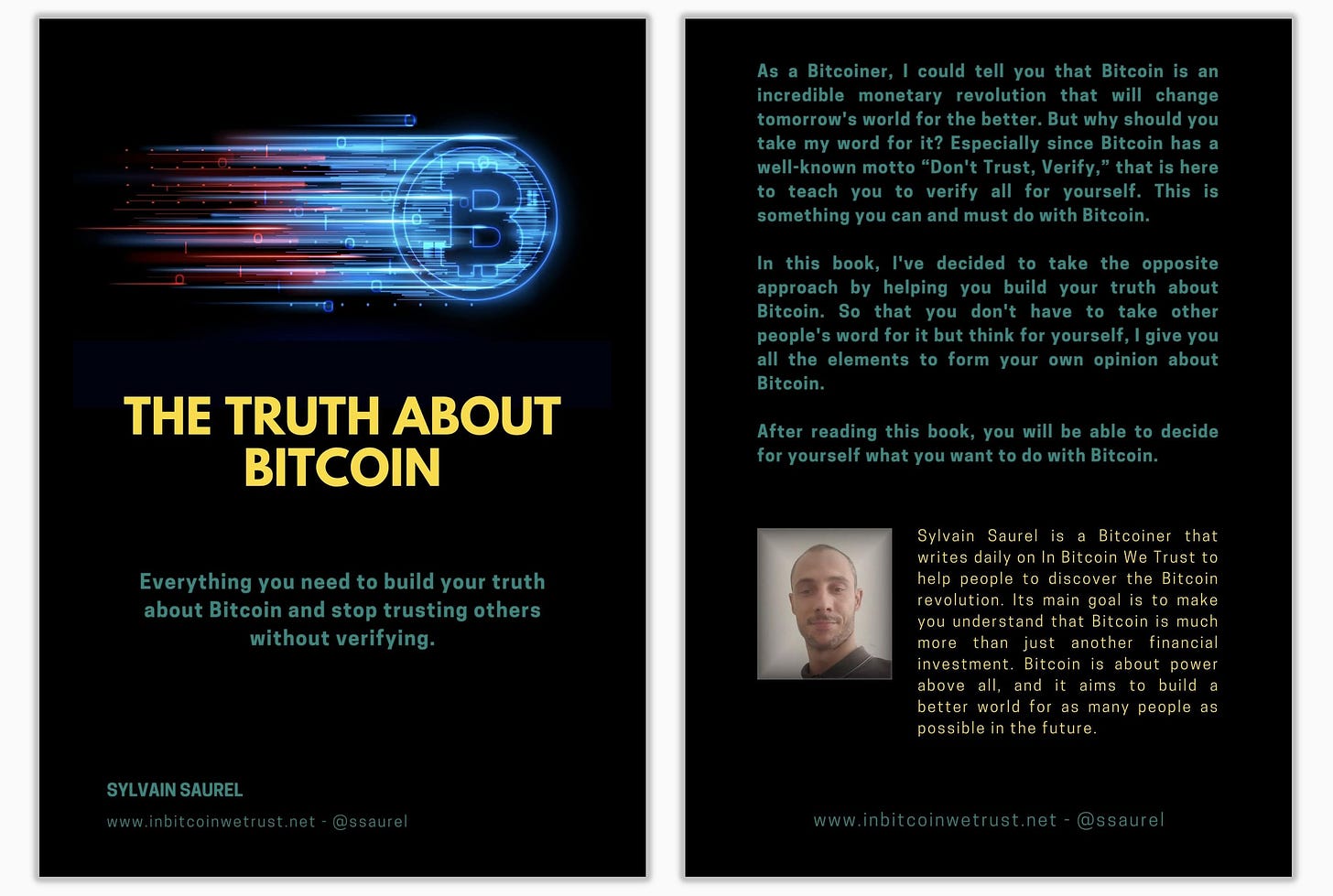 That's what I suggest you do in the book "The Truth About Bitcoin: Everything you need to build your truth about Bitcoin and stop trusting others without verifying."
The book is available on various platforms: