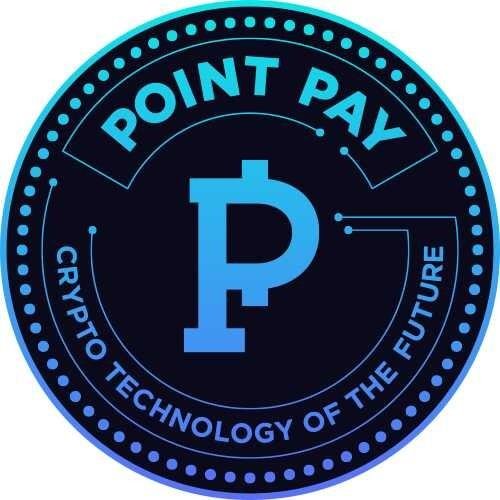 When I heard of PointPay as a Blockchain-based banking platform, my initial reaction was; "Haven't we had enough of cryptocurrency platforms, why this one again?"
But when I gave a closer look and read the white paper and the one pager, I was convinced beyond a reasonable doubt that PointPay is a much needed platform at this point in time because of its all inclusive features that profer solutions to the problems most crypto users face and give banking experience to the users through the Blockchain.
Cryptocurrency is gaining momentum everyday, its rate of adoption is so alarming in the past few years, people are waking up to the possibility and reality of digital currencies and their advantages. The current bull run in the crypto space has brought so many people into the system as investors and traders.
Recently, it was recorded by the Google platform that the most search word for the week was "Cryptocurrency". That is a green light and sign of hope for all crypto enthusiasts as digital currency is gaining such huge momentum.
The truth is that, cryptocurrency has various advantages over the traditional currency as people can perform international and intercontinental transactions without the interference of any financial regulating body in a matter of seconds which has been made possible through the blockchain.
Meanwhile, one of the current challenges in the crypto world is lack of secure platform for storage of digital assets and general transactions such as exchange of crypto to FIAT and FIAT to cryptocurrency. And as more people are coming in to adopt the usage of cryptocurrency as a means of transaction and use as legal tender, there is huge possibility of people falling victim of unreliable platform to store or exchange their digital assets.
PointPay is an all-in-one solution platform that has come to give users a hitch-free experience through multi-currency Crypto wallet, Crypto Exchange and general banking of cryptocurrencies. PointPay has three basic products in one platform which are all user oriented and purposely built for smooth transactions.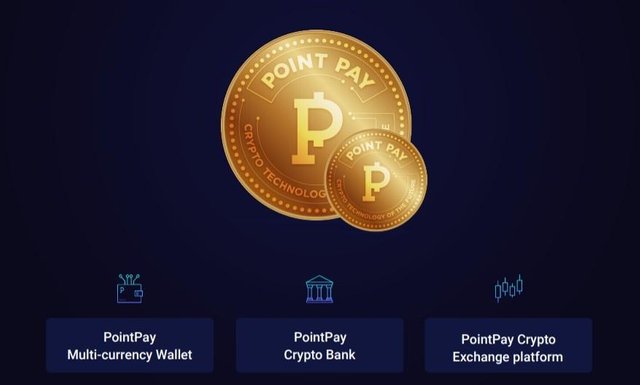 PointPay Crypto Bank
PointPay Crypto Bank is a new direction in the crypto market as it manages, save and grow user's capital. With Pointpay Crypto Bank, people can save their digital assets and be rest assured of its security. Cryptocurrency will not only be saved, but also grow in value and yield interest.
When there is no platform to securely bank digital assets, it yields no returns and one could even incur loss of such asset.
One of the challenges the prospective users might be envisaging is that the platform that has such a great advantage to bank digital currency will be so expensive to use or the commission that would be charge will be so high. That is not the case with PointPay which operates with low fees and make all the commissions reasonable without any hidden charges.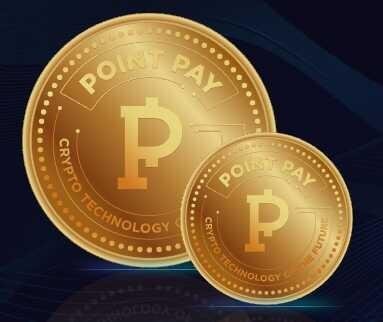 On PointPay Crypto Bank, users have the opportunity to transfers their assets worldwide at a very fast speed. You don't have to be in the united Kingdom to bank with PointPay. You can bank your assets from any part of the world in as much as your country is not restricted from participating in cryptocurrency.
Also, there is no currency restrictions with PointPay Crypto bank, you can bank any recognized cryptocurrency on PointPay without discrimination or prejudice against any digital asset. This is a great freedom. How I wish a platform like this has been existing for long, I would have made lots of profits with my cryptocurrencies through banking.
When ypu use the conventional banks and save your money, you are usually issued with cards for easy withdrawal and accessibility. In the same vein, there is also provision for virtual, debit and credit, fiat and cryptocurrency cards on PointPay Crypto bank. You can have same experience with your conventional bank on PointPay Crypto bank. What a great platform!
Moreover, there is provision for Cryptocurrency lending on PointPay Crypto bank. You can lend out your cryptocurrency for the time it would be idle in your wallet and make some interest in the process.
The same way one can save cryptocurrency on PointPay Crypto bank, one can also acquire Crypto assets on the platform too. Users can easily buy Cryptocurrency with FIAT without any problem.
PointPay Crypto Exchange platform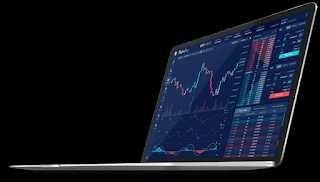 It is one thing to acquire Crypto assets with ease, it is another thing to get a good exchange platform to transact the Cryptocurrency. It is the aim of PointPay to make an all inclusive platform where one will be able to buy Crypto, exchange it and bank it.
So, buy and sell and general exchanges of cryptocurrency could be carried out on PointPay Crypto exchange platform without any fear or any complications because of its user-friendly interface.
One of the problems posed by many of the existing Crypto exchanges platform is high trading fees. The trading fees on some exchanges might be so high and unaffordable by many users. But PointPay exchange platform has low trading fees that is affordable by users
Many crypto exchange platforms only operate Crypto to Crypto transactions, but PointPay Crypto Exchange platform step higher to include Fiat pay-ins and pay-outs options. On this platform, users can buy Crypto directly with Fiat and at the same time, users can also exchange Crypto to Fiat and cash out to do some other things.
Moreover, on the PointPay Crypto exchange platform, users can enjoy daily crypto back to those who are holding PXP token which is the native token of PointPay platform. This feature will make everybody want to buy and hold PXP in order to enjoy the benefit.
A recurrent problem with many Crypto exchange platforms is irresponsive customer care support. When you have some issues on some exchanges and you want to call on the support, you hardly receive response until later when it might no longer be necessary. But on PointPay Crypto exchange platform, the customer support service is active 24/7 and ready to give support to any needing customer in order to ensure that all customers are well treated.
PointPay Multi-currency Wallet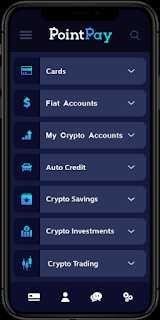 As good as Cryptocurrency trading is, which has brought fortune to many people and change people's financial status, if one is not careful in selecting the kind of wallet to store digital asset, one can can experience the reverse order.
Many people have had their fingers burnt simply by storing their Cryptocurrency on wallets that are not well secured. One of my siblings was a victim of this, he lost huge sum of money as his Crypto wallet was hacked.
The good news is that, there is a well secured wallet on PointPay to send and receive crypto and Fiat currency to other members of PointPay platform.
High security could be enjoyed on PointPay multi-currency wallet without any fear of one's wallet been hacked or experience loss of digital assets without express approval or reckless carelessness from the part of the user.
Transactions on PointPay Crypto exchange platform is very fast, you can be rest assured that your transactions would not experience any delay or temporary holding by the exchange.
Worthy of mention is the fees charged on PointPay Crypto wallet platform which is the lowest fees you can obtain on the platform. One of the factors users consider in choosing the wallet to store their Cryptocurrency is the amount of fee charged. Some wallets could be so exorbitant that users cannot even afford it. Personally, I have had to abandon my coins on a particular wallet when I observed that the fee that is been charged for transactions is too high. PointPay is the real platform to store Cryptocurrency without regrets.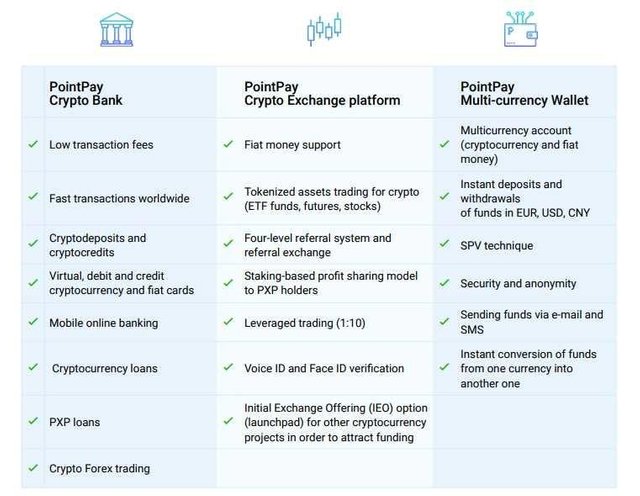 The PointPay Crypto wallet is not just for a single type of coin but has the ability to store many Cryptocurrency from various platforms. PointPay wallet is a Multi-currency Wallet which enable storage of all manner of digital currencies. As much as PointPay wallet stores multicurrency crypto, it also has the capacity to store Fiat accounts. In other words, you can manage both your Crypto assets and Fiat on PointPay wallet.
One great thing about PointPay Crypto wallet is that, it is very easy to use. A newbie in the crypto world can make use of it likewise a professional. It is so designed in such a way that is understandable for everyone to use.
Conclusively, I give kudos to the brains behind PointPay platform because of its all encompassing features. PointPay is all anybody needs to shuttle between Crypto and Fiat and even bank digital currencies. I believe this platform will bring many people into the crypto space by the embedded ability to easily exchange crypto into Fiat and Fiat into Crypto.
Token Information
Token name: PointPay token
Token symbol: PXP
Soft cap: $1,000,000
Hard cap: $30,000,000
Total supply: 500,000,000
Unsold tokens: To be destroyed
For More information
Website: https://pointpay.io
Whitepaper:https://cdn.pointpay.io/WhitePaper__en.pdf?cache=1.4
One pager:https://cdn.pointpay.io/OnePager__en.pdf?cache=1.4
Telegram: https://t.me/pointpay_talks
Twitter: https://twitter.com/PointPay1
Facebook:https://www.facebook.com/PointPayLtd
LinkedIn:https://www.linkedin.com/company/pointpay/about/
Author;
Bitcointalk username: Petox34
Bitcointalk profile:https://bitcointalk.org/index.php?action=profile;u=2338476;sa=summary