This is my little series on the big move back to Australia. Perhaps I will look back in the future and laugh... or cry!
Part 1: Finding a Moving Company
Past 2: A Slight Travel Panic
---
Ah, moving back to Australia has some benefits and some things that are decidedly less cool. One of the more annoying things that I will have to deal with when I return is the real-time tracking of cryptocurrencies in order to do tax reporting.
In the Netherlands, we have a system of a once-yearly snapshot of assets for taxation purposes. That is great for crypto, as that means that you only have to get your records in order roughly once a year... especially if you are not going to play funny dump and buy back schemes. That meant that I could easily just track my crypto portfolio in a manual fashion in a tracker like Cointracking, just updating the numbers as I needed to... without needing to take into account anything like cost basis or FIFO or anything annoying like that. Just have the amounts in, and take a snapshot of the portfolio (the prices are taken at that time) at the end of the financial year.
In Australia... crypto is handled under a Capital Gains system. That means that every transaction needs to tracked and recorded, cost basis noted and matched against a sell if you have sold at a profit (or a loss). Needless to say, this is right pain in the arse to do... even if you are NOT a trader like me.
I have been using a premium tier of Cointracking to keep track of my portfolio, and in general it holds up really well under the manual once a year declaration. However, like many portfolio trackers... it has many little niggles and bugs that make for a little bit of a headache when you are just trying to do the right thing!
I figure that the best way to start with the tax reporting in Australia is to get started on a decent platform with a good recording regime, so that I'm trying to fix things on the fly! Cointracking is already pretty decent, but like every tracker available at the moment... there is always going to have to be some level of manual interaction and oversight.... especially for on-chain transactions.
Over the last few months, I have been following the development of Rotki as well... which appears to have more support and interest from people that I follow in the crypto Twitter-sphere. At first glance, both platforms are solid... but with different strengths and weaknesses and different holes in coverage.
So, these coming months, I will be test-driving both Cointracking and Rotki on their premium versions, to see if one really is more decent than the other... or whether I will need to use both in a sort of complementary way. However, this post is my first impressions of each of the platforms.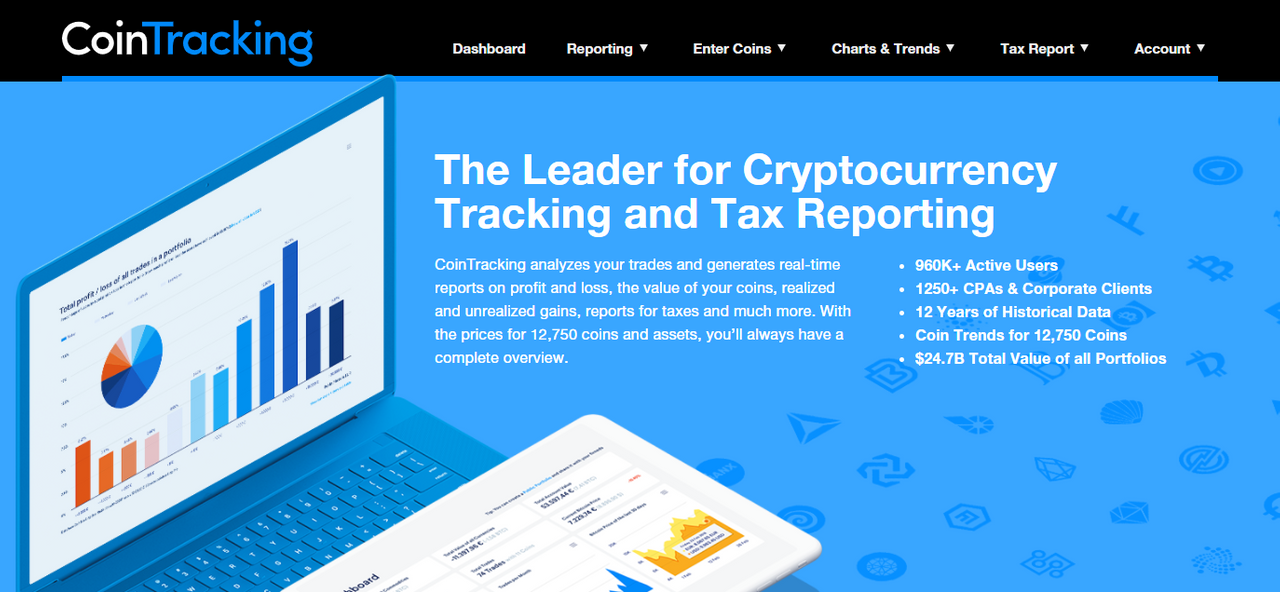 I've been using Cointracking for ages now, and I'm completely happy with it... until I discovered that I would need a much more involved way of tracking crypto transactions in Australia. Now, Cointracking is designed primarily for tax tracking and reporting, so there is absolutely nothing wrong with sticking with it. However, I have found that it has some holes in it which means that I would need to have a week or two of just sitting down and setting up so that it starts reporting the right numbers and it doesn't start to deviate after a few weeks of leaving it automated.
Cointracking tracking has its main interface online through the website. This is where you would be entering in all the data, which is then uploaded and stored by Cointracking. Now, they say that they handle this securely and privately, but that is always going to be a point of contention for some people. For me, it doesn't matter too much... at some point, you have to trust someone in the supply chain.. and Cointracking have been around for ages and are trusted by quite a lot of people.
They have a handy mobile app which can be used to easily view your portfolio, but it is NOT possible to enter trades, changes or transactions through here.
The website and back-end is comprehensive and can border on the tax technical, but it is no surprise that many accountants that specialise in crypto do recommend Cointracking. There is a team that works on the project, and it is structured more like a regular company... based in Germany.
There is an impressive coverage of exchanges through API or CSV imports... obviously, you will want to use the API version if you want to automate it. There is also a vast range of blockchain tracking tools as well (with the odd exception of Polkadot!)... although, in practice, there is just too much going on for them to keep up with and it means that balances need to adjusted upon import so that you start off with the right numbers!
One gripe that I have had in the past, and still is relevant is the billing model. You pay once for a tier that is limited by total transactions, which to me seems like a weird business model. In order to avoid the subscription model, they have opted to limit transactions which will over the years grow more the longer you are in the crypto world. So, you need to pay to upgrade your tier... or upgrade to the unlimited tier. Either way is no problem, after all you are using a decent service... but I am surprised that they didn't opt for a subscription model that would provide them with ongoing revenue.

Rotki is a completely different approach in terms of software and company structure. It has taken the open-source route and gone with a small coder heavy team (perhaps only a single person, I'm not sure the bird counts!) with a subscription model. Rotki has taken a more privacy focused view, with the data being encrypted and hosted locally on your own computer (Linux, MacOS or Windows)... which means no simple mobile tracking app (that could also be good for peace of mind during the day!). However, those who are going to be paranoid will have to worry about software coming in from the internet and being hosted on Github... so, again... at some point, you need to trust something!
Again, it has a decent array of supported exchanges... which cover most of the ones that I use, but not all. ... and supported blockchains, again not all, but it DOES include Polkadot!
The Open-source angle might be a huge benefit to the platform as it allows other projects and blockchains to integrate with less friction into the portfolio tracking platform.... at least in the idealistic case (which might not always be true!).
The subscription model makes much more sense to me... as portfolio tracking is more like an ongoing service rather than a single purchase. It does mean that in the long run, it will cost more though...
First Impressions
At first blush, Cointracking and Rotki seem to both provide solid (if sometimes patchy/glitchy) portfolio tracking services. They have slightly different approaches to billing... and depending on your own particular use case, one might be more beneficial than the other. They also have a different way of managing data storage and software development... again, neither is outright better or worse than the other... just different.
At the moment, it appears that I will be testing out both platforms... I have had much more experience with Cointracking and I have been very happy with it. However, it never hurts to have a second option in Rotki... especially when it appears that both platforms have their own unique patches and glitches in tracking that might be covered by the other one.
I will be testing out the premium versions of both in the coming months. So, stay tuned if you are interested in finding out more about the glamorous world of crypto tax accounting tracking software...
I can also be found cross-posting at:
Hive
Steem
Publish0x
Handy Crypto Tools
Ledger Nano S/X: Keep your crypto safe and offline with the leading hardware wallet provider. Not your keys, not your crypto!
Binance: My first choice of centralised exchange, featuring a wide variety of crypto and savings products.
Kucoin: My second choice in exchanges, many tokens listed here that you can't get on Binance!
FTX: Regulated US-based exchange with some pretty interesting and useful discounts on trading and withdrawal fees for FTT holders. Decent fiat on-ramp as well!
MXC: Listings of lots of interesting tokens that are usually only available on DEXs. Avoid high gas prices!
Coinbase: If you need a regulated and safe environment to trade, this is the first exchange for most newcomers!
Crypto.com: Mixed feelings, but they have the BEST looking VISA debit card in existence! Seriously, it is beautiful!
CoinList: Access to early investor and crowdsale of vetted and reserached projects.
Cointracking: Automated or manual tracking of crypto for accounting and taxation reports.
Stoic: A USD maximisation bot trading on Binance using long-term long strategies, powered by the AI/human system of Cindicator.
StakeDAO: Decentralised pooled staking of PoS assets.