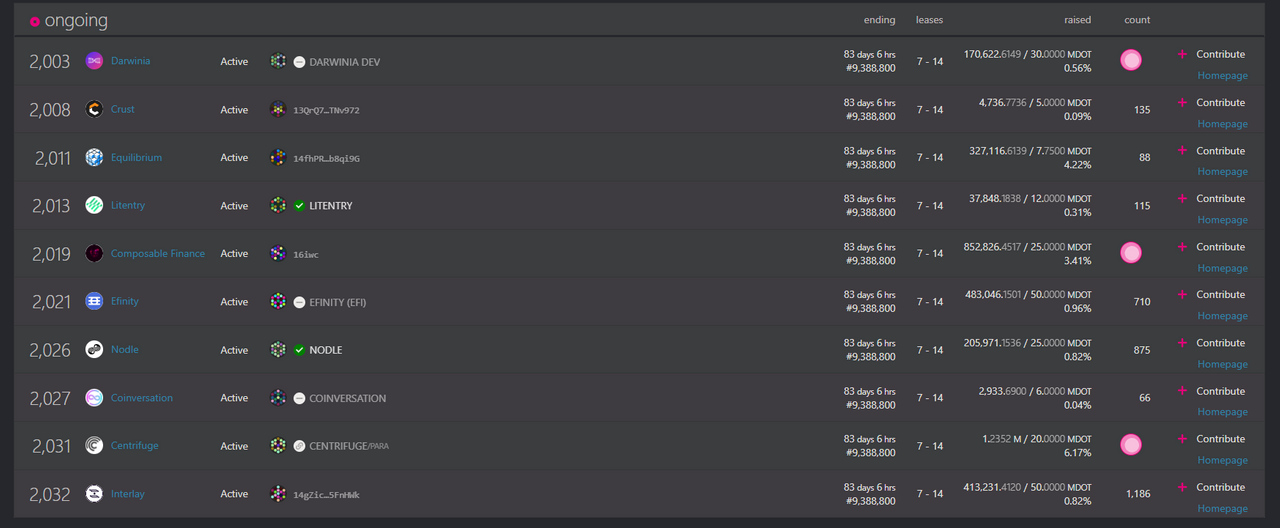 So, the first round of 5 Polkadot parachain leases have now been finalised in the auctions over the last few weeks... which means that we start to get into the really interesting projects, as the heavyweights have generally filled the first five spots. We are now looking at smaller and medium sized projects that might bring some really interesting ideas to the Polkadot (and blockchain in general) ecosystem.
As you can see, even before the actual bidding windows start... there are quite a few projects that have put up their hands for crowdloan support. Some of them are failed attempts from the first round, but given the vast war-chests of the first round winners, it isn't a surprise that some of these projects got stomped out in the first batch. However, the ongoing nature of the parachain auctions means that the smaller projects now have their time to shine in this second round.

Just to quickly recap, the 5 parachain slots of the first round of auctions went generally to DeFi/Finance protocols... which is a bit of a disappointment. I was hoping that at least one of the slots would go to something more infrastructure related, as that is more my sort of interest. Still, the opportunity is there for the second round to produce something a bit more interesting that this current first batch! That said... I did back three of these five, so I don't have any real complaints here! Just that I need to now figure out how the token distribution works... On the other hand, I'm in no real hurry as I have to get to Australia first!
So, without further ado... lets just take a quick look at the starting batch of contestants for the second round of parachain slots!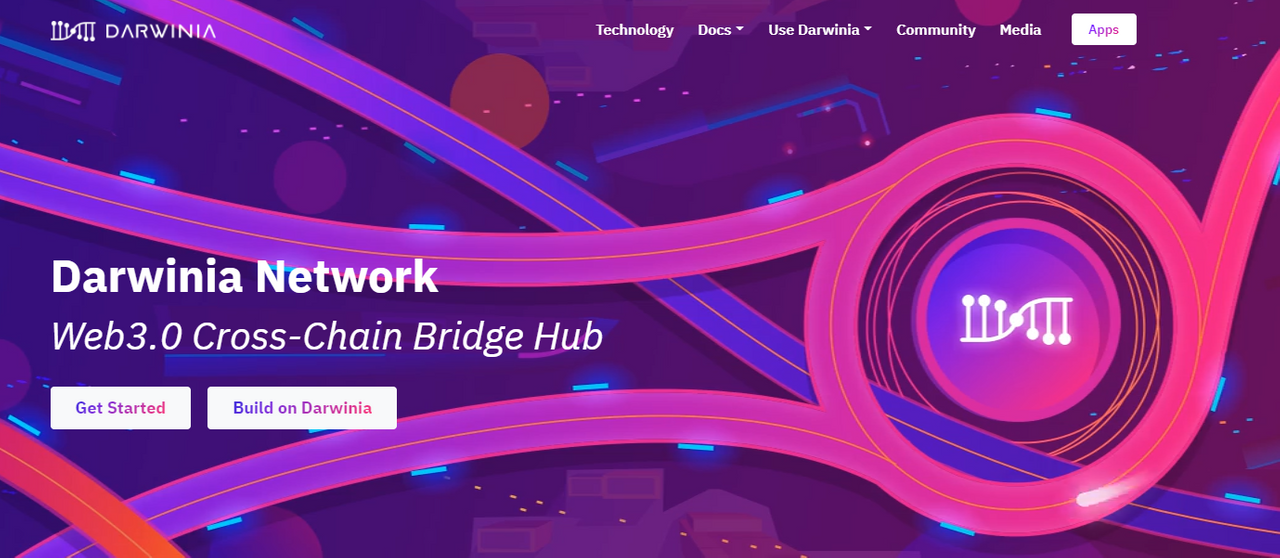 Darwinia is a project that is aiming to provide cross-chain bridging to Polkadot and other blockchains. Definitely a worthy infrastructure project that I can get behind (even if it does compete against Thorchain!). I already hold a small amount of the RING native token, but I think that I would be pretty interested in backing this particular project as I think that strong and reliable bridges are going to be critical infrastructure in the coming years!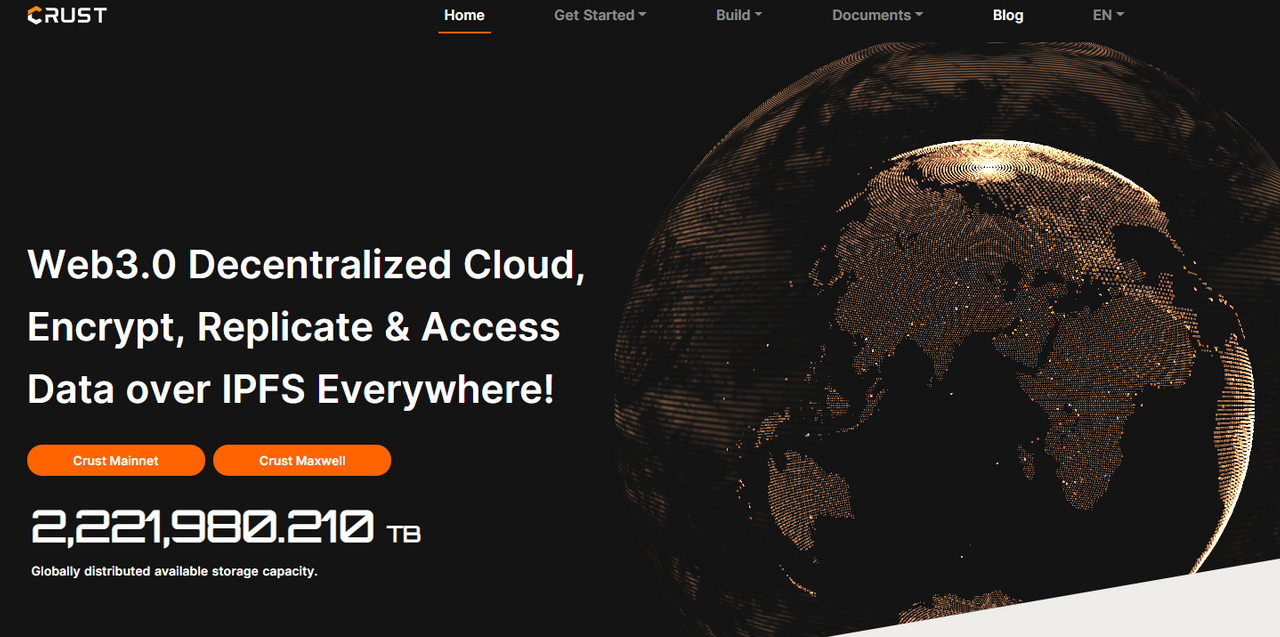 Crust is decentralised storage... another infrastructure project that has competitors in FileCoin, SiaCoin and many other "proof-of-storage" type projects. Decentralised storage is going to definitely be a very useful piece of infrastructure for a properly decentralised web. Again, I hold a small amount of the Crust native token, but I will be looking to increase this through backing this crowdloan!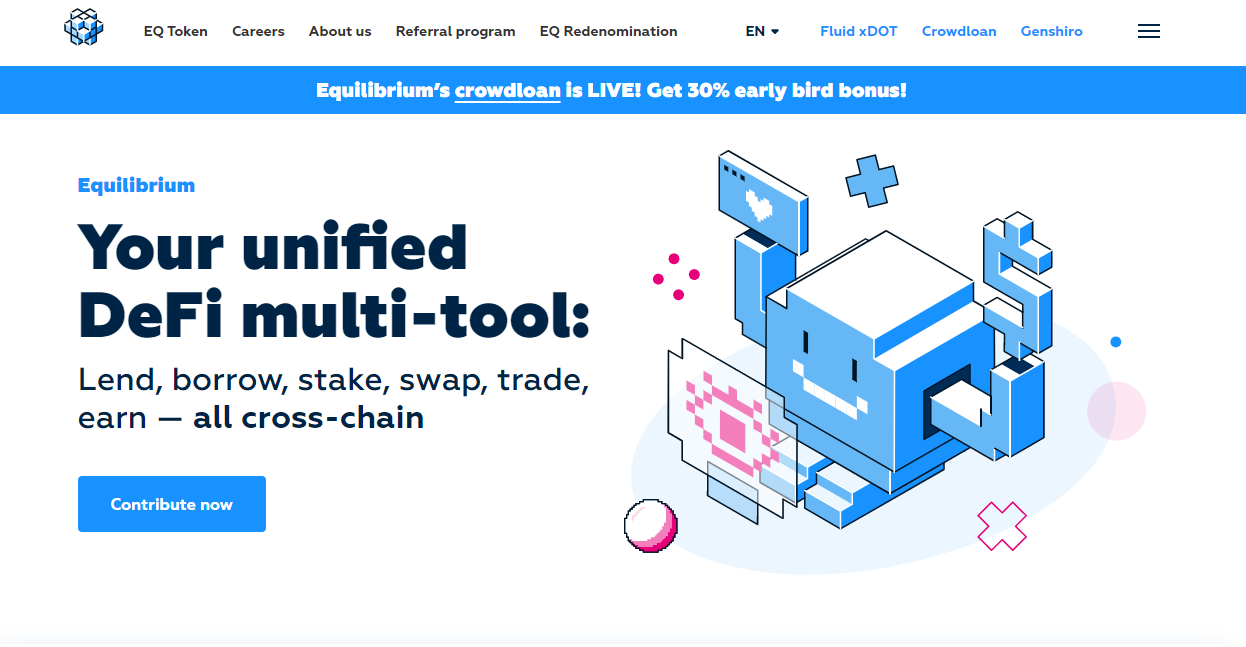 Equilibrium is another DeFi type of project. I already have backed this privately when I was first exploring the usage and workings of the Polkadot ecosystem... so, I already have sort of contributed to the crowdloan, just not through the official channel. I'm afraid that I'm not going to contribute any more... despite the fact that they seem to have a slick marketing team and nice bonuses, it isn't really a project that excites me much!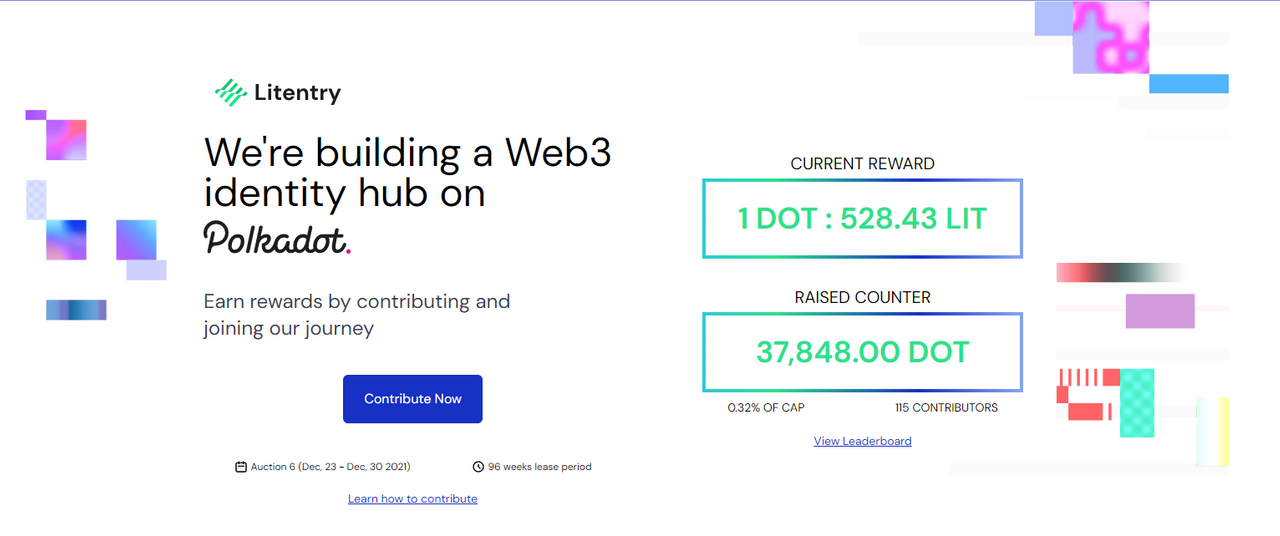 Litentry is a return contestant from the first round of auctions... sadly, they didn't win a spot with their identity project. There are bonuses for returning supporters, and this was a project that I was definitely interested in in the first round, so I will be returning again! Sadly, I don't see any mention of a PolkaDot Domain Name (PNS) that I seem to remember was a bonus from the first round... or quite possibly I'm starting to mix up projects in my mind!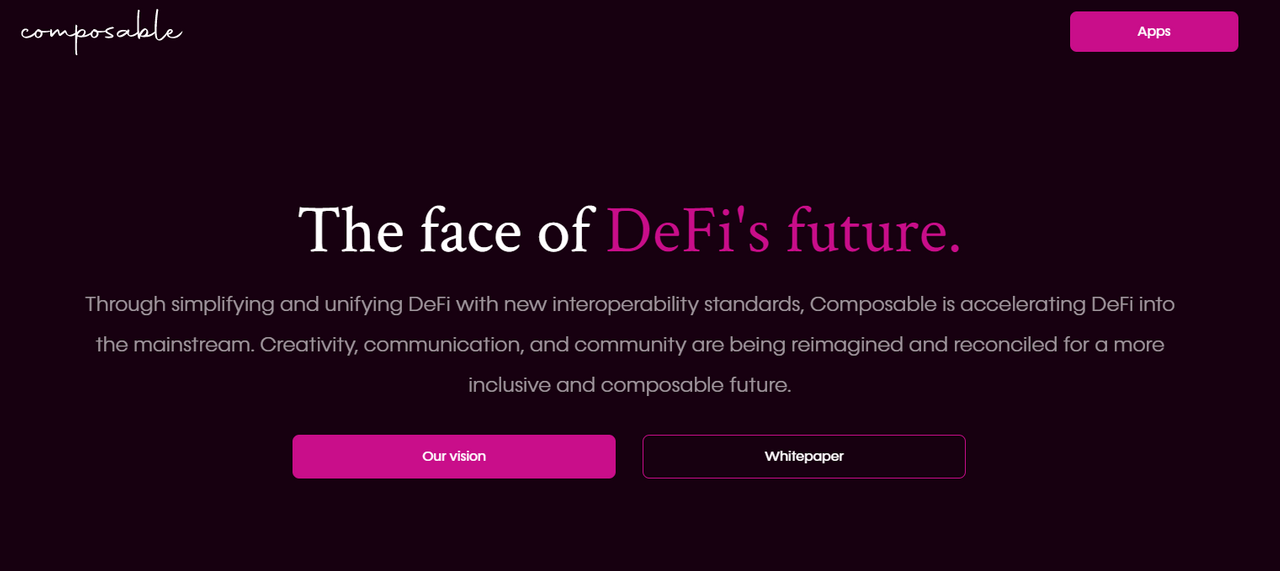 Clarity in DeFi seems to be the aim of Composable Finance... whilst that really is a laudable goal, DeFi just doesn't really excite me that much! So, I think I will pass on this... but given that DeFi projects swept the first round, I might need to start considering what other people think are cool!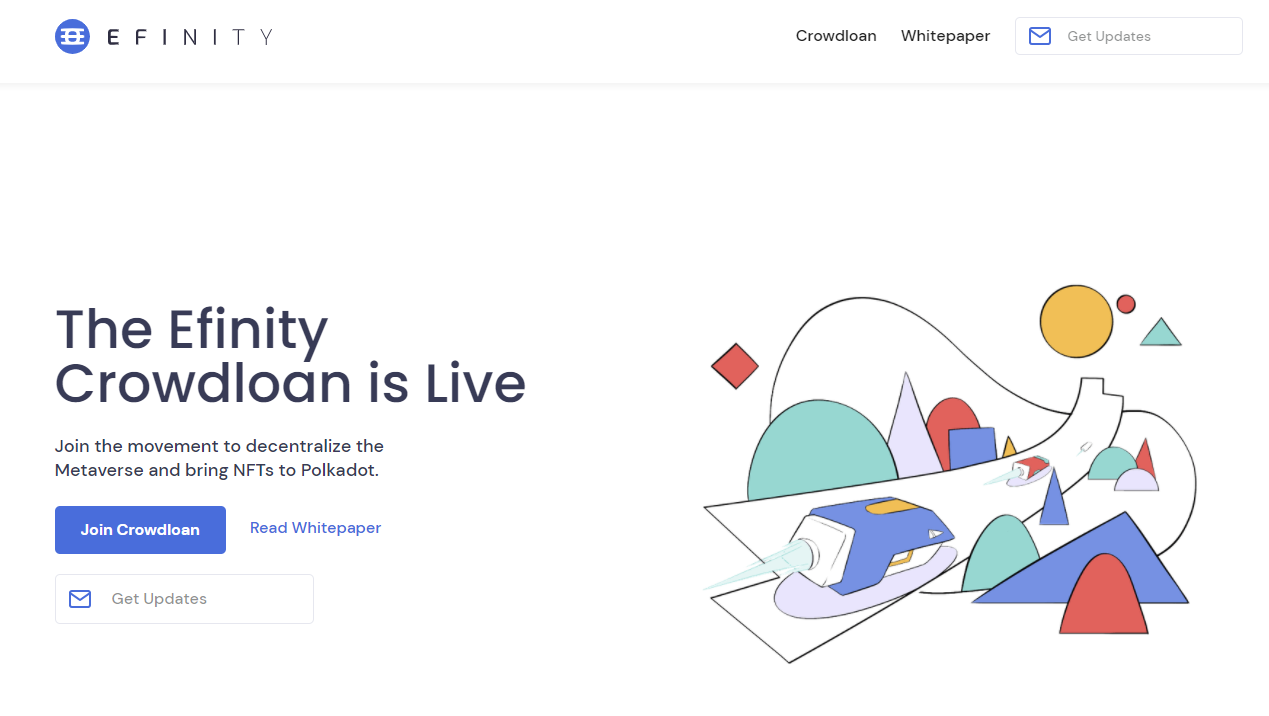 Efinity was a bit of a shock loser for the last parachain slot in the first round (losing out to Clover). I really thought that they had the slot locked in... they are the developers from Enjin, and some of the core developers to the NFT standards that are everywhere. So, to see them go down was a bit of a disappointment... seeing as they were also a project that was more gaming/NFT focussed and not yet another DeFi/Finance protocol!
I'm going to support them again... they are going to be competitors to Immutable X (IMX) and Flow (FLOW), but I think it would be good to have more choice! That said, I hold all the three tokens (EFI, IMX and FLOW) through CoinList sales... so, I'm hedging like crazy!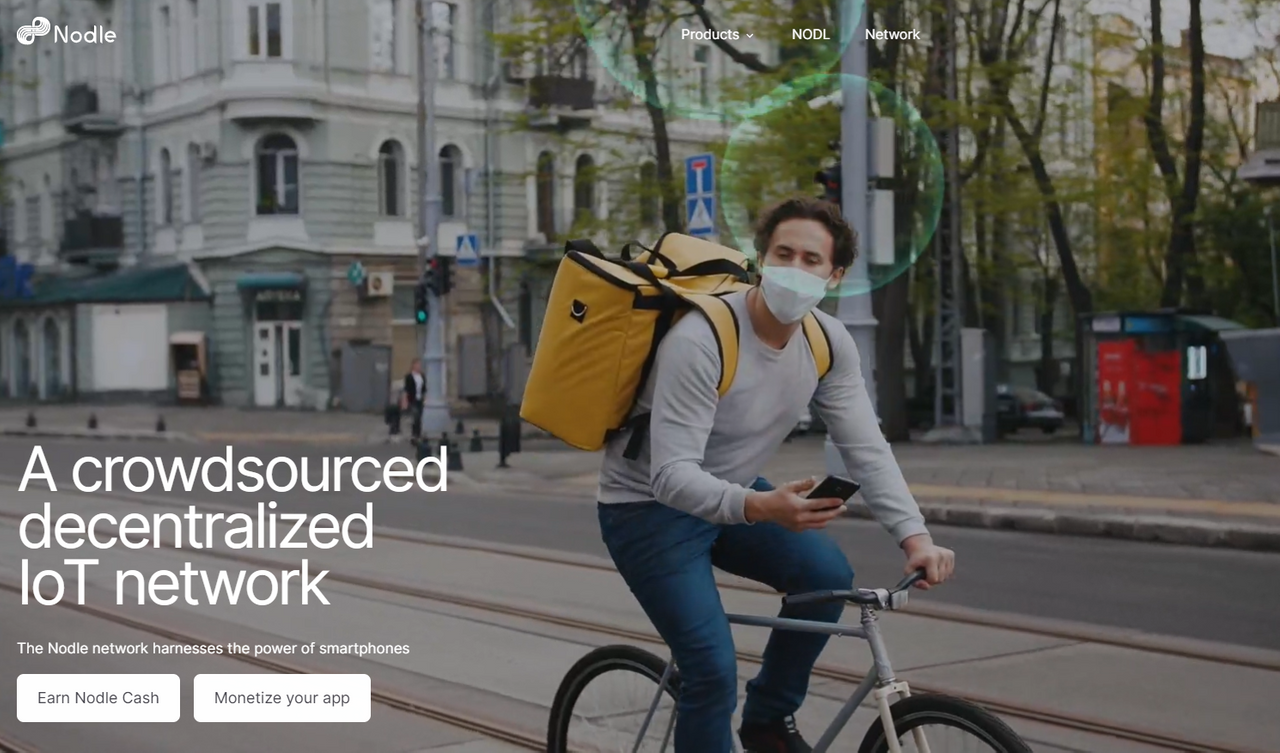 I've started to hear quite a lot about the Nodle Network. It is a decentralised IoT network for sharing your internet connection (or using it), so it is a bit like Helium... just with phone internet as the sharing mechanism rather than base stations. You would be surprised how many devices need a tiny amount of data to report their information to the internet... not just fridges and smart devices, but actual research stuff as well!
Anyway, sharing your internet is already possible with the Nodle app, but it means that you need to constantly have your Bluetooth on... which I'm really not keen on! So, supporting this crowdloan might be a good way to get exposure to Nodle without actually having to open up my phone to possible danger!
Interestingly enough, it is the first dApp landing page with a vaguely modern web design.... that's actually quite sad!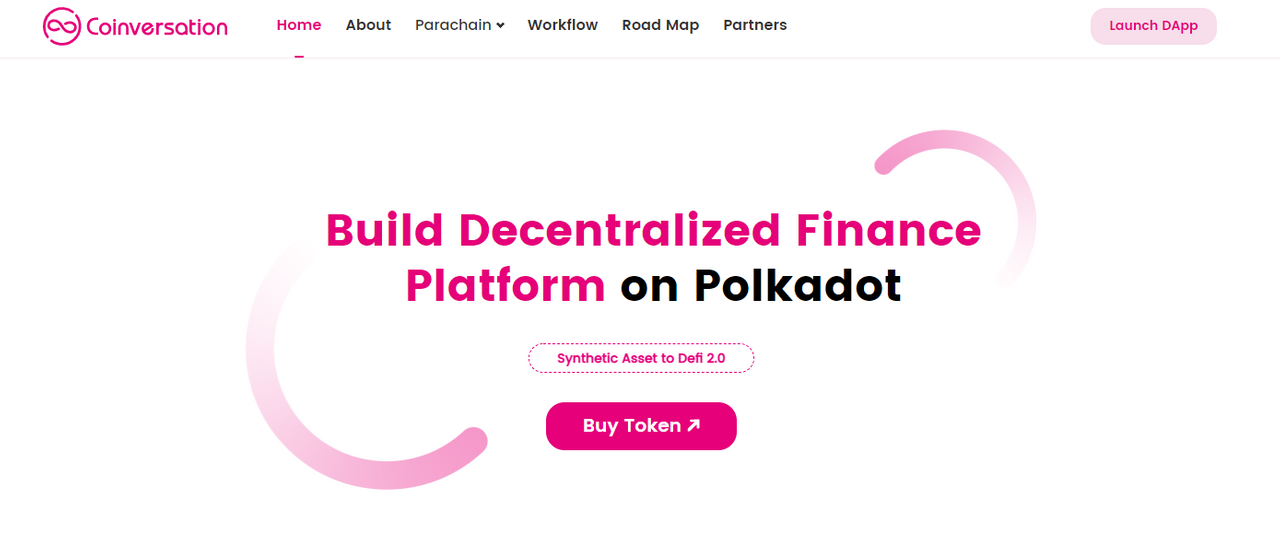 Coinversation... DeFi 2.0. Sigh, there is more than enough DeFi2 infecting every other chain... and folding and crashing as well. No thanks... it just isn't that interesting to me! Again, it appears to be interesting to other people though, if the first batch of auctions is anything to go by!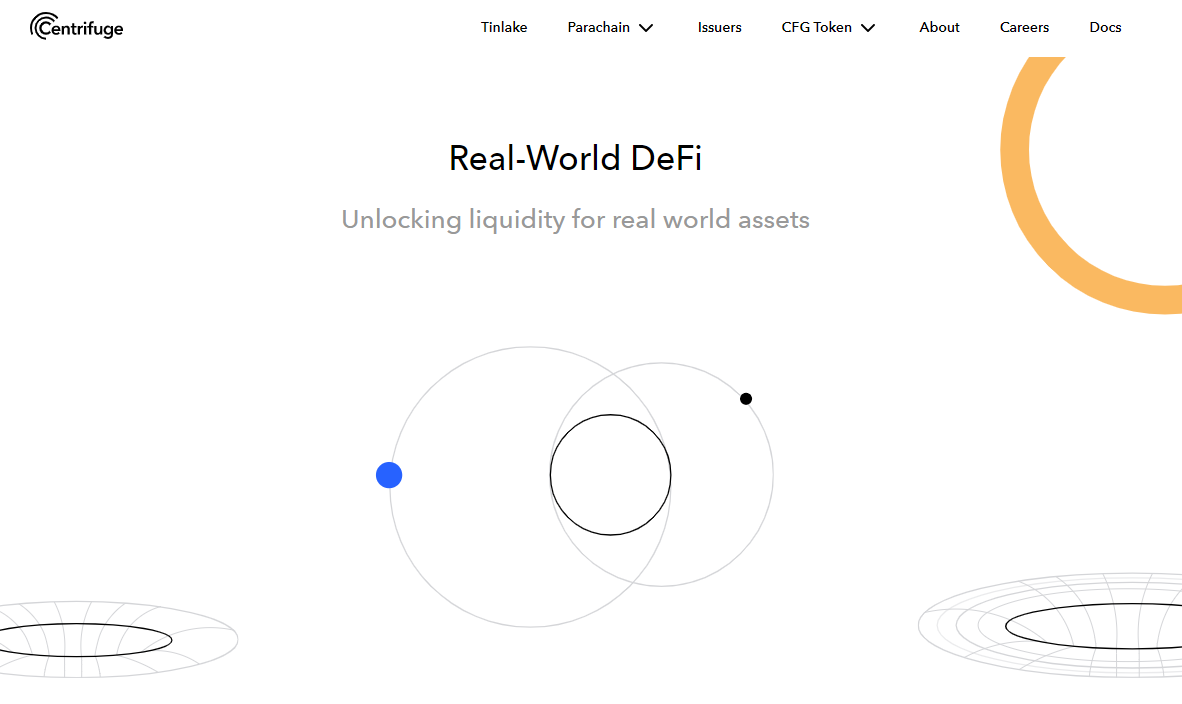 Although Centrifuge does have the word DeFi in it... this is quite a different beast to what we've seen on other DeFi projects. Centrifuge tokenises real world assets and contracts which makes them easier to fractionally trade and unlocks the underlying liquidity. These are actual real contracts... the boring sorts that are for shipping and that sort of thing! Boring, but really actually an important bridge between the world of real world invoicing and digitalising everything!
Again, I'm already exposed to Centrifuge via the CoinList sales... but I think I will add a bit more support to it via the crowdloan. Boring infrastructure and non-hyped stuff for the win!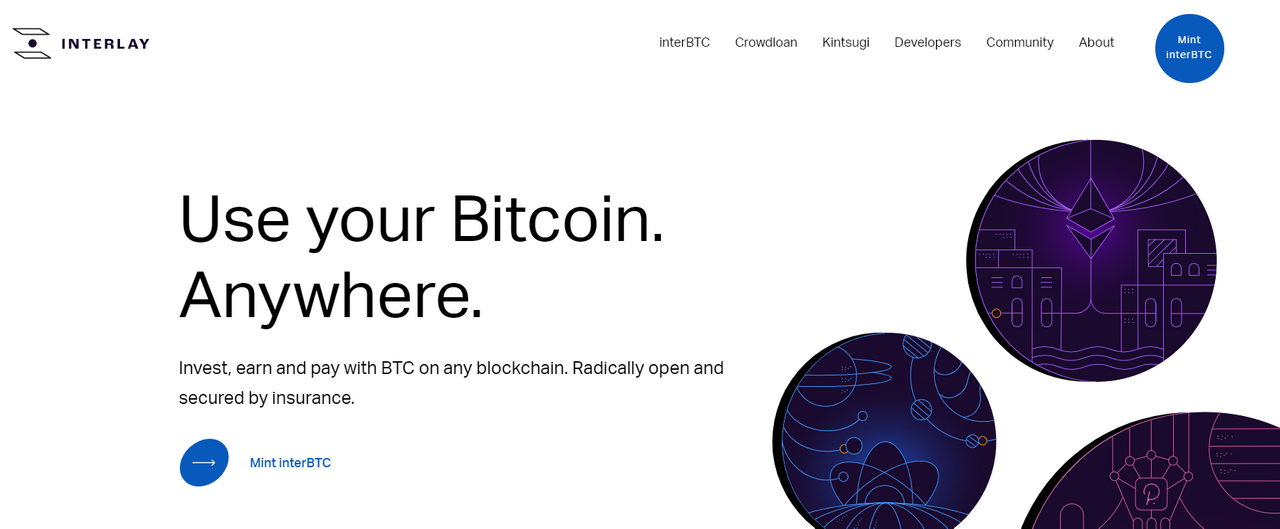 Okay... I'm a little new to hearing about Interlay. Bitcoin at the moment suffers from the first mover "advantage". There is no doubt that it is a critical piece of our cryptocurrency ecosystem... but it also suffers from having a very primitive smart contract ability. There are efforts to make a Bitcoin DeFi ecosystem... but most of it occurs via token pegs on other smart-contract blockchains. It appears that Interlay will do something similar... but I really need to read more about this! This is a maybe at the moment... the ability to easily tokenise and utilise Bitcoin for something other than holding is going to be an important piece of the future puzzle!
I can also be found cross-posting at:
Hive
Steem
Publish0x
Handy Crypto Tools
Ledger Nano S/X: Keep your crypto safe and offline with the leading hardware wallet provider. Not your keys, not your crypto!
Binance: My first choice of centralised exchange, featuring a wide variety of crypto and savings products.
Kucoin: My second choice in exchanges, many tokens listed here that you can't get on Binance!
FTX: Regulated US-based exchange with some pretty interesting and useful discounts on trading and withdrawal fees for FTT holders. Decent fiat on-ramp as well!
MXC: Listings of lots of interesting tokens that are usually only available on DEXs. Avoid high gas prices!
Huobi: One of the largest exchanges in the world, some very interesting listings and early access sales through Primelist.
Gate.io: If you are after some of the weirdest and strangest tokens, this is one of the easiest off-chain places to get them!
Coinbase: If you need a regulated and safe environment to trade, this is the first exchange for most newcomers!
Crypto.com: Mixed feelings, but they have the BEST looking VISA debit card in existence! Seriously, it is beautiful!
CoinList: Access to early investor and crowdsale of vetted and reserached projects.
Cointracking: Automated or manual tracking of crypto for accounting and taxation reports.
Stoic: A USD maximisation bot trading on Binance using long-term long strategies, powered by the AI/human system of Cindicator.
StakeDAO: Decentralised pooled staking of PoS assets.
Poloniex: One of the older regulated exchanges that has come into new ownership. I used to use it quite a lot, but have since stopped.
Bitfinex: Ahhh... another oldie, but a goodie exchange. Most noted for the close affiliation with USDT and the Basic "no-KYC" tier!