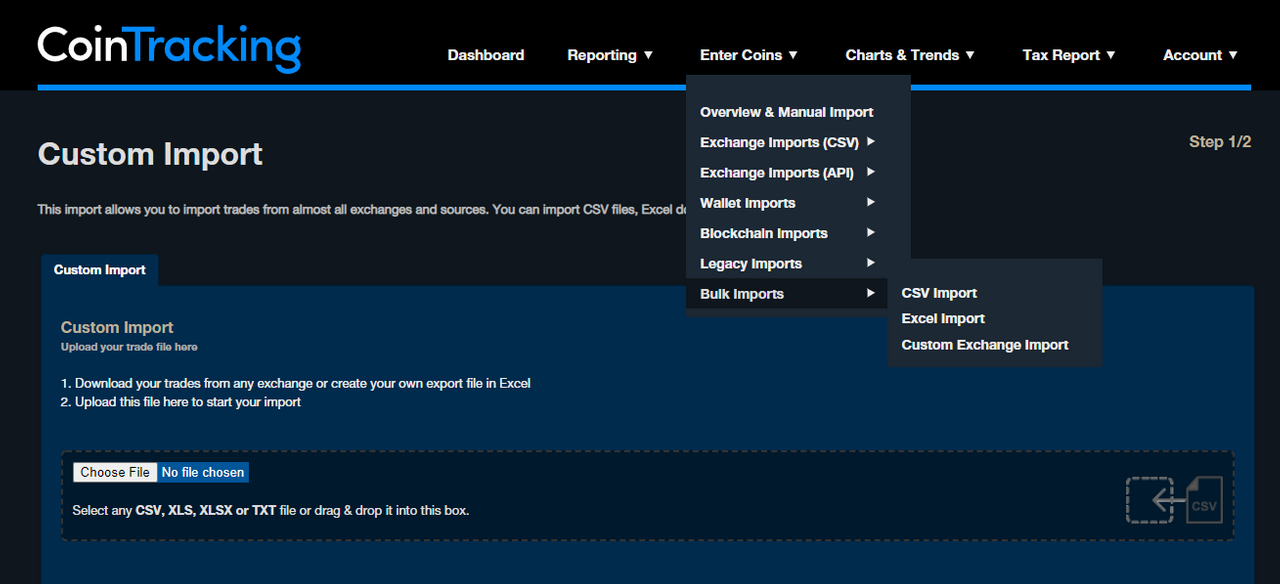 Keeping up with crypto accounting is still a bit of a nightmare when you have accounts across a number of exchange. There isn't really a standard for reporting and exporting CSVs... and APIs mostly work... except when they don't, or when they miss things. So, whilst things are better than they have been in the past... if you are wanting to keep good records for accounting and taxation purposes, then it is still a bit a hassle.
I have tried quite a few crypto-accounting softwares/platforms, and I have so far had the best success with Cointracking. However, even this one has the occasional gap and frustrating moments.
One of these gaps is the lack of API imports for MXC. MXC does have an API for tracking, but it isn't currently supported by Cointracking. However, given the rather patchy CSV exports from MXC, I'm not sure that the fault is completely from Cointracking!
Anyway, to import the MXC data, you will have to do manual imports of CSV data (and using the Custom Exchange Import, as you will need to set up the import parameters). Annoyingly, MXC has no single export for all your actions across the whole platform... and I'm not a futures/margin user, so I can imagine that things are even worse for those users!
So, these are the CSV exports that you will need:
Trade data
Distribution data
Deposit data
Withdrawal data
A few things to take special note of... there is NO export for Launchpad and M-day distributions... you have to do those manually. Thankfully, those don't happen quite so often... so that isn't a huge hassle!
The distribution data (from Kickstarters and possible MX DeFi) is only held for ONE (1) month... after that, there is no data that you can export. Something to keep in mind, as that really isn't a long time... and the amount of these transactions can be quite numerous with about 3-5 entries per day! That was quite annoying to find out... speaking of which, it is probably time to do it again!
Meanwhile, the rest of the data will hold for about 3 months... so, again, make it a regular habit to export that data into your tracking software, or you will have gaps.
Anyway, listed below are the set parameters that you will need to enter in the Custom CSV imports on Cointracking to have your data properly included. As always, I suggest importing these into a staging account before integrating into your main tracking account... otherwise, it can be a real pain in the arse to find errors and mistakes!

Oddly enough, this simple Trades/Fees import was not so long ago needing to be done in two parts... Trades and Fees seperately! Thankfully, MXC ended up updating their formatting, which allowed for a single import of both. At last check, Cointracking had some wrong information on their FAQ for this import in that they didn't reverse the buy/sell currency when the trade was a sell. I should double check this one later... as always, just import into a staging account to be sure that there are no hard to sport errors like this!

A seperate import for the Kickstarter votes... these are classed as airdrop amounts as far as I understand, and they need a special field to label them as such.


Finally, the deposit and export data... again, frustrating that it is two separate imports... but this is where we are with his stuff!
Don't forget to save these as templates in your Cointracking staging account, so that you don't have to fill everything out again... and remember to import into staging accounts and not direct into your main tracking account for ease of catching errors. The formatting of the CSV exports are not set in stone, and there is no industry standard... so, these setting work now, but might not in the

future! Best to be on the safe side and double check!
I can also be found cross-posting at:
Hive
Steem
Publish0x
Handy Crypto Tools
Ledger Nano S/X: Keep your crypto safe and offline with the leading hardware wallet provider. Not your keys, not your crypto!
Binance: My first choice of centralised exchange, featuring a wide variety of crypto and savings products.
Kucoin: My second choice in exchanges, many tokens listed here that you can't get on Binance!
FTX: Regulated US-based exchange with some pretty interesting and useful discounts on trading and withdrawal fees for FTT holders. Decent fiat on-ramp as well!
MXC: Listings of lots of interesting tokens that are usually only available on DEXs. Avoid high gas prices!
Huobi: One of the largest exchanges in the world, some very interesting listings and early access sales through Primelist.
Gate.io: If you are after some of the weirdest and strangest tokens, this is one of the easiest off-chain places to get them!
Coinbase: If you need a regulated and safe environment to trade, this is the first exchange for most newcomers!
Crypto.com: Mixed feelings, but they have the BEST looking VISA debit card in existence! Seriously, it is beautiful!
CoinList: Access to early investor and crowdsale of vetted and reserached projects.
Cointracking: Automated or manual tracking of crypto for accounting and taxation reports.
Stoic: A USD maximisation bot trading on Binance using long-term long strategies, powered by the AI/human system of Cindicator.
StakeDAO: Decentralised pooled staking of PoS assets.
Poloniex: One of the older regulated exchanges that has come into new ownership. I used to use it quite a lot, but have since stopped.
Bitfinex: Ahhh... another oldie, but a goodie exchange. Most noted for the close affiliation with USDT and the Basic "no-KYC" tier!