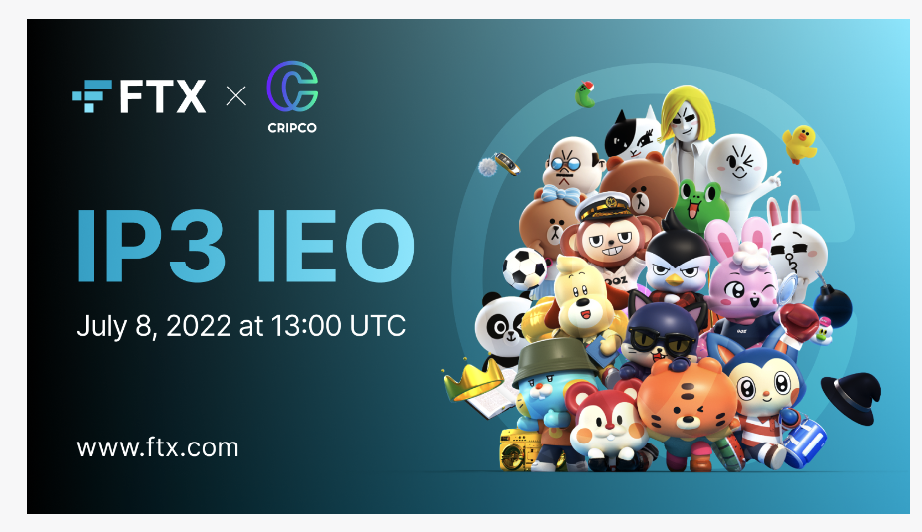 I guess it is no secret that I'm more of a fan of the crowdsales on centralised exchanges rather than those that happen on chain. I'm just not a crazy fan of the on-chain gas bidding wars and the many many dodgy projects that pop up on a permission-less listing protocol. I find that the ones that take place on Binance, FTX, and CoinList have at least had some sort of vetting process... even if there are generally earlier rounds of investment from VCs and other whales beforehand.
I find that the Binance Launchpads are crazily easy to take part in, and generally do quite well for those who manage to get a decent allocation (requiring a holding on BNB on exchange). Meanwhile, the CoinList ones have been pretty decent as well... if you can manage to secure a purchase position!
I've not been quite so fond of the FTX ones... they seem to do less well than the Binance and Coinlist versions, and they are often for projects on the Solana blockchain (which has ties to FTX). Plus... it is right pain in the arse to do from the mobile app... which means that you need to take part (in my experience) from the webpage itself. So... not so smooth or easy... especially when the bidding window is only about an hour long!

Added to this minor annoyance is the fairly strange bidding process. For the various amounts of staked FTT that you have (the exchange token of FTX), you can make a certain number of bids during the bidding window.
The bids start at 250 USD(T) and then max out at 300 USD(T) plus 5 FTT. If there are more tickets than purchase spots, then it goes to a random selection. Any unsuccessful bids are returned after the auction... as are FTT that wasn't required for the bid. FTT that is bid and used are burnt (oh... so, there is a bit of a use case for FTT!).
Honestly, given the system as it stands, I don't know why anyone wouldn't just start at the maximum bid of 300 USD(T) plus 5 FTT and then just log out and wait... I mean, there isn't really that much point in trying to cheap out on 50 USD and perhaps lose the purchase spot. However, the FTT that is required is a bit of an unknown... and that could potentially add an additional 125 USD to the purchase price!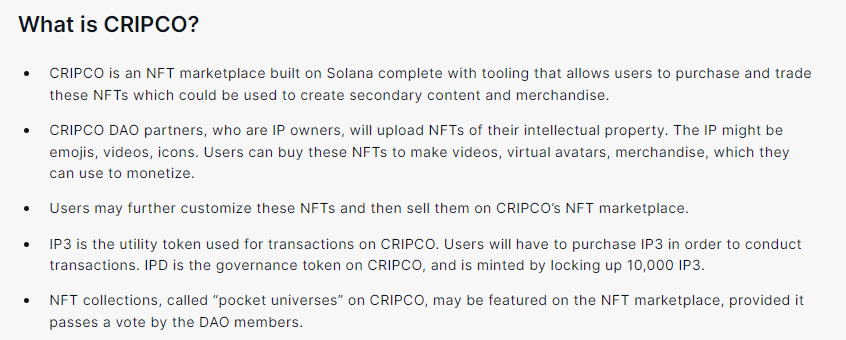 Anyway... back to the project that is actually being offered. CRIPCO... sigh, what a terrible name... and the IP3 token is the actual utility token that is being offered for sale in the crowdsale. As far as I can understand, CRIPCO is the Solana equivalent of Opensea and Magic Eden and all of the Ethereum NFT marketplaces. IPD will be a secondary token (not for sale now) that is the actual governance token (minted by locking 10,000 IP3... or 2000 USD(T) at this crowdsale price!).
However, like many things on Solana, there appears to be some interesting additional elements that come from a closer association with industry/VCs.... in other words, a focus on Intellectual Property (IP). Actually, that is an interesting thing for me... seeing as that is what is really missing from the current decentralised implementations of NFTs.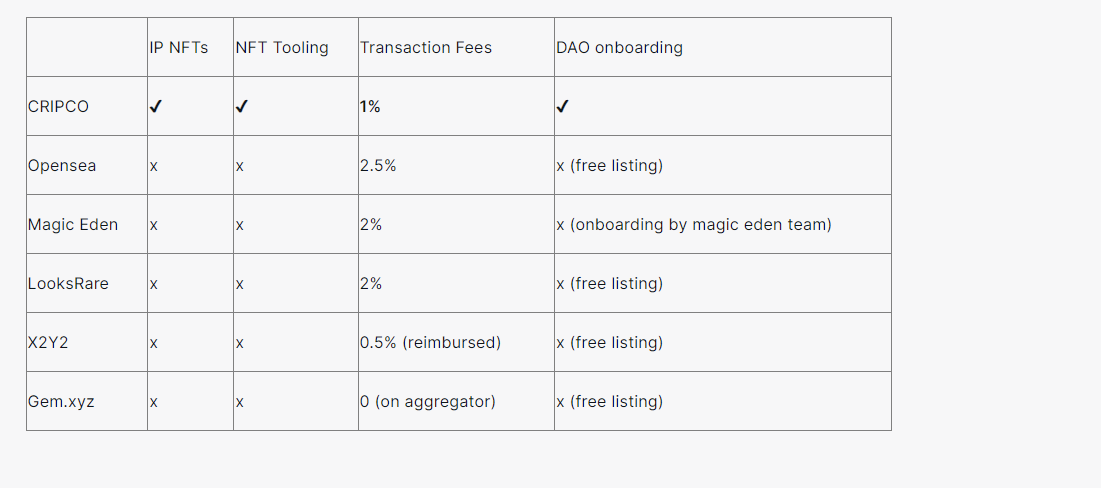 Here we go... a completely and utterly UNBIASED comparison from the CRIPCO team!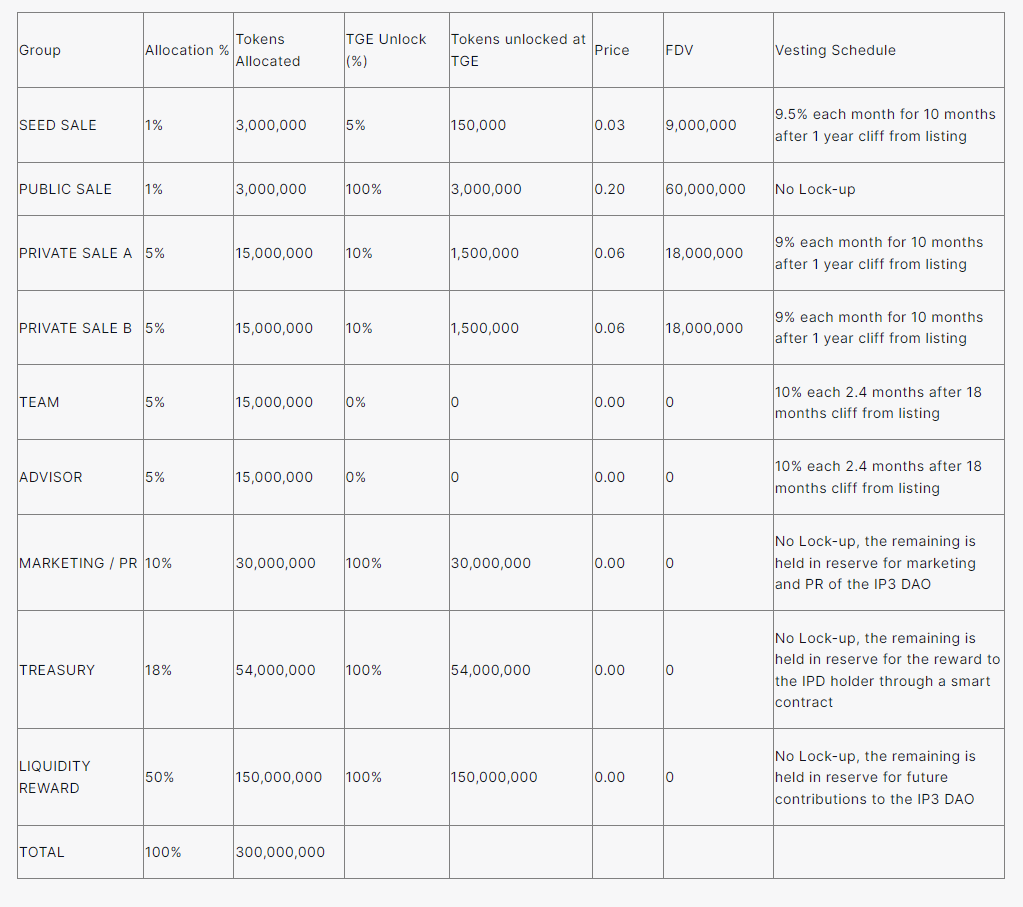 So... taking a look at the allocations before this crowdsale. There has been a Seed and two Private Sales already... and they have been vested and have an unlock schedule whilst the crowdsale is unlocked immediately. However, the difference in sale prices is quite significant even though the number of tokens on offer in the crowdsale is on par with the complete initial rounds.
These will be the earlier rounds that will dump when they are unlocked... something to keep an eye on! Of course, with this sort of no-lock vesting at the public crowdsale, you are going to look to recovering your initial investment faster before the other unlocks... and keeping a moonbag for later... just in case!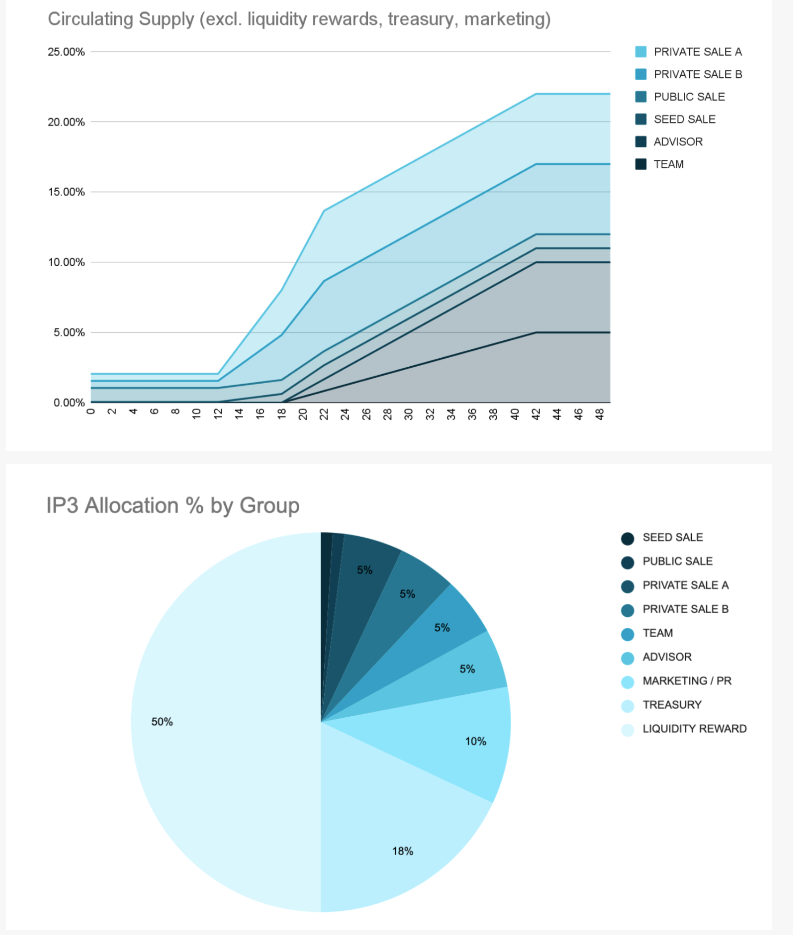 So there you go... at the initial stages, the crowdsale is the dominant group in the circulating supply, but there is already tokens floating around on market from the much cheaper rounds from the private sales. This could be quite dangerous as the difference in prices was so marked... and if you were a private sale investor, I think you would also be looking to recover your initial investment at the expense of the higher sale priced crowdsale participants!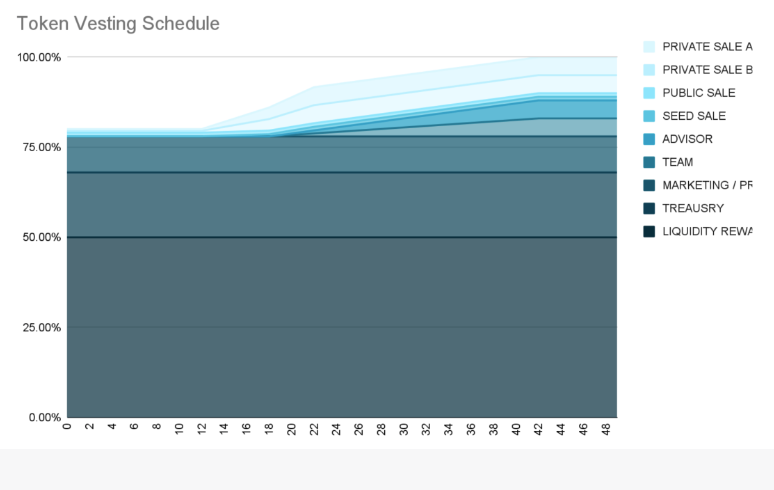 Now, the above graphics were excluding the circulating supply from the treasuring, rewards, and marketing groups. When we include them in... well, it doesn't look quite as promising. However, we should keep in mind that unless this is a fast rugpull (and I don't expect that from a centralised exchange offering)... well, those allocations need to be lasting to give the team a runway to adoption. So... I doubt that you will see them dump immediately... but they will be used over time. Something to keep an eye on!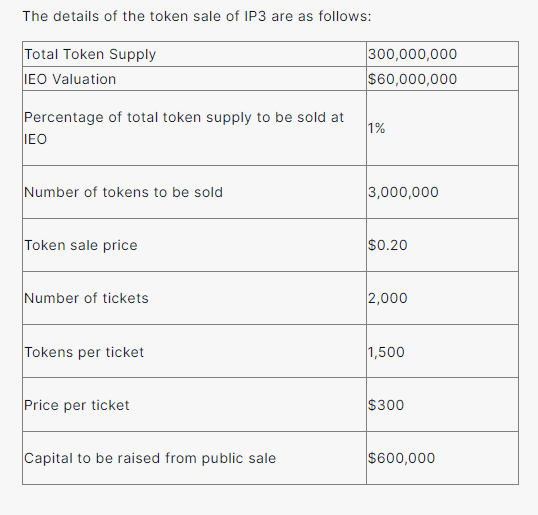 So... this is the parameters for the FTX crowdsale later this week. Sale price is 0.2 USDT at a 300 USDT bid... if FTT is used, then that prices rises a fair bit more. 2000 purchase spots...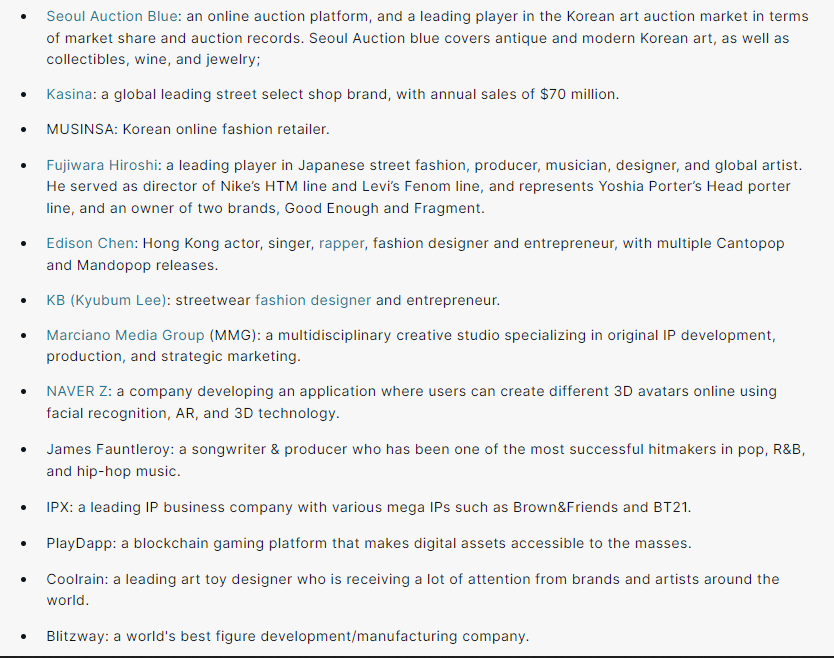 What I did find interesting is the number of partnerships that seem to have been signed on or associated with CRIPCO already... many Korean brands, but some familiar sounding names. FTX and Solana have always been more commercial orientated in comparison to the freewheeling Ethereum chain... I'm still up in the air as to whether or not that is a good thing or not... My idealistic mind goes to Ethereum, but my pragmatic side leads me to think that Solana might have an edge.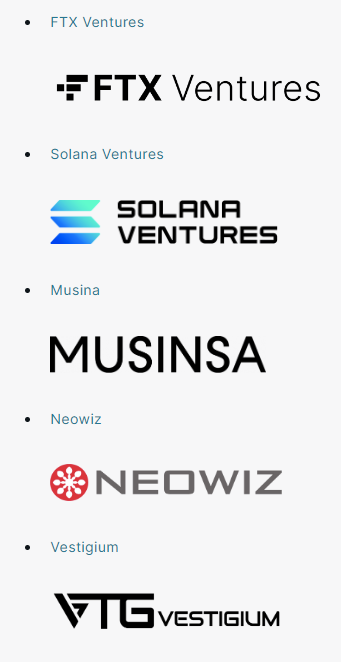 ... ahhh, you friendly early participants... aka, the people and funds who will dump on you!
So, will I take part... yes, I always do! So far, I've never really been disappointed by Initial Exchange Offerings... they do seem to perform decently in the long run, and I do always like the idea that the projects have been vetting and researched by exchanges with lots more resources and knowledge than I can bring to bear. However, these projects are always full of insiders and earlier sales/investors... so they have their own dangers. Still, in comparison to the unruly and sometimes fraudulent on-chain offerings... well, these feel much more comfortable to take part in.
I just wish that FTX would streamline the purchase and participation flow a bit (a lot...)!
I can also be found cross-posting at:
Hive
Steem
Publish0x
Handy Crypto Tools
Ledger Nano S/X: Keep your crypto safe and offline with the leading hardware wallet provider. Not your keys, not your crypto!
Binance: My first choice of centralised exchange, featuring a wide variety of crypto and savings products.
Kucoin: My second choice in exchanges, many tokens listed here that you can't get on Binance!
FTX: Regulated US-based exchange with some pretty interesting and useful discounts on trading and withdrawal fees for FTT holders. Decent fiat on-ramp as well!
MXC: Listings of lots of interesting tokens that are usually only available on DEXs. Avoid high gas prices!
Huobi: One of the largest exchanges in the world, some very interesting listings and early access sales through Primelist.
Gate.io: If you are after some of the weirdest and strangest tokens, this is one of the easiest off-chain places to get them!
Coinbase: If you need a regulated and safe environment to trade, this is the first exchange for most newcomers!
Crypto.com: Mixed feelings, but they have the BEST looking VISA debit card in existence! Seriously, it is beautiful!
CoinList: Access to early investor and crowdsale of vetted and reserached projects.
Cointracking: Automated or manual tracking of crypto for accounting and taxation reports.
Poloniex: One of the older regulated exchanges that has come into new ownership. I used to use it quite a lot, but have since stopped.
Bitfinex: Ahhh... another oldie, but a goodie exchange. Most noted for the close affiliation with USDT and the Basic "no-KYC" tier!