Blockchain is a decentralized general ledger. It is a computer network that has an identical copy of the database and changes its status (records) to a common agreement based on pure mathematics. All this means that there is no need for any central server or any entity we trust (e.g. central bank, notaries, banks, Paypal, etc.). The blockchain is the technological basis for all cryptocurrencies, whether Bitcoin, Ethereum, Hyperledger, etc.
An important part of the blockchain is the smart contracts, a piece of code that is stored in the blockchain network (in each participant's database). It basically defines the conditions to which all parties using the contract agreement. Therefore, if the required conditions are met, certain actions are executed. Because the smart contract is stored on all computers on the network, everyone must run it and get the same result. This way users can be sure that the result is correct.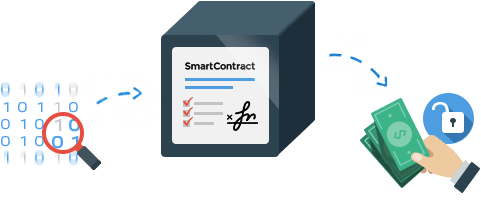 Blockchain and Smart Contracts open many doors to new decentralized businesses and eliminates the need for expensive third parties. Many new companies are now working on this technology, and large companies are testing it in closed networks to collaborate directly with each other without the need for intermediaries. Moreover, another main reasons why cryptocurrencies are more fashionable is because we know that traditional banks, as modern as they want to be, have an old-fashioned culture and mentality. Beyond the typical financial instruments, they have only evolved to provide some online services. Now, with the emergence of DeFi (decentralized finance), a world of financial instruments is opening up, accessible, open and without permissions for anyone with a cell phone or a computer connected to the Internet. It is a movement that takes advantage of decentralized networks to transform old financial products into transparent protocols that work without intermediaries.
Moving on, the project I'm going to present you is Terra-Credit (https://terra-credit.com), a new project that aims to use the Proof of Stake (PoS) protocol as a better alternative that does not decide the longest chain based on hash power, but uses wallet balance and currency maturity to determine the next producer. In more detail, Terra-Credit (https://terra-credit.com) is an open source, decentralized, blockchain-based cryptocurrency that uses advanced PoS technology to provide users with a new level of convenience and accessibility. In addition, Terra-Credit's ecosystem allows the community to rule over the currency, giving scalability to the network and making the currency truly fuginable and with a high level of privacy. Through its coin distribution program, its producers are more numerous and decentralized, unlike most blockchains that use PoS.
Its main goal is to be an intermediary to manage transactions and avoid double spending, helping decentralized platforms to allow users to send and receive payments without the need for third parties.
How does it work?
1. Terra has designed Credit (CREDIT) to offer free and fast Blockchain-based payments.
2. Credit employs Proof of Stake which allows any user to become a blockchain producer.
3. Block producers support the network and are rewarded with new coins for doing so, this feature replaces traditional mining which is expensive and complicated.
4. The Credit wallet automatically "bets" on users' coin balance, allowing them to become block producers and earn rewards for maintaining the Credit blockchain. This creates a legitimate, passive income stream without the need for expensive equipment and technical expertise.
The main features that the platform offers are basically transparency and security, as well as decentralization and sustainability of the newtork, operating autonomously via a distributed decentralized organization. Moreover, their integration is very useful and easy, and the interface is userfriendly.
Credit has been designed as a decentralized finance platform, dedicated to digital payments. Credit's most important function is to serve as a medium of exchange to facilitate digital transactions. The main uses of TerraCredit are as follows:
As a payment platform
As an incentive for third-party producers
As a normal cryptocurrency
As an alternative to cash
As a long-term investment
As an international payment method
Terracredit team has announced a limited token sale through MoonPay, where somebody can do an investement on CREDIT tokens in a low-cost manner. The available period to do the investement is between April 1st to July 31st of 2021, and tokens can be purchased in BCH, BTC, ETH, USDT and USDC as well.
Furthermore, the project gives the opportunity to earn Terra-Credit tokens performing some social media tasks and doing simple steps from the bounty program explained into the following Bitcointalk Thread here (BTT_Thread_TerraCredit), where you can access the link in order to see what are the conditions to become an early CREDIT contributor and start acquiring tokens.
For more information about the project, you can visit and read their WhitePaper available here (TerraCredit_WP). You can also stay tuned in their official Telegram Channel (https://t.me/terracredit). I hope you liked the post and soon I'll send you new ones.
Token details:
Token Name: CREDIT
Block Type: Proof-of-Work/Proof-of-Stake
Total supply: 74,800,000,000 CREDIT
Social Media Links
Whitepaper: https://terra-credit.com/wp-content/uploads/2020/03/whitepaper.pdf
Facebook: https://www.facebook.com/terrabitofficial/
Twitter: https://twitter.com/terracredit
Telegram: https://t.me/terracredit
--------------------------------------------------------------------------------------------------------------------------------------------------
Author Details
Email: adria.parcerisas.albes@gmail.com
Bitcointalk username: adriaparcerisas
Bitcointalk profile link: https://bitcointalk.org/index.php?action=profile;u=1870482
Terracredit blockchain ID/username: adriaparcerisas
Terracredit wallet: TVzY5MHFv5frGe33m2JXXSiDyLPJsKnELZ
Bitcointalk Proof of Authentication link: https://bitcointalk.org/index.php?topic=5320635.msg56552804#msg56552804