Bitcoin is on its ongoing paving road for future ATHs and the highest peak in its history and there's no argument that would convince me the other way. The trend is clear, and it's more and more obvious as we get further ahead from its last halving. Bitcoin halved on May 11, 2020, and if it will stay stuck in its history vortex, that has it spinning for quite some years, we're gonna witness its next peak sometime by the end of September 2021, according to Nunya Bizniz halving cycles chart analysis.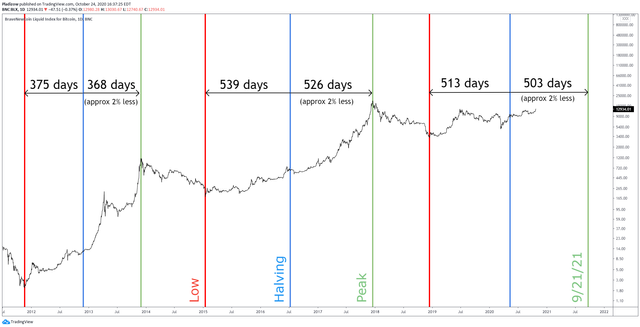 source
The road to future peak for BTC's price in not a straight to the top one, and perfectly paved of course. There's gonna be price corrections, occasional FUDs, and drops of blood on the street, maybe your own one as well. Nothing compared with the last two years or so though, during the previous bear market. Joseph Young, financial analyst and investor, already rang the bell via Forbes for the future correction of BTC and the The Wolf Of All Streets(@scottmelker on twitter) is resonating with his sentiment. While Joseph's forecast is based on data provided by on-chain analysis firm CryptoQuant and taking into account the *whale's moves in depositing BTC on exchanges rather than storing their large amounts of crypto on cold wallets lately, Scott Melker is using his TA waiting patiently to accumulate more BTC between $12,100 and $12,500 if it dips to that area. Why he hasn't bought at $4,000 is beyond my understanding... I guess that's called dollar cost averaging.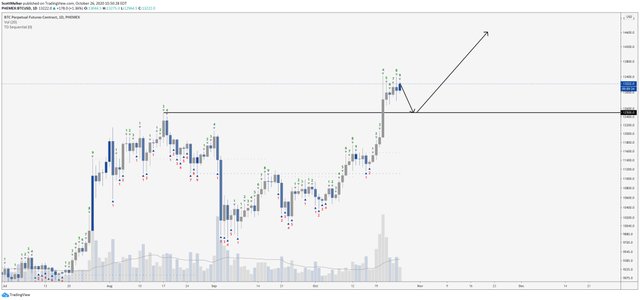 image source
Another metric that could be taken into consideration and it's not talked about on twitter or featured by any crypto news outlet that I am aware of, is the Bitcoin fear and greed index which is now on the Greed territory. This indicator can be quite useful for trading, for the ones engaging in trading of course, by embracing the contrarian technique and doing the exact opposite of what the masses are doing. Considering that it currently points at a greedy market the idea of a pull back in the near time seems quite plausible. During bull runs and extreme FOMO times this indicator might get stuck at greed and extreme greed levels for weeks if not months in a row. Taking into account that we're in the first 140 days after the halving out of the supposedly 500 that would be needed for BTC to reach its next peak, then a pull back in the near future makes a lot of sense and it will for sure propel BTC at prices of over $14,000, trust me :)
Corrections and pull backs are definitely buying opportunities for the ones still having powder to shoot at BTC and not times of depression and disbelief, depending on everyone's macro view of course. Unfortunately though, as in most of the financial opportunities situations that this market has offered over time, it's always the smart money that take the most out of the market and time their investments way better than the dumb money who are busy living in fear, watching TV and buying fake news. Smart money don't buy on CNBC's tips and by the time the whole media is roaring like a lion ;), they've already have their selling orders set. That's why you call them smart money. When you read JP Morgan's gone bulish on BTC after trashing it back in 2017, you should know the train has left the station and it's getting traction by the day.
There's still time for on-boarding and the metric that is here to back my words is the search term for Bitcoin on google trends. According to google, it sits at the 12 points level of this chart and it's actually 88 points away from its previous ATH in 2017. Again, there's still time, there's a pull back that's probably waiting right around the corner, there will be many others along the way, but it won't take Bitcoin an eternity to reach its future peak, and when it does that you'll see all these financial institutions talk trash about it again, media spreading FUD as it did in 2018, and so on. The history repeats itself for about ten years or so and these four years cycles seem to be more and more obvious, and a great tool for making the most out of crypto investments.


source
Now, it might not probably take BTC exactly 503 days, as some charts point at, from its last halving till the date it will set the flag on the moon, but the time frame is quite clear, and for the ones that have been around in this space for many years and have already witnessed previous such cycles it's simply easy money that we're talking about. For the newbies and lambo boys: open your eye, choose your influencers carefully and make the most out of your investments. It's almost impossible to catch the exact bottom and sell at the exact top, that coming from someone that bought at $18,000 in 2017, but there's plenty of meat in between and it would be a pity to let it mold. Have a great day folks and see you on the moon, roaring!
Thanks for attention,
Adrian