A Star is Rising Diary: Day 1
Rising Star Game is a browser based idle video game. The purpose of the game side is to earn Starbits on the Hive blockchain. The main purpose of the Starbit ecosystem is to support upcoming independent musicians sell records as NFTS helping them develop their music and be heard.The community is strong and is led by AtomCollector who has a regular radio station on Twitch and has a very active Discord which plays music to the Rising Star Community.
Earned Starbits can then be traded or sold in exchange for other tokens. I have been using this game to help me increase my investments in Splinterlands as well as to help grow my Hive account. 
The posts are first person diary entries as I busk my way to become a Starbit millionaire. I cash out my coins everyday and use those to support other endeavours. For the short amount of time it takes, the money has not been too bad. Best of all, the money has increased as I have become more proficient and more efficient. 
If you are someone who enjoys playing games with the intention to earn then this could be the game for you. 
---
Dear Diary,
So far, I have busked until I have zero energy. I am tired, all that coffee and pizza is making me cranky. At least I earned 140ish Starbits today.
I feel like I have grown over the past half day or so and some drunks seem to be following me around for a bit. Although, they seem to just be sat listening while they try to remember where they live. I guess they will leave me soon enough. How will I feel without my 26 fans? I should become an influencer or something and try to maximise the earnings?
~holdeck signing out
---
A Star is Rising Blog: Day 2
Dear diary,
Today was a long day. I did it! I finally managed to secure a Mid Week Support slot. Yes, I know it wasn't Wembley Stadium and people were not really listening to me but I got asked to join and that is what counts, right?
Things are a little bit quieter now, most of the drunks have now disappeared and no longer appear to be following me. It was alot easier when I had their attention so now I guess I'll go back to doing some more Open Mic nights at the Grungy Swan- at least it's paying the bills, kinda. Still having to grab the occasional slice from half eaten boxes of pizza, but who said fame was glorious- at least it'll get better, right?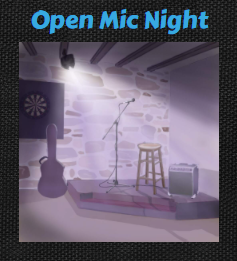 45 fans is not too shabby to be fair besides I am now at over 1600 Starbits for my time. Plenty more fun to be had as my Uncle used to say, before he lost his marbles. Anyways, here's hoping I can find some pizza or coffee to get me through the day, I'd love to get another slot sometime soon. Worst case, I guess I'll have to buy some...
~@holdeck signing out
---
All images taken from www.RisingStarGame.com