Read now to learn how Bitcoin is the only financial system in the world that can allow us to protect ourselves from the coming onslaught of government censorship.
---
Many people in "developed" countries and elsewhere rely heavily on financial services in today's world. Banks custody our money. Credit card companies facilitate our transactions. Brokerage companies manage our retirement accounts.
It's safe to say that a lot of us depend so much on "traditional finance" that we'd be lost, at least for a while, if we couldn't access our financial accounts. Don't believe me? Ask yourself: are you fully prepared to be able to buy food if your credit card is denied, to pay your mortgage if your bank account closes down, or afford your daily life if access to your retirement funds is cut off? For a lot of us, the answer to that question is probably that we're much less prepared than we ideally need to be.
There are likely many people, perhaps even some of you, who are convinced that the financial system will always be available to them. After all, it's our money flowing through the system and financial companies can't exist without their customers, right?
Tread lightly, because the truth might frighten you.
Government Censorship Is On The Rise
Truth be told, there are plenty of people around the world who are "unbanked" and don't have access to financial services to begin with. There are also large numbers of people who live under authoritarian regimes who get kicked out of their local financial system without most people batting an eye. For those of us who don't have to experience those same limitations, it can seem easy to write off the suffering of others.
Our complacency must end, and no one is truly safe from the long arm of financial censorship. We have a number of examples just this year of governments in so-called "democratic" parts of the world who have used extreme levels of financial censorship in order to grossly limit their citizens' freedoms:
Another example came to us just last week in the country of Brazil where the Federal Supreme Court froze the bank accounts of several dozen people and companies who are claiming fraud occurred in the country's recent presidential election.
The government officials who spearhead the financial censorship of their own citizens most likely believe that the course of action they chose was acceptable. It could be as well that many observers would agree that these and other examples of financial censorship were necessary.
Whether you agree or not, the idea that someone's financial security can be outright stolen from them on a whim is destructive for society. If people's futures can be stolen from them from one second to the next, people largely stop planning for the future at all.
Bitcoin Allows For A Secure Future
We have the possibility of planning for a safe and censorship-free future through Bitcoin, and, as we've learned above, really nowhere else.
You've heard me say it plenty throughout this newsletter, but I'll say it again: Bitcoin is the only truly decentralized money in the world. Every other money has someone at the center manipulating it to the detriment of everyone else. But not Bitcoin. Every other money has someone who can force participants they don't agree with out of the system. But not Bitcoin. True financial freedom exists thanks to Bitcoin — at least for those who choose to own their financial future through self-custody.
The day is fast approaching where even the limited access to the traditional financial system that so many of us currently enjoy will be taken away. Do you intend to stick around long enough for that to happen?
---
Scams.
Rugpulls.
Shady companies that will take away your hard-earned money the first chance they get.
That's what most content creators in the Bitcoin and Crypto spaces offer their communities in exchange for the *free* content they promote in newsletters, on talk shows, on social media, and anywhere else they can peddle their wares.
YOU DESERVE BETTER.
You deserve quality Bitcoin education that isn't driven by a need to sell you something that will leave you worse off. You deserve thoughtful analyses of Bitcoin basics and current events that leave out the biases that permeate affiliate-driven content platforms. You deserve a community that puts you first, no matter what.
We've built the HiFi Bitcoin community together as a place where quality Bitcoin education comes without any hidden agenda. A place where you come first, always.
If you believe that Bitcoin education should be available to everyone without bias and without ulterior motives, I ask you to please consider supporting me and the work I'm doing for the Bitcoin community through a premium membership. Every contribution increases my ability to cut through the noise and find the truth about Bitcoin with you.
---
A Special Bonus For Premium Members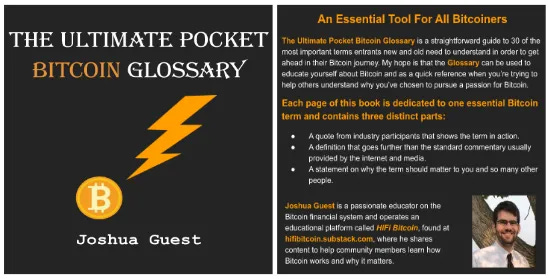 In my new book, The Ultimate Pocket Bitcoin Glossary, I walk you through 30 of the most important terms you need to understand in order to get ahead in your Bitcoin journey. My hope is that it can be used to educate yourself about Bitcoin and as a quick reference when you're trying to help others understand why you've chosen to purse a passion for Bitcoin.
Ready to read it yourself?
Premium subscribers of The HiFi Bitcoin Letters receive access to The Ultimate Pocket Bitcoin Glossary at no extra charge:
Free subscribers and non-subscribers will be able to purchase The Ultimate Pocket Bitcoin Glossary, without the commitment of subscribership, in the HiFi Bitcoin Shop, once it is released as a PDF:
---
Wish You Could Easily Take The Podcast With You?
---
Can't Get Enough Bitcoin In Your Life? Follow Me On Social Media:
---
🙋🏽‍♂️Did You Enjoy This Edition Of The HiFi Bitcoin Letters?
This 3-question survey is your chance to tell me how I can improve the newsletter for you.
---
This is not financial or business advice. This newsletter and related content are for informational purposes only. Cryptocurrencies and digital assets can be risky. Always do your own research before making any sort of investment.