Want to get paid to read Publish0x articles right in your inbox? Sign up for my email newsletter.
---
Listen to this article as a podcast.
---
2021 is coming to a close. While every year in the Bitcoin space has its share of surprises and massive developments, 2021 did not disappoint in the least. From dizzying highs to worrisome lows, this year will likely be remembered as a key moment along the path to the hyperbitcoinization of the world. Before we close the door on 2021 and move into the future, let's remember a few of the moments that changed Bitcoin forever:
The HiFi Crypto Letters and You
First and foremost, I'd like to take the opportunity to thank each of you for joining me on this journey of Bitcoin and Crypto discovery. I started 2021 with a passion for this industry and a desire to help more people benefit from the massive amount of positive change being driven by cryptocurrencies, Bitcoin in particular. When I published my first Letter in early January of this year, I had just a handful of readers. Since then, our ranks have grown to over 1,000 people receiving Bitcoin and Crypto knowledge directly in their inboxes, as well as several thousand other Readers around the internet.
I'm grateful for each one of you and the validation you've given me of my goal. Bitcoin and Crypto are on a path to change the world for the better. Together we can help pull back the curtain on these technologies and help others make their own informed choices on how they want to participate. I'm excited to move to part two of our journey together in just a few short hours.
2021: That's A Wrap
Tesla: Bitcoin Bull or Bitcoin Bear?
2020 may have been the best year so far for adoption of Bitcoin by institutions, with purchases of Bitcoin by MicroStrategy and Square Inc. and pro-Bitcoin announcements from legendary investors like Paul Tudor Jones and Stanley Druckenmiller. That said, 2021 had plenty of developments of its own, and Tesla's move into Bitcoin is proof of that.
Tesla's eccentric CEO, Elon Musk, had been flirting with the idea of Bitcoin publicly for some time, and it was even rumored that he had met with Michael Saylor of MicroStrategy for tips on how to convert treasury funds into Bitcoin. Elon did not keep the Bitcoin community in anticipation for too long however, announcing in early February through a regulatory filing with the U.S. Securities and Exchange Commission (SEC) that Tesla had purchased over 1.5 billion dollars' worth of Bitcoin for its treasury, boosting Bitcoin's price and status to all-time highs.
While both Tesla and Elon have since backtracked their support of Bitcoin in a big way, with the former halting payments for vehicles in Bitcoin and the latter largely shunning Bitcoin in favor of dog-themed knockoffs, their conviction apparently remains. After all, Tesla still holds almost all of the Bitcoin from its original purchase, at least for now.
El Salvador Takes Bitcoin Sovereignty Into Its Own Hands
Governments around the world have had rather mixed approaches for handling Bitcoin and Crypto over the past decade. Some have outright banned them, others have taken a hands off approach, and others still have tacitly supported the space. But no country has taken such a strong position in favor of Bitcoin as that espoused by the government of El Salvador earlier this year.
The Bitcoin community received perhaps its biggest surprise yet when the Salvadoran president, Nayib Bukele, announced in early June that his country would soon vote on a law to make Bitcoin legal tender within its borders. The country did not disappoint, with the law passing shortly thereafter and being enacted in September. El Salvador has since continued its march towards Bitcoin sovereignty, purchasing over 1,000 Bitcoin for its national treasury over the past few months and announcing its intent to build a "Bitcoin City".
China, Bitcoin, and Endless Déjà Vu
Newton's third law states that every action has an equal and opposite reaction, and that certainly seems to have been the case for Bitcoin in 2021. Shortly after El Salvador's passage of the Bitcoin law, the Chinese government moved forward with its threat to ban cryptocurrency mining within the country. The market's reaction was swift with Bitcoin's price taking a beating that lasted for months and with the Bitcoin hash rate, a metric almost synonymous in meaning with the network's security, dropping by about half over the following weeks as miners fled the country in droves.
In truth, bad Bitcoin news from China was nothing new. The Chinese government had banned various aspects of participation in the Bitcoin space for its citizens over the years, and even did so again later this year when it banned cryptocurrency transactions of any kind. The long-term effects of China's Bitcoin bans have yet to be seen. But if the aspirations of Bitcoiners that Bitcoin become the world's reserve currency come true, China's actions may severely hamper the advancement of its citizens within that new world order.
Bitcoin on Wall Street
Throughout most of Bitcoin's history, the only way to really interact with Bitcoin was by buying it directly. Given its price growth over the past 12 years, that strategy certainly hasn't failed its adherents. Regardless, a Bitcoin-based ETF has been the holy grail of investing for many, especially institutional-level investors who often have regulatory or internal policies preventing them from holding actual Bitcoin. While several other countries around the world, like Canada and Brazil, each had Bitcoin ETFs for much of the year, the U.S. and its global-level markets were conspicuously absent.
That all changed in October when the SEC, the regulatory body in charge of ETF approval in the U.S., allowed several Bitcoin Futures ETFs to launch on U.S. stock exchanges. As expected by many, the ETFs saw massive demand and drove Bitcoin prices close to all-time highs. While coveted spot ETFs, which allow ETF managers to directly hold Bitcoin for investors, have yet to see the light of day in the U.S., a lot of Bitcoiners hold out hope that 2022 will bring about further positive developments.
The Taproot Bitcoin Proposal
Bitcoin's codebase is legendary and has been copied (and then altered) thousands of times in the creation of other cryptocurrencies. All the while, the Bitcoin network has grown to house millions of participants and hundreds of billions in wealth protected due to its world-renowned security, among other value propositions. That said, the network isn't perfect, and does experience updates from time to time when Bitcoin users agree to adopt them.
The latest update, Taproot, was heralded for the massive increase in privacy and efficiency that it brought to Bitcoin transactions and to the network at large. While the blockchain still has a long way to go in both areas, Taproot was a massive step forward in ensuring that Bitcoin continues to be an open, secure way to protect and transfer one's wealth without interference.
What's Next For Bitcoin?
While it's impossible to know definitively where Bitcoin and its community will end up in 2022, it seems likely that adoption will continue to increase as the world comes to terms with the Bitcoin phenomenon, and that governments will still seek to understand and control Bitcoin, even though they're ultimately destined to fail on the latter point. If you subscribe to the beliefs of Bitcoin bulls like me, we may even be in store for a continuation of the Bitcoin bull run that has driven the market for the past year and a half. Only time will tell, but I invite you and your friends to continue on the journey with me.
---
Like what you see, but not a subscriber yet?
Consider subscribing for:
📧Two weekly emails on the topics of cryptocurrency and blockchain
💰Subscriber giveaways for Bitcoin, Crypto Bestseller Books, Non-Fungible Tokens (NFTs), and more
🗣Real-time community discussions on the latest news within Crypto
---
Can't Get Enough Crypto In Your Life?
Consider joining my:
🐥Twitter. Where I share live news and thoughts about the goings on of the crypto-verse.
📸 Instagram. Where I share bytes of crypto knowledge about more topics than we can cover in a twice-weekly newsletter.
📚Facebook. Where I share my latest content and engage the community on the world's biggest social network.
---
Support the newsletter:
Recommended service: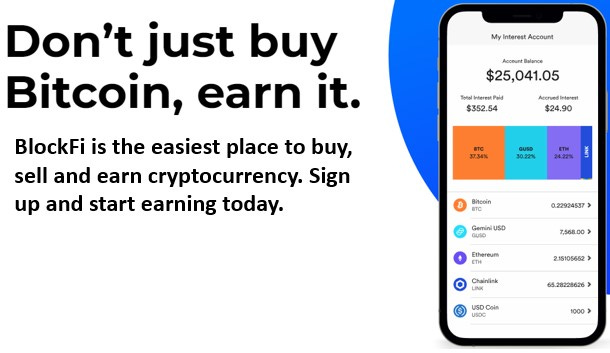 Want to grow your crypto while you hodl it? I use BlockFi to earn interest on my Bitcoin and crypto, and they also offer cryptocurrency exchange, custody services, and more. Open a new account and earn $40 in free Bitcoin when you deposit your first $100 of crypto on BlockFi.
---
Crypto Roundup 🤠
Bitcoin Buildout: The Latin American country of Panama will soon be the beneficiary of 50 new Bitcoin ATMs that will be built in the country in 2022. Read more
Bitcoin Miners: Marathon Digital, a large Bitcoin miner in the United States, will continue its all in behavior towards Bitcoin with a nearly $1 billion purchase of Bitcoin mining machines to be delivered throughout 2022. Read more
Institutional Bitcoin: Software company MicroStrategy has purchased another 1,000+ Bitcoin over the last several weeks, bringing its total war chest to over 120,000 Bitcoin. Read more
---
Into the Twitterverse 🐥
So if governments print the money, and printing money is stealing, I suppose that makes governments….:
It really is that simple:
If you enjoyed the above article, please consider supporting me by providing a small tip at no cost to you and by subscribing to my free newsletter.
You can also take this 3-question survey to tell me how I can improve the newsletter for you. Click here.
---
This is not financial advice. This newsletter and related content are for informational purposes only. Cryptocurrencies, stocks, and similar assets can be risky. Always do your own research before making any sort of investment.