It is no longer news concerning David Luiz departure from Chelsea to join London rivals Arsenal. According to some sources, it was reported that Luiz pushed for the move to Arsenal as he felt that he will not be the go-to man in Lampard's plans going forward and might not have a regular playing time like he used to have in the past, most especially last season under Sarri where he established himself as one of the key players that made Sarri's system work effectively to some degree.
A lot of talking points have been raised ever since the deal was made official, whether it was the right decision by Frank Lampard to let David Luiz who is inarguably the best ball-playing defender at Chelsea and one of the best in the world in terms of abilities on the ball as a defender, go to one of their rivals Arsenal, considering the fact that he (Lampard) wants his team to play out from the back and have possession of the ball. We all saw last season under Sarri how instrumental David Luiz was for Chelsea when playing out from the back, how comfortable he is on the ball under pressure and his ability to beat the press with his passing range.
The Chelsea game against Man United at Old Trafford proved how important Luiz would have been, as the current Chelsea center backs pairing are not great at keeping the ball at their feet under pressure and playing out from the back effectively. We saw so many times how the defenders kept losing possession, especially Zouma who wasn't great at keeping the ball under pressure and made quite a number of errors. At the moment, Chelsea didn't only lose a very good ball-playing center back, they also lost a true leader in that central defense who can make things happen. Even though Luiz can be prone to mistakes on the pitch, we all know that the good things he offers on the pitch outweigh the costly errors he makes in some games.
What's best for Chelsea against Liverpool in their Super Cup clash?
Coming up tomorrow is the much-anticipated Super Cup showdown between Liverpool vs Chelsea which will be taking place at the Vodafone Arena. A lot of taking points have surfaced these past few days after Chelsea's huge loss to Man United at Old Trafford in their opening premier league encounter. Some are against some of the manager's decisions for that game while some still believe it is still a work in progress and that it is still very early to start making assumptions. The game against Man United saw the Blues play some amazing football in the first 55-60 minutes of the game, but were very unfortunate to hit the woodwork multiple times in the game, and also saw them make some mistakes as a team and also some costly individual errors. However, the game against Liverpool is a totally different ball game entirely.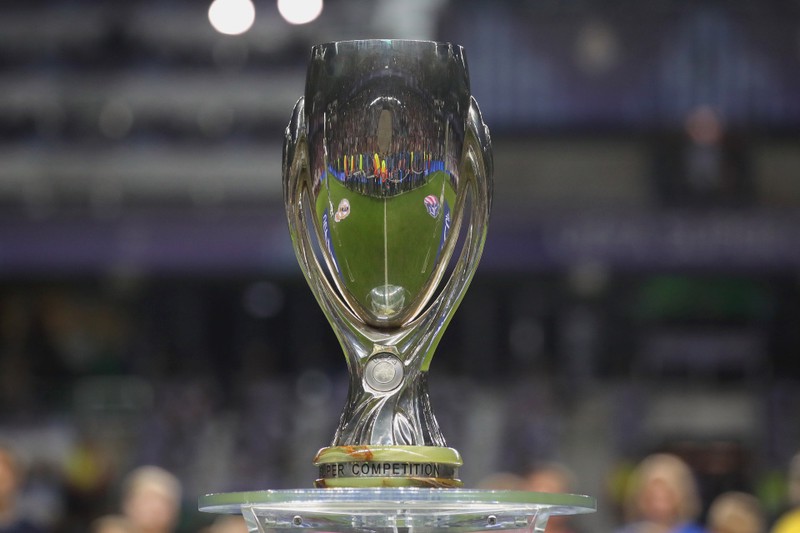 Image Source
One of the key mistakes the Chelsea players made during their game against Man United was not pressing as a unit and leaving a lot of spaces between the defence and the attack which was greatly exploited by Man United.
Another key mistake was the fact that the defenders pushed too high up the pitch, allow Man United to exploit the spaces in behind by counter-attacking.
Also, the Chelsea players gave out possession in dangerous areas on the pitch allowing Man United to initiate counter-attacks.
Finally, the defenders didn't play out from the back effectively in most parts of the game under pressure, allowing Man United to grow more confidence in their press.
Going up against Liverpool who are one of the best teams when it comes to effective high-speed counter-attack, the best thing for Chelsea is to ensure that the whole team press as a unit without leaving to many gaps in between each phase of pitch. The defenders need to understand that the front 3 of this current Liverpool team can cause real damage to any team in world football if they get the spaces to run in behind, which means that Chelsea need to be more compact if they are to reduce any counter-attacking opportunities for the Reds and also avoid giving away possession cheaply in dangerous areas. If they should go all out like they did against Man United, it could be disastrous for them as their current defence isn't strong enough to handle very high line.
I think the 4-2-3-1 formation suits the players Chelsea have at the moment, but one of the notable mistake made by the manager against Man United was the decision to play Ross Barkley out of position instead of starting with Pulisic who have been great in the pre-season games. So, the same formation but with Kante in the side partnering with either Jorginho or Kovacic and any of both who is dropped can later come in as a substitute. Also Pulisic needs to start for sure as he is one of the best wingers at Chelsea at the moment. I would put Tomori in the side as he is better at keeping the ball at his feet than Zouma at least until Zouma improves that aspect of his game and be more composed on the ball.
This game will be a very difficult game for Chelsea as they are still in a learning process, however, they have all it takes to win this game if they avoid most of the mistakes made against Man United and try to be more compact as a team and most importantly, convert their chances. This post can also be found on my scorum blog
What do you think about Lampard's decision to let David Luiz go and also what do you think about the upcoming clash between Liverpool against Chelsea in the Super Cup?