Chelsea have been known to be one of the top clubs with the most deadly strikers in world football back in the days, most especially the time of Didier Drogba, a striker that was not only regarded as one of the best during his prime days, but also a striker that could score any kind of goals any striker could dream of. Didier Drogba was not only a goal scorer for Chelsea, he was also a match-winner, helping Chelsea clinch their first-ever champions league trophy in a night no Chelsea fan who witnessed the game will ever forget in Munich, before leaving as one of the greatest ever players to play for Chelsea.
Even though it was always going to be difficult to find a Drogba replacement in a short time, Diego Costa's time at Chelsea was actually a great one, he proved to be just as lethal as the king Drogba himself and everything looked like back to normal when it comes to having a striker who could not only put the ball in the back of the net but could also single-handedly win games for the team. However, everything changed and became downhill since Costa was sold back to Atletico Madrid and Chelsea are since yet to find another Striker who at least could put the ball in the back of the net on a consistent basis.
This season under Frank Lampard was a tricky one at the start cos a lot of talking points were asked where the goals will come from, especially since Hazards transfer to Real Madrid. We all know that Chelsea can't sign any player for now due to their current transfer ban issue and this meant that Chelsea had to be forced to rely on their loan army and academy players to fill in the requirements for the season. The academy players who a lot thought will take some time to mature into the first-team squad, are already showing great signs of maturity in the first-team squad and have been the main reasons Chelsea are in a good position at the moment. Mason Mount and Tammy Abraham the only players to find the back of the net for Chelsea this season.
Talking about only players to find the back of the net for Chelsea this season, Tammy Abraham's brace against Norwich, to give the blues their first win under Frank Lampard this season, makes him the current highest goal scorer for Chelsea at the moment. Frank Lampard has shown a lot of faith in the young striker especially after his penalty miss in the Super Cup against Liverpool, and have given him all the encouragements needed to showcase his abilities as a striker. We are still very early in the season, but so far, Tammy Abraham has shown that he has all it takes to be the ideal striker for Chelsea...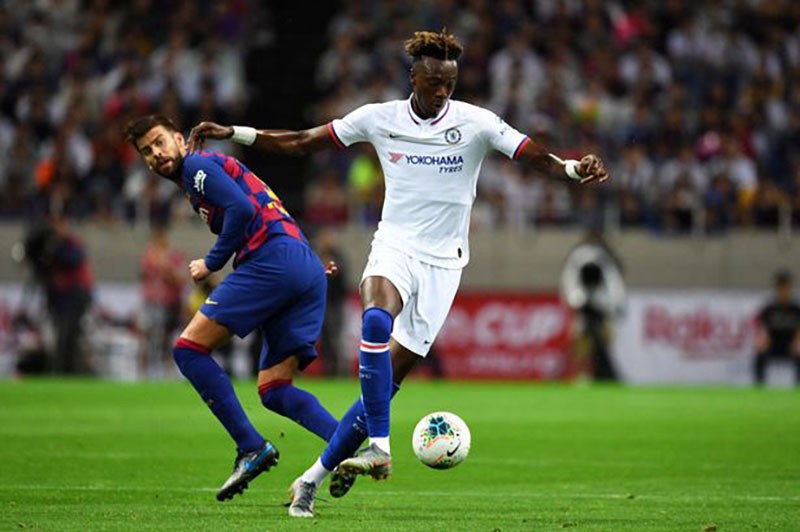 Image Source
Movements
This is one area not many strikers are really good at, some strikers are just poachers and some perform well as target men. However, movement is key for any modern-day striker to succeed in a system that is all about cleaver passes and finding spaces in behind. Tammy Abraham has shown that he has this in his game as well, and is very good at knowing the right movements to make and the correct runs depending on the situation. His first and second goal against Norwich showed how good he is in making the right movements and runs. Strikers that have very good movements and know how to make the right runs have a great chance to score a lot of goals if the right passes are made.
More to his game...
There is more to Tammy Abraham's game than just knowing how to score goals. He is really a striker who is willing to press for the team, and also likes to drop deep to support the play, this is something that modern strikers tend to do a lot and it helps pull defenders out of positions. He is also the kind of striker that will always be willing to defend for the team as well when there is a strong need for that.
Hold up play
Tammy Abraham's hold up play has been very good so far, he might not be the strongest on the ball, but he sure knows how to use his height and technique to hold the ball well and to bring other players in or lay the pass off.
Finishing
His time at Aston Villa proved how good of a finisher he is and was one of the key reasons why Aston Villa are in the premier league this season. Tammy Abraham is a good finisher when he gets his chance, he might not be Drogba or Costa yet when it comes to finishing, but he sure knows how to put the ball in the net. 2 goals in 3 games so far is a very good start for the young striker.
Speed
Tammy Abraham is really quick as can beat most of the premier league defenders with his pace. This is one of his key strengths as a striker. Being able to chase the ball in space and make something out of it is really good.
Height
Tammy Abraham has the height that is necessary to win aerial duels against premier league defenders. With his height, it becomes much easier for him to be a natural threat in the box during set pieces and crosses in the box. This post can also be found on my scorum blog
What do you think of this player?