We painfully learned how 1inch, an Ethereum based liquidity aggregator, is basically mining more data (incl. adr+ip) than google would ever do in its wettest dreams. I've decided to check on all the services I use how they value me as a crypto user.
The CEO of ParaSwap wrote a very sensitive Medium post about the topic, definitely worth the read!
Anyways, here are the two apps I researched today, with twisting results.
Incognito Wallet
Incognito is a Monero-style, "zero knowledge" (quotes intended) sidechain. The blockchain tech itself seems okay, but it's still young and has some things to fix. No biggy.
The funky part is the wallet app. And my jar dropped when I checked it in an Android Audit platform.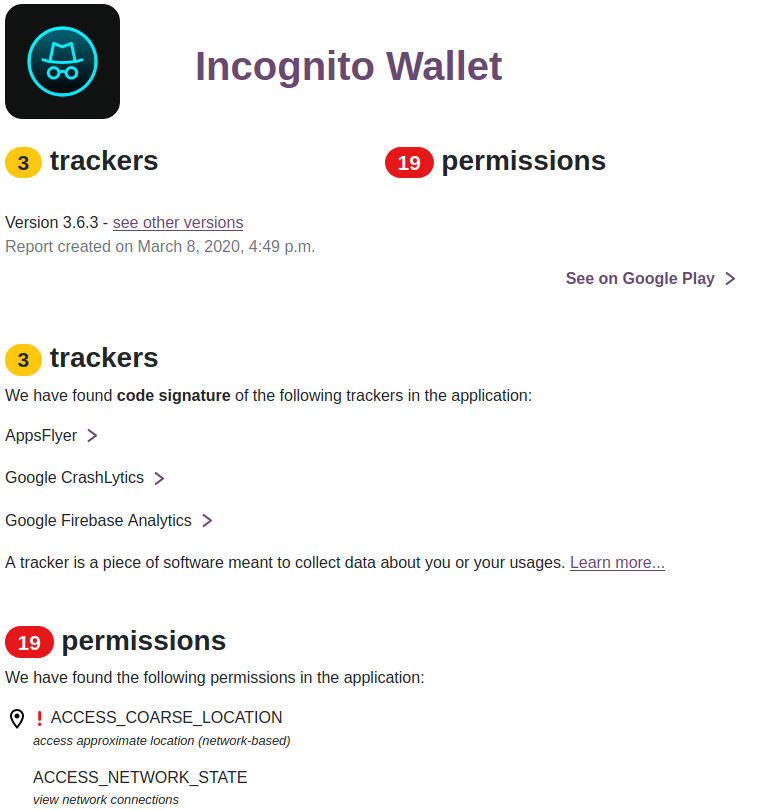 Source: https://reports.exodus-privacy.eu.org/en/reports/com.incognito.wallet/latest/
What the heck? Not only do they NOT offer TOR connectivity by default, which I think is critical for a privacy related service, they basically offer exactly the opposite.
3 Trackers?
19 Permissions??
Big oof. I've decided to stay away from this app until it's opensourced on FDroid and has TOR integration. This is simply not acceptable. 🙄
At least there is Tornado.cash, albeit a lot less useful and much slower.
Samourai Wallet
Samourai Wallet is the most advanced, privacy focused Bitcoin wallet for Android. This includes TOR, mixing, and all other known methods to increase privacy.
But how's the app?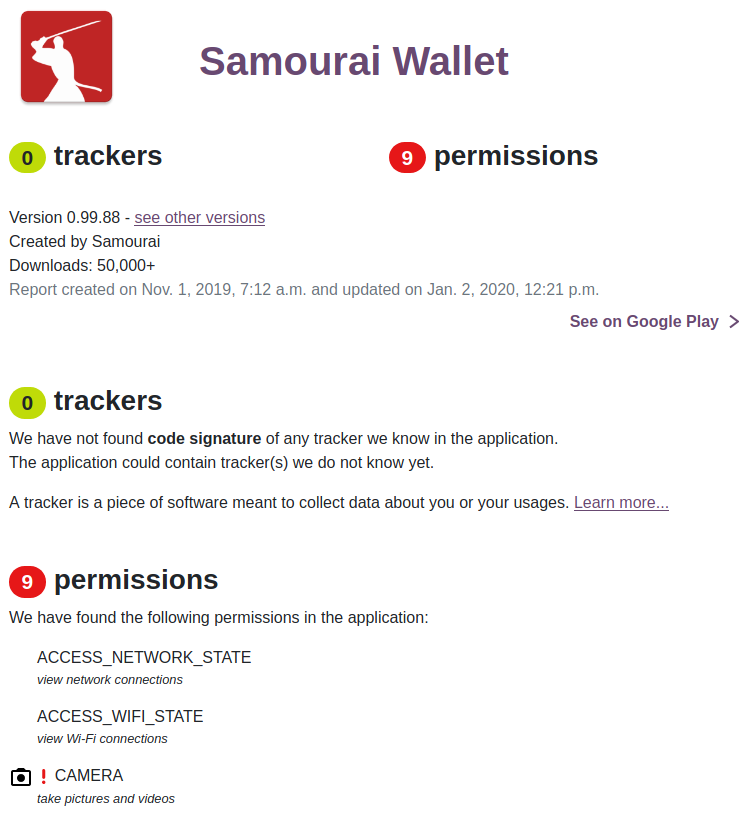 Source: https://reports.exodus-privacy.eu.org/en/reports/com.samourai.wallet/latest/
This is what I would expect from any other app too.
0 Trackers 🙏
9 Permissions
From the looks of it, they only ask for the absolute necessary permissions.
Very good!
It's time to hold the services accountable if you do not want to be another product in another pseudo business.
If you market privacy, deliver privacy
---
Secure & Anonymous VPN - Uploadfilter? Censorship? Privacy leaks? No Thanks!