Dice.one one of the first and oldest EOS gambling sites has added easy onboarding recently.
Means you just need an account name and password, with optional e-mail and EOSIO account linking to play.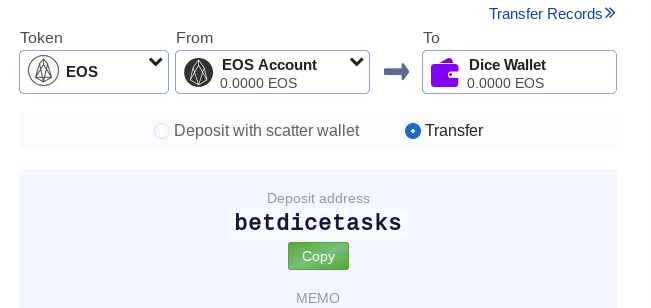 You can now deposit EOS by selecting Transfer and it's possible to do it directly from Binance, with no need for an actual EOS account.
As an investor I welcome the easy onboarding on the one side, but on the other side I'm super concerned with how centralized this has become.
How to run a REAL DApp
in my honest opinion, of course
Use IPFS as host
Use Blockbase as EOS based, decentralized DB
Use DAPPaccounts for friction-less, multi-chain onboarding
I would totally move my investment to a casino like this. Decentralized, unstoppable and trustless.
Maybe in the future...
Test your luck?
---
Secure & Anonymous VPN - Uploadfilter? Censorship? Privacy leaks? No Thanks!