We offer two login options for users to participate in the Everipedia Network:
Create a trial account using: Social login
Create a full access account using: Scatter login
We recommend trying Everipedia by logging in with a third-party social account if:
You aren't familiar with cryptocurrency
You don't currently own any EOS (the cryptocurrency that powers Everipedia)
You are interested in creating a new article on Everipedia or editing an existing article
You don't care about curating content by voting on proposed edits
You don't care about earning rewards
You can login to Everipedia using a third-party social account. To get you started, Everipedia will automatically deposit a small amount of IQ tokens into your account.
If you enjoyed the editing process and would like to learn more about how to access the full features of Everipedia, consider creating an EOS account and logging into Everipedia with Scatter. Learn more about EOS and Scatter Login.
How to login with a social account / email
1.   On the Everipedia homepage, click Login in the top-right corner.
2.   Choose the social account you wish to use (currently available: Facebook, Google, Twitter, Kakao, and Line)
3.  A new browser window may open that navigates to oreid.io, one of our partners that allows you to login using social media accounts.
4.  When prompted, authorize Everipedia (via ORE ID) to access your social account; if you are logging in with your email, enter your email address.
5.  Follow the ORE ID instructions on the screen to setup your Everipedia account.
How does the social account / email authentication work?
Everipedia utilizes a protocol called ORE ID – developed by our partners at AIKON. ORE ID allows anyone to access Everipedia using a simplified sign-up process.
When you create a social login, ORE ID will generate an EOS account for you automatically. (You will see it in the top-right corner of Everipedia.org, starting with the letters 'ore.')
Does Everipedia have access to any of my data if I login with my social account?
When you sign in with a social account, Everipedia will only have access to the following information:
Your name
Your social account's username (if applicable)
Your profile photo (if available)
The email you used to sign in to your social account
That's it! Everipedia does not have access to any other data from your social account. We will not display your email address on our website or share any of your information with a third party.
We recommend logging in with Scatter if:
You are interested in owning cryptocurrency or currently own cryptocurrency
You are interested in creating new articles and editing articles on Everipedia and want to have a lasting impact on Everipedia's universal knowledge base
You want to curate content on Everipedia by voting on proposed edits (and thereby hold users accountable by tracking the work done by your peers).
You want to earn IQ rewards for contributing to the Everipedia Network
You see value in Everipedia and picture yourself as a contributor in the long run.
What is Scatter?
Scatter is an application that allows users to connect their EOS account with Everipedia. On Everipedia, Scatter acts as an authentication application that allows users to submit edits and vote on proposed edits.
Why do I need an EOS account to use Scatter?
Everipedia is a decentralized applications (dApp) that is built on top of the EOS blockchain. In order to propose an edit or vote on proposed edits, you must have a small amount of EOS staked within Scatter to cover the resources necessary to submit a transaction. Learn more about EOS and resources here.
How to setup Scatter
Once you have an EOS account, install the Scatter desktop app (the application that confirms one's identity on EOS applications); it makes it easier to make transactions, as you do not need to submit your public key every time you want to make a transaction.
1) Download the file associated with the operating system you're using (Mac, Linux, Windows).
https://github.com/GetScatter/ScatterDesktop/releases
2) Install Scatter Desktop, set up your password, and write down your mnemonic phrases. Save these 12 words, in case you forget your password.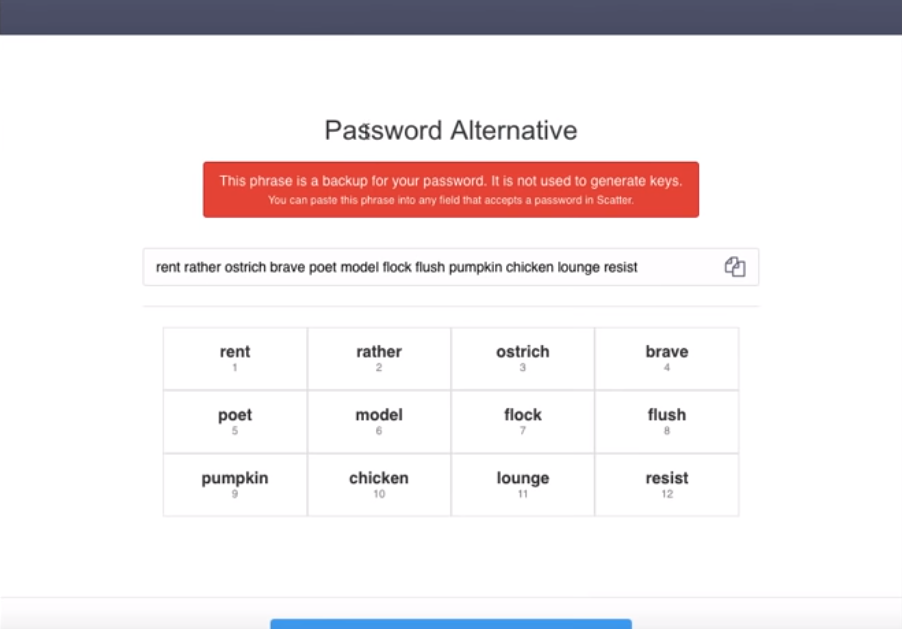 *You will also need to set up your 'Backup Location.' Scatter now enforces 'Automatic Backups' to a local device if you are using their desktop application. (This is for security purposes, to ensure that you have backups of your digital assets.)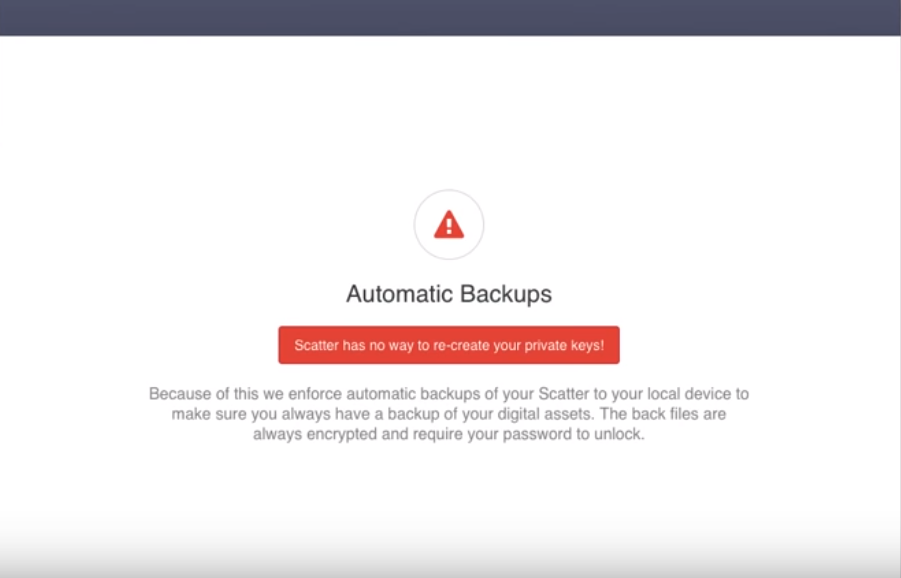 3) Import your private key from Step 2. To do this:
Click 'Add Keys'; it is located on the bottom-left corner of your screen.
Click 'Import Key' since you should already have an EOS account at this point.
Click 'Text.'
Enter your private key in the search bar. (Without pressing Enter/the return key, this will automatically check to validate and eventually link the accounts associated with your private key.)
4) Now that you have your EOS account linked with your Scatter account, you need to grant Scatter permission to login to Everipedia. To do this, visit any Everipedia.org page.
You should get a pop-up asking if you want to log into everipedia.org. Click 'Login.'
Side Note: At this point, if you have not done so already, stake your EOS tokens using My EOS Kit.
Future Reference: You must have the most recently updated version of Scatter in order to make edits. The most recent version is 10.1.2. (Make sure you have the most recent version downloaded, as you may not be able to make contributions with an outdated version of Scatter.)
Is Scatter secure?
Scatter is the most popular wallet on the EOS blockchain. Any information that you enter into Scatter is encrypted. Note: Your private key cannot be exported from Scatter, so make sure to save a copy of your keypair in a safe place.
Why am I unable to propose an edit using Scatter?
Here are the most common reasons you may experience an error when proposing an edit:
You do not have enough IQ tokens. An edit proposal requires 50 IQ tokens. You can easily view your available IQ balance in your Everipedia dashboard. Click on your username in the top right corner of the site.
You do not have enough RAM, CPU, or NET to propose an edit. This can occur for two reasons:

You do not have enough EOS tokens staked. We recommend having at least 5 EOS staked in your EOS account (3 for CPU, 1.5 RAM, and 0.5 for NET). You can stake your EOS using tools like EOS Toolkit.
The overall activity on the EOS blockchain has temporarily reduced your available resources. You can view your current resource usage on Scatter (click on your EOS account name) or by visiting eosflare.io (type your EOS account name in the top-right corner).

You are not logged into Scatter. Scatter automatically logs out when your computer shuts down or is in sleep mode.
If you continue to experience difficulty proposing an edit, send us a quick email or message on Telegram.