Hi guys! Today´s post is part of a skeleton series I started and never finished called " Preys and Predators"; Too many ideas, it´s hard to focus sometimes. This one actually depicts 2 fierce predators, a mongoose and a cobra.
Sorry for the quality of this video. Since I do this type of paintings early in the morning, it was a bit dark; it´s the only time of the day I don´t get assaulted by my kids:P But rejoice, I just built myself a desk dedicated to shooting videos so the quality will increase.
Here is the time-lapse:
If you liked it, go give some love to my YouTube channel in development and subscribe! I hate saying that, sounds so cliché, but seriously, do it! :P
Tip of the day:
How to stay clean?
Clean finished drawings. They are so hard to achieve, especially working with ink. It took me a long time and many failed drawings to finally reach the level of cleanness I now manage. And I still fuck up a drawing from time to time because I don´t closely follow my procedure or don´t pay enough attention to what I am doing.
This is the procedure I came up with after years of ink smeared drawings:
-Always work from top to bottom & left to right if you are right-handed, right to left if you are left-handed. If you do not do this you will eventually rest your hand on some fresh ink and BAM! smeared drawing!
-Use a clean sheet of paper over your drawing to rest the palm of your hand. Since most people use the palm of their hand as pivot point when they draw, it will create friction on the paper.
If you are resting your hand on a line that´s not completely dry, or if your hand is a bit sweaty and you are not using Noodler´s Black Fountain Pen Ink (Nooo, I swear I am not even sponsored by them, it´s that good); you will just add another drawing to the failed pile.
As you can see I started doing this in the video, then forgot to do it afterwards. Luckily no derps occurred...
-Be patient! I used to try to finish drawings as fast as possible, and would often not leave enough time for the ink to dry. I can´t count the number of times I regretted doing that.
When you saturate large areas with ink, it´s always a good idea to let it rest overnight before going further with your drawing. Sometimes the ink looks dry, but it´s just the surface layer you are seeing, the ink resting under it is still fresh. Chillax, it´s not a race!
-Be creative about your fuck ups & do not be too quick to trash a drawing. I know too well how infuriating it can be to smear a drawing after working on it for hours. I rage-trashed many drawings only to realize afterwards I could have saved them by adding another element, adding a zone of black on the smear, by cutting a part of the paper,...
If you fuck up, drop your drawing, try to calm down, & sleep on it. The next day have another look at it, you might figure out a way to save it.
Alright that´s it for the tips, I hope they will help someone:)
Here is a picture of the finished drawing.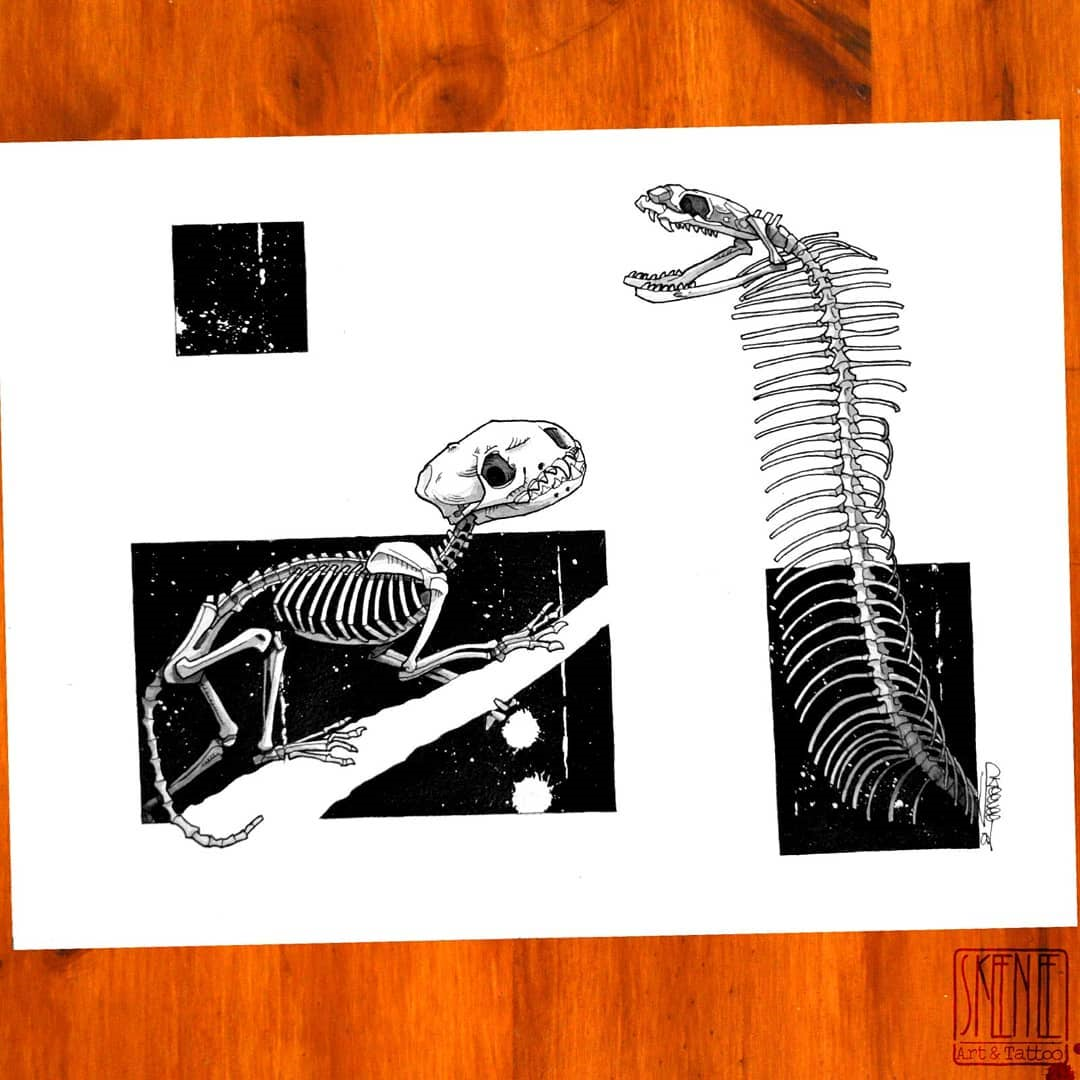 If you like this illustration, framed print can be found on my website; NFTs are available on my Makersplace shop for the modest price of 0.08 ETH:)
Material used:
Pen & Ink Fountain Pen
Noodler´s Black Fountain Pen Ink
Water Brush
Kuretake Sumi Ink
Masking Fluid
Arches Paper
That´s it for this post. Shoot any question or feedback my way!
Have a nice day,
Skeenee!

my site| instagram | twitter| makersplace| youtube